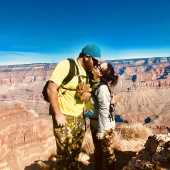 Kristen & Devin's Baby Registry
Arrival Date: Nov 20th, 2018
Yes, we are pregnant again with another beautiful baby girl! Help us welcome Kimber Evie Mae Kleinfelder to the family! Unfortunately she will be born during complete opposite seasons than Kiernan, so I added some clothes we like to help get us started since she will be born in the winter months instead of summer. We are open arms to diapers and wipes as well, I added the brands we love to the registry! There are also some other things we need since we are furnishing another nursery, so we appreciate all the help we can get! The theme for her room is just like Kiernan's woodland theme so fawns, foxes, owls, and bunnies oh my! This site was a dream to find since there are lots of cute things on so many different websites/stores this makes it so much easier for us instead of creating multiple registries like last time!
Kimber will be in Newborn to the 3-6 months range for fall/winter clothes and 6-9 months in spring/summer clothes, Texas weather is nuts.
Below are a list of steps to purchase from the registry, just select "see steps"
Thank you so much everyone!
View
---
Price
---
Stores
---
Categories