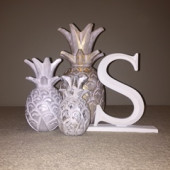 Lauren and Kris Seibt's Baby Registry
Arrival Date: Dec 3rd, 2018
Family and friends,
Thank you so much for visiting our baby registry. We are so excited to welcome our new Baby Girl in December!
This is a universal and consolidated wish list. We've selected items that we like from a variety of stores. You will see the links for those registries below. Here are the simple instructions:
1. First, click on the green "Give This Gift" button next to the item or items you'd like to buy.
2. You'll then be prompted to enter your name and email address to reserve your gift from the list. **This is the most important step as it removes the gift from the list so the registrants don't get duplicates.**
3. Once you've selected a gift and are ready to purchase, there will be provided links to a retailer or two that carries your gift. Where you buy the gift is totally up to you-- including in-store! However, since we will still live in Hawaii until Summer 2019, it is easiest to ship to Hawaii.
4. Once you complete your purchase, head back to your "Reserved Gifts."
5. The last step is to mark this item as "purchased." Since gifts can be purchased from any retailer, we provide you with a place to include the name of the retailer and the order number. Including this information makes any necessary exchanges much, much easier if needed.
Thank you so much for thinking of us and Baby Seibt!
Love,
The Seibt Family
View
---
Price
---
Stores
---
Categories