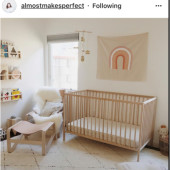 Lexi & Ryan's Baby Registry
Arrival Date: Sep 2nd, 2018
Oh Baby number 2! We can't wait to welcome our little girl, who will make her debut on or around September 2nd. There are a few things we need, so thank you for looking at our registry, and even more so for supporting us in immeasurable ways as friends and family. You have already made a difference.
Our COLOR PALETTE and THEME favor shades of whites, creme and ivory.
Overall, we aim for not too much, natural, non-toxic, positive messages, educational and aesthetic. And...we welcome whimsy and creativity whenever possible!
Note you'll find a few larger ticket items that are much needed; we invite groups to co-purchase or gift cash/gift certificates toward the purchase of those items. You'll also find many smaller items. We can't emphasize enough - your friendship and moral support mean the most to us right now. Anything beyond that is icing on our baby cake.
Thanks for listening, more details follow below about working with this registry, and the actual wish list itself.
Much Love, Ryan, Lexi, Rilo & Baby Girl Fernie Larson
HOW DOES BABYLIST WORK? Unlike traditional registries, we are *not* registered at specific stores or websites. Meaning, you can't walk into Babies R Us and get a list printed for us there. That list exists here, online. We have listed desired items, and usually provide at least one possible retail or online store where you can find the items.
HOW DO I PURCHASE A GIFT? Review our list. By default, you will see items that haven't been purchased. (You can change views if you wish to see the full list.)
1) Choose an item to purchase; click the RESERVE BUTTON to ensure no one else purchases that gift.
2) Enter your NAME and EMAIL. (BabyList will never spam you; they will just send you a confirmation email.)
3) Go to the WEBSITE or STORE and purchase the item. Frankly, unless we indicate a specific vendor, you can go to your favorite similar store to purchase the item, get it second-hand, or from your storage. (To ship to us, our mailing address is: Lexi & Ryan Larson, 602 Union Street Encinitas, CA 92024.)
4) CHANGE YOUR MIND? If for any reason you can't purchase the item or want to purchase a different one, click the UNRESERVE ITEM link in the email you receive from BabyList. This allows another person to give the item.
View
---
Price
---
Stores
---
Categories