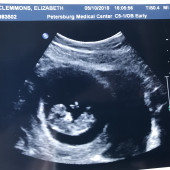 Little Lemmon's Baby Registry
Arrival Date: Nov 26th, 2018
First there was Itchy, and then there was Smellie. Now there will be Little Lemmon! Yes, we are having a baby, and it's a boy!! We appreciate you so much for taking a look at our registry and showing love to our growing family!!
We'd like to stay pretty gender neutral with most of our baby items in order to make sure they can be useful for any future children in our family. Our nursery nook will be a woodland animal theme with shades of gray, white, natural wood, and pale blue-green seafoam. We like wooden toys and lots of books!! We are going to TRY cloth diapering! If shipping is a concern, please don't fret! Some things just aren't worth the extra money to send all the way to Alaska! If it is of use to you, we are also registered with Amazon and everything on that list should be Prime eligible!
*Please note that if you buy something, it will not be marked as purchased until you confirm your purchase back on this page!
Thank you again for stopping by and already loving on our little man!! All 3 of us are so blessed!
- Mitch, Ellie, and Little Lemmon
View
---
Price
---
Stores
---
Categories