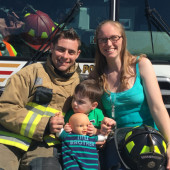 Macaluso Baby #2
Arrival Date: Aug 5th, 2018
*baby unnamed as of 6/17/18*
Hello all!
Welcome to our registry to consolidate our registries (since different places carry different products and brands, etc.)!
*a couple items are noted they are on both registries - to help give options and make sure the right item is selected.
The final addition to our family will be here in under 70 days! Here you should find everything you need if you choose to celebrate with a gift.
If you would like to send something, our address is
8404 Pinecone Dr
Lakeland FL 33809
The diapering products registered for are our personal preference, however, we welcome anything!
Everything takes batteries, so batteries are also awesome!
👇🏼- - Baby monitor - -👇🏼
Here's the story... We were able to buy a video baby monitor last year. I ended up having to exchange it for a new one about 5-6 times (via mail, too) since then since we constantly had issues with it. I recently gave up and just returned it. When we find a new monitor (haven't found one yet as of 5/26/18), you are welcome to purchase it if you so choose OR another option is: you can choose to pay the difference from what we paid for our last one and we can put our refund towards the rest.
Having a video monitor relieved SO much stress about not being able to see Rylan at night, stress I didn't realize I had. I can check on him without having to always go into his room and get him riled up. And the monitors allow viewing from multiple cameras, so we can keep an eye on them both!
Anything collegiate apparel related: UCF only
We should be pretty set on clothes, however I had to add a few cute things I've found (finally seeing cute stuff for boys!).
Of course anything little brother related (or big brother for Rylan, if you so choose) is welcome!
His bedroom theme is LEGOs!
Feel free to reach out to us if you have any questions or ideas!
Thank you so much for celebrating with us! We can't wait for this little guy's arrival!
View
---
Price
---
Stores
---
Categories