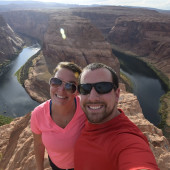 Maggie & Jeff's Baby Registry
Arrival Date: Jan 9th, 2019
Hey friends & fam,
Thanks so much for checking out our registry! We love you all dearly and can't wait for the little one to meet everyone 😄 More than anything, this is our personal checklist for the accoutrements we think we've figured out will be useful in the first year or so of our baby bean's life.
This baby list is the culmination of recommendations from family and friends, our trusted OB/midwife practice, and professional associations (as well as every blog entry, message board post, buyers guide, and product review on the entire internet). Of course, despite all our research, we have *no* clue what we're doing...so more than any product, what we most need and appreciate is your love and support as we navigate this new leg of our life journey.
We'd also be super grateful for any second-hand clothes or gear any of you parents are ready to part with. And if there's anything you found to be indispensable as a parent you don't see on our list, please share. We look forward to seeing you all at the pre-birthday party on the 29th!
With love and gratitude,
Jeff & Maggie
View
---
Price
---
Stores
---
Categories