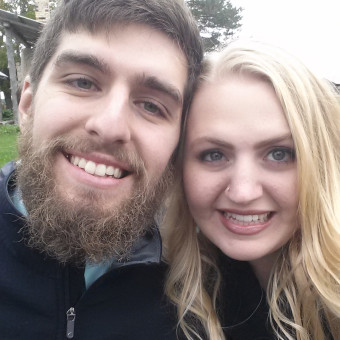 Brittany & David's Baby Registry
Arrival Date: Sep 15th, 2017 🎉
Our first little baby boy, Desmond Stewart Maggrett, is entering the world this September and we couldn't be more excited!
Many of you know the complications we've experienced over the months and we are thankful for the prayer, meals, love, and support our friends and family have provided. Little Desmond is a miracle and we cannot wait to welcome him into the world!
Our little bear cub's nursery is going to have a woodland/forest/mountain adventure theme with a light sage-ish green (Benjamin Moore's "Sweet Caroline"), white, grey, and navy blue color palette.
We want to try and breastfeed as long as possible and give our baby mostly organic products. David and I will be working full time during Desy's first year, so life will certainly be busy (he'll be in daycare 3-4 days a week). With that knowledge, if you think of anything that would be useful that we did not think of, please feel free to recommend we add it on here or surprise us with it 😄
I spent many hours curating this registry by reading reviews and helpful mom sites, but that doesn't mean we wouldn't gladly accept any gently used resale or garage sale items! We are, however, requesting no electronic TOYS.
A couple quick registry tips:
-on a computer, you can select the store you'd prefer to shop at on the left side of the screen
-if shopping through Amazon, please use smile.amazon.com to support a charity or ministry like Compassion International
-zulily.com features different brands with great deals for short periods of time, so check there for some baby items if you're deal-hunting because I've seen some of our registry pieces pop up on there from time to time.
Thank you for visiting our registry! We look forward to seeing you at the Baby Shower.
Baby Shower Details (in case you misplaced your invite):
Saturday, August 5th, 2017
6:00 pm - 8:00 pm
Starwood Ranch
4365 Mitchell Rd.
Kalkaska, MI 49646
*RSVP to Shari at 231-675-5133 by 7.22.17
*Remember to sign & bring a children's book in place of a card (cards cost about as much as a book anyway these days! Well, some books.) I did add a few of our childhood favorites on the registry if you'd like to check those out!
View
---
Price
---
Stores
---
Categories