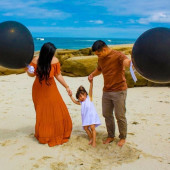 MalvedaTwins Baby Registry
Arrival Date: Oct 5th, 2018
READY OR NOT HERE WE COME!!!
Hi, everyone!
We're Elijah and Lucas! We'll be the newest members of the Malveda Family! We're so exited to meet our Mommy Vee and Daddy PJ. And we can't wait to see and play with our big sister, Alexa. We always hear her sing and feel her kisses inside Mommy's belly. She is the sweetest!
But before we come out, we would like to see if you can help us to get some things we need. Our Mommy and Daddy created this registry so you'll know what we want. We would really appreciate whatever you can get us here but diapers and wipes (or gift cards, yey!) are on top of our list. Of course, toys and clothes are welcome, too! We would love that. Don't forget to check out our other registries so you have more options. :D
We will be coming out soon. We're just waiting for Daddy to come home. He is still underway but he should be on his way back. So for now, we'll just stay inside Mommy and get big and healthier and listen to our big sister Alexa.
xoxo,
Elijah and Lucas the twins :))
View
---
Price
---
Stores
---
Categories