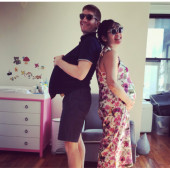 Nathalie Manivong and Benoit Saint-Jevin
Arrival Date: Jul 6th, 2018
Dears Family and Friends,
We are incredibly happy and excited to welcome our new Family Member. We cannot wait to meet him and introduce him to you.
We are also very grateful to have you here for us and for him. He isn't even born yet and already surrounded by so much love.
He is also part of a generation that will have to deal with inequalities, hunger, war, diseases and climate change. So for those of you who would like to send him a gift, thank you so much! Would you please instead consider donating to one of these charities that help other kids who are not as lucky as him.
We love you
Benoît, Nathalie and Eléanore
View
---
Price
---
Stores
---
Categories