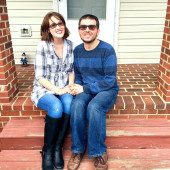 Michaela's Baby Registry
Arrival Date: Mar 11th, 2019
Hello Everyone! Thanks for stopping by! Thank you so much for contributing. Here are a couple of things to keep in mind. Firstly, please remember that we have had one baby shower already. If you think this registry is missing something, we may already have it! Feel free to ask. Or not! We can always have duplicates!
***IMPORTANT NOTE*** Secondly, if you are going to purchase or make something that is not on this list, please keep in mind that Mamma is allergic to a few different kinds of fabric. Please try not to purchase or make anything that includes:
1. Fleece
2. Velvet
3. Suede
4. Minky
5. Basically anything that has the word "Micro" in it or is all around super super soft.
Please try to stick to the regular cotton, flannel, or waffle weave. We're not trying to be picky, but we also don't want Mamma breaking out in hives while holding the baby.
Thanks again!
View
---
Price
---
Stores
---
Categories