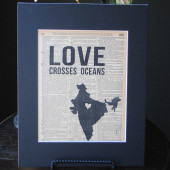 Michele's Baby Registry
Welcome to Michele and Emrys' registry. Michele is adopting a little girl with Down Syndrome from India. She will be 4 years old when she comes home.
* Gift cards can be emailed to bringingEmmiehome@gmail.com
* If buying something not on the list please keep in mind the following:
- We are vegan so no leather, wool, or other animal products please.
- No plastic please (dishware in stainless steel, toys in wood with non-toxic paint or natural rubber)
- No electronics or things that light up and make noises as they are too over stimulating.
* Michele will be using cloth diapers exclusively.
* The bedroom theme is Doctor Who.
* Gift cards are also appreciated.
If you have any questions please ask.
View
---
Price
---
Stores
---
Categories