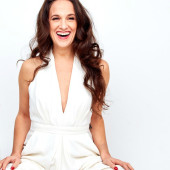 Michelle's Baby Registry
Arrival Date: Jul 15th, 2018
Welcome Family & Friends!
We're so grateful you're in our lives. Thank you for visiting our registry and taking care of our growing family. We're super excited for the arrival of this little angel!
We're also VERY interested to see how this "living in an NYC apartment where we both work from home with a baby" thing is going to play out, so... blessings to you for buying from our registry and not sending us large objects we cannot use! May your kindness return to you tenfold!!
Because Babylist is a hub for multiple vendors, you'll have to enter our mailing address when you purchase. There's a convenient link, but it's here for you as well, if you prefer.
All our love to you. You mean the world to us, and we can't wait to share this adventure with you!!!!
XOX ~ Chris & Michelle
1240 Bedford Ave., Apt. 4D
Brooklyn, NY 11216
View
---
Price
---
Stores
---
Categories