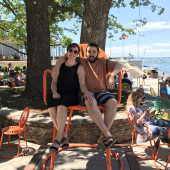 Micky & Jason's Baby Registry
Arrival Date: Feb 6th, 2018
Dear family and friends, welcome to our baby registry! We have tried to register for everything we might need for little "Blobby", but maybe you'd like to go "off-registry" - that's totally welcome!
You should check out the comments we added on each item to see whether it's something we've researched a lot and want a specific style/brand, or if it's something more generic that we don't have as strong of an opinion on.
The clothes/sheets/etc. we've registered for are all organic, eco-friendly, fair-trade brands. If you want to get something different, we aren't going to be super picky about this, but when possible, we'd prefer organic cotton. We also really want "kimono-style" onesies for easy changes! We're happy with second-hand clothing!
We are so excited to celebrate this exciting time with you!
Love, Micky & Jason
View
---
Price
---
Stores
---
Categories