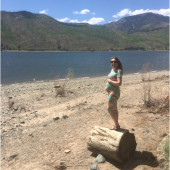 Mollie & Brian's Baby Registry
Arrival Date: Sep 15th, 2018
Hi! Thanks for having a look at our wishes & needs list. We're having fun growing our little one and are eagerly awaiting her arrival in September.
Something to note:
We're choosing to use cloth diapers which, as we've learned, require a lot of prep and setup at the beginning. Hence, the absurd amount of items in the 'Diapering' section of our registry! It also means that clothes need to be a little roomier than usual to accommodate for an extra fluffy little bum! Loose fitting bloomers, rompers and grow-with-me style shorts and leggings should fit our little one longer. We appreciate you supporting us on this venture!
It's been really fun growing this little one and, although she still has some time before she's ready, we can't wait for her to meet our wonderful family and friends and join us on our adventures in life.
View
---
Price
---
Stores
---
Categories