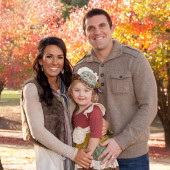 Morgan's Baby Registry
Arrival Date: Sep 2nd, 2018
We are so excited to welcome our Channing Blaise Hickerson into our family!
I can't wait to experience the "BOY MOM" life. I can hardly wait to see this sweet boys face and to hold him in my arms.
Brighton is over the moon that she will shortly be a Big Sister and is already talking about all the things she will teach him. She has decided that she will call him Bubba.
Corey is excited to have someone that will watch football with him and to finally no longer be outnumbered.
This sweet boy has definitely been a blessing to our family after the loss of Meagan. He has helped us smile again, because he is our rainbow after our storm.
Thank you for all of your love and support. We love you all!
Love,
Morgan, Corey & Brighton Grace
View
---
Price
---
Stores
---
Categories