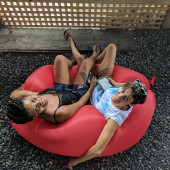 Morgane and Alexandra's Baby Registry
Arrival Date: May 8th, 2018
Hi Everyone,
We wanted to start by saying that we are deeply appreciative of the love & the support we've received from our community. Thank you!
This registry was created from the great suggestions that our friends and family have offered as well as the tremendous experience Morgane has as a doula and Alexandra as an L&D Acupuncturist.
We are trying to live lightly and have limited space for much beyond the necessary (you've seen our apartment, right? We've had to do some serious Marie Kondo-ing).
This website enabled us to show you the items that we would like the most help with without the hassle of you having to go to a million different places to get stuff. Many items not on this registry we already own, have been gifted to us or we have found are really not necessary for us. Feel free to go "off-registry" but check in with us first as we might already own the item in your mind.
Thank you for helping to make this such a special time in our life together.
We can't wait to see you!
Morgane & Alexandra
View
---
Price
---
Stores
---
Categories