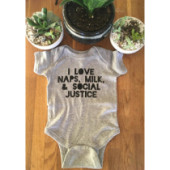 Nancy's Baby Registry
Arrival Date: Jun 12th, 2018
Hello beautiful people,
Thank you for thinking of us. We are grateful to share this special time with you, and so grateful for your help in making our little nest more baby friendly.
We are also the crazy people who live in a tiny NYC apartment, so you'll notice a theme in our registry:
- There's not much. We don't have a basement or a nursery for all the things. We will be fitting this small person into our small space until we can move next year.
- Most items are for the first 6 months (for the reason see above). We will keep these registries up and update periodically.
- We welcome used items. If you see an item on the list that matches what's in your basement, let us know!
- Not a lot of toys, clothes or books on here, because we know those are easy to find used. If you have great educational toys, 0-6m clothes, and essential baby books, we welcome them.
- Gender neutral colors, mostly white and gray -- look, it's NYC, we're not registering for anything black, so give us some credit. We're also enjoy bright primaries like red, yellow, and blue.
- We're also registered at Buy, Buy, Baby (linked below).
Ok, that's it. Again, thank you, you're beautiful!
Nancy & Jason & lil'nugget
View
---
Price
---
Stores
---
Categories