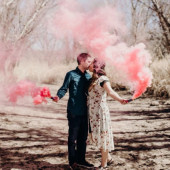 Natasha's Baby Registry
Arrival Date: Aug 26th, 2018
Hello, Hello!
We are ecstatic to be welcoming our baby girl into our family, this August. It's been a long and awaited journey and we are so excited to have her part of our family!
We're pretty set as far as clothes go, although Natasha has quite a few favorite outfits that she's hoping to get to add to Lana's wardrobe. The main things that would be beneficial are diapers, wipes, gift cards, a high-chair, carseats and an Owlet Monitor- as we've purchased many baby items over the years in preparation for Lana's big arrival. The items can all be found below. However, if they are not shown below, then bless the dear soul of the person(s) that gifted us this sweet gift(s). It means so much! The restaurant gift cards are to allow Natasha to heal and for us to focus on baby Lana without needing to worry about cooking meals and enjoy the convenience of takeout- since we don't have any family around to help us.
However, if you feel so inclined to get us a little something instead, we've listed items that we think will be fun for Lana to enjoy as she grows and would be a big help towards raising her and keeping her smelling fresh. We'd greatly appreciate it if you stuck to our registry- as it would mean the world and provide us with the items we currently don't have, to better our parenting skills for Lana! 😄
Thank you for taking time to review our registry and gifting us these sweet gifts- our family appreciates it and it means the absolute world!
*If you receive any difficulties requiring a mailing address, even tho our address is synced to this account, please feel free to message us at:
derek.natasha@yahoo.com
Love,
Derek, Natasha and baby Lana
View
---
Price
---
Stores
---
Categories