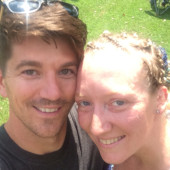 Valerie & Paul's Baby Wishlist
Arrival Date: Aug 19th, 2018
Thanks for checking out our baby registry! We are beyond excited for the new addition to our lives and are deeply grateful for the love and support of our "Village" as we prepare to welcome the new little one.
Answers to a few FAQs regarding our pregnancy. 😄
We can't tell you if it will be a boy or a girl... because we don't know either! So we'll all be surprised together.
Our "due month" is sometime between July 27th and August 21st. We haven't started a betting pool yet, but we could!
We are hoping to cloth diaper... so if you have experience in this, we'd love to hear your advice, favorite products and brands, etc!
We are invested in "living in the waste stream" whenever possible; meaning, if we have registered for a certain new item in a certain color or other variable, but it could be obtained used in a slightly different format, color, etc for a financial and ecological savings, we're totally onboard with that! We understand that some necessary items really should be new, but some items are an investment that is intended to be longterm. If it is serviceable, safe, and clean and can lighten our footprint on the earth as well as the impact on your pocketbook, we are grateful. We appreciate all help in starting this new life as a family!
View
---
Price
---
Stores
---
Categories