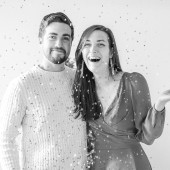 Christopher and Jacqueline's Baby Registry
Arrival Date: May 27th, 2018
Hello loved ones!
Thank you for stopping by our baby registry (turned Santa's Workshop). Your love and support throughout this new (life) season has meant the world to us!
As Christmas approaches we have kept our registry going with Babylist and turned it into a letter to Santa from Isla. We hope that you don't feel any pressure to help Santa provide our darling daughter with gifts...but if you are wanting to add something under the Christmas tree (we are grateful and) we have a list here to inspire you.
Again, thank you so much for being a part of this journey with our little family. This season always reminds us just how blessed we are by the people who walk through life with us; we hope that you all enjoy a warm and joyful holiday season. Merry Christmas!
Cheers!
View
---
Price
---
Stores
---
Categories