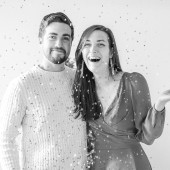 Christopher and Jacqueline's Baby Registry
Arrival Date: May 27th, 2018
Hello loved ones!
Thank you for stopping by our baby registry. We are very much looking forward to welcoming our little girl into the world at the end of May! And we are incredibly grateful for the amazing people who await to meet her. Thank you all for your love and support - you all have had a wonderful impact on Chris and I's lives and we are so grateful that our little one has the opportunity to know such gems!
Our registry is built up of items that we have selected from all over! Some things come from the more well known department stores (Target) and others come from smaller local shops around the world. If possible we want to support the innovative and hard working entrepreneurs as much as we can.
Also! We enjoy handwritten cards very much - however - we would also love a great start to our little girl's library. Chris and I love to read a lot and books have been a huge part of our lives. We hope the same for our Little. So, in leu of a card to accompany your gift, we would love to have your message written in a favorite book of yours. If you need ideas we also have a bunch of great reads listed within the registry.
Again, thank you so much for being a part of this journey with us. There is no way we could ever do it alone, nor would we want to try. Our lives would not be the same without you!
Cheers!
View
---
Price
---
Stores
---
Categories