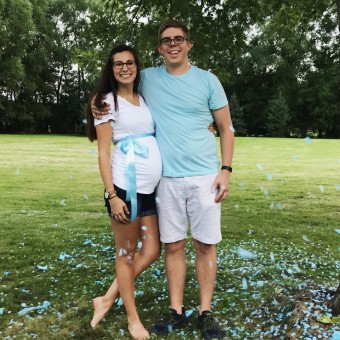 Rebekah's Baby Registry
Arrival Date: Jan 3rd, 2019 🎉
Hi Everyone,
Thank you so much for visiting our registry for Baby Owen. We have appreciated all the love and support we have received from our friends and family! We are so thrilled to be starting this new adventure with our little one!
We are registered at Target, Amazon, and Babylist. Babylist is an online only registry, that allows you to add anything from other websites (Etsy, LatchedMama, PrimaryDot, etc). Babylist is our "main" registry as it contains links to our Target and Amazon registries.
Our registry was created from all great suggestions from friends and family, as well as online reviews. Many items not on this registry we already own from generous friends and family. We have added some fun items for Owen, Andy and I, as well as some Mommy survival kit items. We are very fortunate and have many clothes already, but pants for the little guy is needed. Baby Owen's nursery theme is Elephants, Gray, and hints of mint and navy.
Thank you so much for all your love and support,
Andy & Bekah
View
---
Price
---
Stores
---
Categories