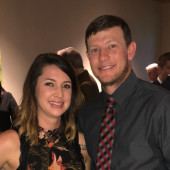 Sarah's Baby Registry
Arrival Date: Jun 23rd, 2018
Thanks for visiting our registry! We are so excited to celebrate with each and every one of you. You may be wondering how this baby came about (chill, we know you know how babies are made)... but if you know anything about Kevin, you know he's SUPER active in all sports, mostly softball - but this baby is proof that he doesn't play softball all the time 😉 Hopefully we have ourselves a little athlete or little diva (and this goes either way because boys can be divas too - Kevin is proof). Or even a little something else, we will see!!
Love,
Sarah and Kevin
Ps. Not finding out the gender is making this ride a whole lot more enjoyable 😄 because whoever said being pregnant was fun, lied, BIG TIME. Being sick, tired, having cankles that go up to my knees, uncontrollable fumes escaping my body, and giving up some of my favorites has not only been tough but embarrassing at times. However, as I'm constantly reminded by this growing belly that keeps me from seeing my no longer cute skinny feet (and now my Farrah Fawcett fur pie), I know it will all be worth it come June!
Now that I let you all in on my secrets, can't wait to see you May 5th and watch you enjoy margaritas while I sip on a boozeless drink (maybe...just kidding people, I've been sober since October!).
View
---
Price
---
Stores
---
Categories