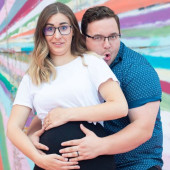 Summer's Baby Registry
Arrival Date: Dec 3rd, 2018
Can you believe that this is HAPPENING?!?! It's still sinking in that the time has come for us to prepare for a baby - but we are SO EXCITED to welcome our baby boy,
BANNER REID WOOD
to our world in early December!
We are incredibly blessed to be surrounded with such an exceptional community of friends and family to help us raise this little guy into the man that God created him to be - it takes a village!
THANK YOU for being part of ours - WE LOVE YOU SO!
We have our registry organized in order of priority within each category - so, in each category, you will see the highest priority items first, and lowest priority items last.
The very first section, labeled PRIORITIES, are the items that are our TOP priorities! Please let us know if you have any questions for us - we're happy to help!
View
---
Price
---
Stores
---
Categories