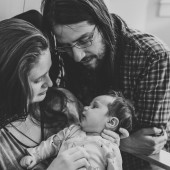 The Brothers Baby Registry
Arrival Date: Jun 25th, 2018
Lyra's finally here!
We've had several people ask about what we still need for Lyra but in the moment our sleep deprived brains never seem to remember. Re-enter the baby registry!
We're trying to be very intentional with the items we bring into our home. The items and brands listed below have been well researched and fit both our parenting styles and personal tastes.
NOTE: As cute as baby clothing is, we're trying to only bring in sizes that Lyra can currently wear (right now that's 0-3 months.) We want to really enjoy each stage of development (no skipping ahead) and this way we'll have time to store or donate outgrown clothing before bringing in new items.
Our absolute favorite clothing items are onesies and sleeper gowns. For the moment, especially still being in the newborn stage of a zillion diaper changes each day, we're aiming for ease of use over fun or fashionable when choosing her clothing.
View
---
Price
---
Stores
---
Categories