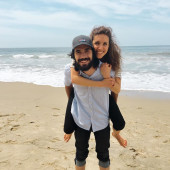 Welcome to the World, Baby Thompson!
Arrival Date: Aug 22nd, 2018
Hello friends and family!
We are so excited for our son to meet you! We are so grateful for your love and support in our lives; we know raising a child takes a village. Thank you so much for wanting to bless our family even more as we grow to a family of three. We couldn't be more excited to welcome our son into the world and we appreciate all of your wisdom and support along the way. Know that our greatest gift is getting to share our child's life with you. 😄
xoxo,
Jordan, Kate, and Baby T
P.S. We registered at Target and Amazon, but a few items were only available at certain retailers, so we listed those items here.
View
---
Price
---
Stores
---
Categories