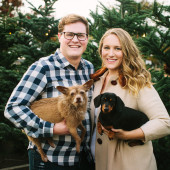 Baby Clark
Arrival Date: Jun 15th, 2018
Thank you for visiting our Registry! TL was SUPER excited to outfit baby and friends were generous with hand-me-downs, so Baby Clark already has about closet full of clothes!
We just moved into our home and besides clothes and a few borrowed items, we are pretty lean on the basics.
Under the "it takes a village" section we included a few high ticket items that we would love to have used, if it's possible to find them used.
Thank you for all of your love for baby Clark. We've been so blessed by everyone's support and can't wait for him to find out what an awesome posse he's got already!
View
---
Price
---
Stores
---
Categories