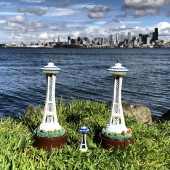 Olympia and Adam's Baby Registry
Arrival Date: Oct 12th, 2017
Friends and Family,
We're thrilled to share our BabyList registry for our baby boy. If you're interested and would like to contribute, we have friends and family who are leading gift collections for our larger desired items (Julianne, Olympia's coworker - Julianne.Lee@gatesfoundation.org and Annie, Olympia's mom - annie.ochoco@gmail.com).
Our Seattle neighbors and friends have been so generous in gifting us previously loved clothing and baby gear. We also have a growing library of children's books comprised of our childhood favorites and books we've purchased while traveling abroad (almost 25 countries!). This registry is reflective of what we're missing.
As for clothes, our OB has informed us that our baby boy is currently measuring in the 97th percentile - so feel free to skip the newborn sizes and stick to larger sizes!
We are so grateful for you and you generosity. If you purchase an item, please don't forget to reserve it and then mark as purchased on BabyList.
Please use this shipping address (Adam's office):
Adam Trumbower
520 Pike Street
Suite 1100
Seattle, WA 98101
Thank you!
Love,
Olympia, Adam, & Baby Boy Trumbower
View
---
Price
---
Stores
---
Categories