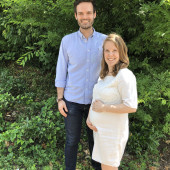 Sarah and Clint's Baby Registry
Arrival Date: Aug 20th, 2018
Thank you so much for visiting our baby registry!
The more we think about this whole process leading up to Baby Wayman [aaaahhhhhh!], the more unbelievably humbled we are by the love that you all have shown. So many people, friends and family, have approached us wanting to give in one way or another, and knowing that there are so many wanting to help us be the best parents possible still blows us away.
So, again, thank you.
Much Love,
Sarah and Clint [and Baby Wayman]
[[we're not crying, you're crying]]
View
---
Price
---
Stores
---
Categories