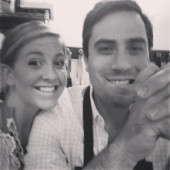 Pete & Danielle Dunn's Baby Registry
Arrival Date: Oct 18th, 2018
Thank you all SO MUCH for welcoming our child into the world!
It's true, we won't know baby's gender until we meet the little one, (and we've had a lot of questions about clothes) but fear not! Grey, beige, white and blue are all happy baby colors. We really aren't worried about it and we didn't want you to be either, so we added a couple of clothing inspiration ideas to help. We do know that so far, baby is not going to be small. The little one is on track to be about 9lbs when they get here 😄
You will notice a lot of books- we just couldn't help it! We included a good mix of the classics as well as some lovely new stories that we're so excited about. We hope you have as much fun as we did looking through them 😄
Thank you to my lovely baby shower coordinators and to all of you for joining in our joy!
View
---
Price
---
Stores
---
Categories