Best Sensory Toys for Toddlers with Autism
Best Sensory Toys for Toddlers with Autism
Children with autism and sensory processing challenges can benefit from these stimulating toys.
Babylist editors love baby gear and independently curate their favorite products to share with you. If you buy something through links on our site, Babylist may earn a commission.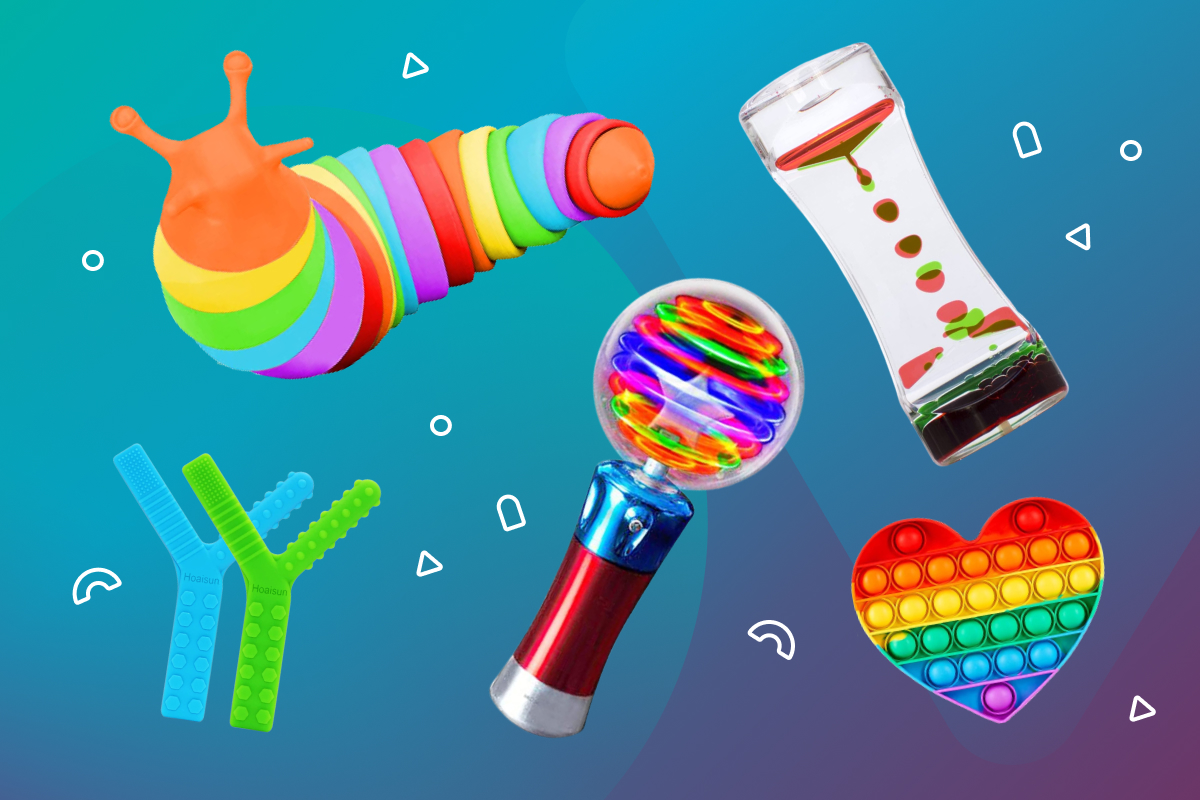 No matter what form they take, playtime and toys are an essential part of childhood. Toys can help build necessary fine and gross motor skills, develop problem solving skills and encourage creativity and imagination. But if you have a child with autism, you might find that certain types of toys can be overstimulating, understimulating or even upsetting to your child. That's where sensory toys come in.
What are sensory toys?
"Sensory toys are geared toward stimulating the senses, whether that be sight, sound, touch, etc," says Paige Paluch, a board certified behavior analyst for children with autism. These types of toys work well for kids who frequently exhibit sensory-seeking behaviors like chewing on non-food objects, engaging in rough play (especially at inappropriate times) or making repetitive sounds or movements (hand flapping, foot stomping, spinning in circles).
Which sensory toys you choose depends on which senses your child wants to stimulate (or avoid entirely if they're especially sensitive to certain stimuli). "Each kids' sensory needs are different," Paluch says. "Some kids are very sensitive to sound so they wear headphones to block out background noise, others enjoy loud music toys. Sensory toys are meant to meet the sensory need for that child."
So if your little one is constantly touching things or enjoys rubbing different materials against their skin, they'll probably do best with sensory toys that have lots of different textures and are meant to be grabbed and squeezed. If your child has a special interest in music or particular sounds, try introducing a variety of musical toys—with volume control, since their sensitivity to sound may change day to day.
Age range for sensory toys
Sensory toys are technically made for any age, including adults with autism and fussy babies who may show signs of sensory processing issues. The toys recommended here are specifically meant for toddlers and young kids ages 18 months and up, since autism isn't typically detected earlier than 18 months old.
Another important thing to remember when selecting sensory toys for your child is that you may not be able to predict how they'll react to a toy, so don't be discouraged if you feel like you've struck out after a purchase. Your kiddo may warm up to the toy later, and if not, then it's a learning experience for what doesn't work for their unique sensory needs, which is just as important.
The sensory toys below are recommendations from board certified behavior analysts and parents of autistic toddlers (some of the parents also have autism and still benefit from these toys as adults!), and they cover a range of sensory stimuli including touch, light, sound and motion.
Best Sensory Toys for Toddlers with Autism
---
Amylia Ryan is the Associate Editor at Babylist, where she writes and edits content on health, wellness, baby products and more. Before dedicating herself to helping new parents learn all about life with a baby, she worked in book publishing as an editor. She still sometimes edits books on the side, but the majority of her free time is dedicated to her two children.
This information is provided for educational and entertainment purposes only. We do not accept any responsibility for any liability, loss or risk, personal or otherwise, incurred as a consequence, directly or indirectly, from any information or advice contained here. Babylist may earn compensation from affiliate links in this content. Learn more about
how we write Babylist content
and the
Babylist Health Advisory Board
.
The freshest in parenting this week, delivered to your inbox