Best Travel Strollers of 2020
Best Travel Strollers of 2020
Because of their lighter weight and compact fold, travel strollers are convenient to take on the road.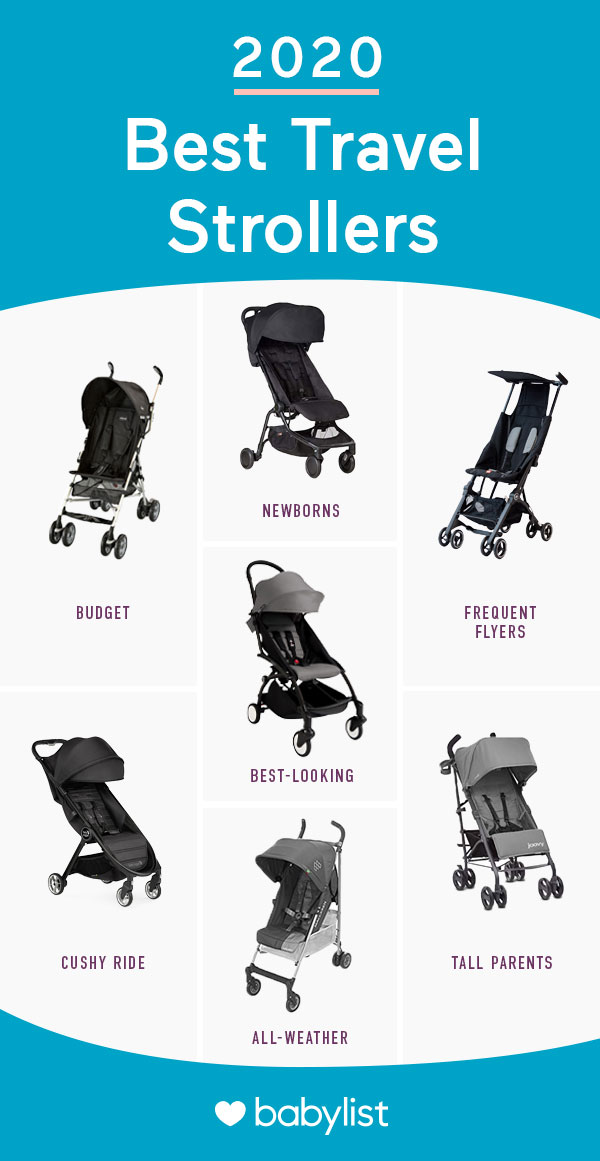 You don't have to be travel obsessed to love a good getaway.
A family vacation—whether a road trip to grandma's house or overseas to a bucket-list destination—is one of life's great joys. It just takes planning ahead and having a few pieces of kid gear that make life on the road easier. A stroller that acts like a rolling home base (a sitting-napping-chilling spot) is an essential for trips with younger tots.
In this article:
Do You Need a Travel Stroller?
Some families use a traditional stroller for everything, even traveling. But having a lighter, more nimble travel stroller pays off when you really need it: for airports, narrow city sidewalks, public transportation or just to lighten the load for grandparents.
Here are some of the pros and cons of using different types of strollers for travel:
Traditional stroller: Everyday strollers typically have convenient features like lots of storage space, cup holders and trays, and large canopies. Some may also have all-terrain wheels and accommodate an infant car seat. But they're heavier and bulkier to fold, which makes using and storing them in tight spaces more difficult (think: narrow doorways, airplane overhead bins, small car trunks).
Umbrella stroller: Bare-boned and exceptionally lightweight, many umbrella strollers lack many amenities you find in traditional strollers like adjustable seats and cup holders. They have skimpy canopies, minimal cushioning and seat support, and don't fold small enough to fit in airport storage bins. Umbrella strollers are good for when you occasionally need a slimmer, fast-fold stroller.
Travel stroller: Sometimes also called a lightweight stroller, travel strollers strike a balance between traditional and umbrella stroller styles. They're lighter than the standard stroller, easy to fold and compact in size when collapsed. But they still have some big-stroller amenities like large sun canopies and a storage basket. Some even have extras like cup holders and trays.
Many parents find that a travel stroller can work just as well as a full-size stroller for everyday use, but without the bulkiness. Several travel strollers are also compatible with infant car seats. For those styles that aren't, you have to wait until your child is six months old and able to sit up unassisted to use them.
What Should You Look for in a Travel Stroller?
A travel stroller should be easy to take with you on trips and be a comfy spot for your little one, especially since your child will probably spend more hours in it while traveling than at home. Look for travel strollers that are:
Lightweight
Easy to fold
Collapse into a compact shape
Have a large canopy
Have adjustable seats with machine-washable covers
Come with a carrying case or strap
How to Fly with a Stroller
Bringing a stroller with you on trips can seem daunting. How do you get it from point A to point B when you're flying? Will it count toward your carry-on and baggage allotment? And what if you need to use your stroller in the airport? Good news: You can pick how you want to travel with your stroller, depending on your needs. Here are the choices:
Check the stroller with your baggage: Some parents unload the stroller during check-in and switch to using a baby carrier through the airport instead. Pair a front carrier with a backpack-style diaper bag so your hands will be free to deal with other things. Note: If you have a large stroller, you may be required to check it as baggage anyway. Usually, this doesn't count toward your baggage allotment.
Check the stroller at the gate: Want to use the stroller until you board the plane? You can check the stroller with the gate agent—it just needs to be tagged—and then pick it up outside the aircraft door when you arrive. (Just remember if you have a connecting flight to catch, waiting for your stroller to be placed on the jet bridge can eat up precious time.)
Stow the stroller on the airplane: Some travel strollers fold up so small they fit in a backpack and can be stored in an overhead bin. Having your stroller with you eliminates the hassle of waiting for it on the jet bridge or at baggage claim (or losing it).
Some other air-travel tips to keep in mind:
If you check the stroller with baggage, it could get a little beat up. Ask the agent at check-in for a plastic bag to cover and protect it during transport, or bring your own travel bag.
If you're taking the stroller through security, you'll have to fold the stroller to put it through the X-ray machine, so don't stuff the undercarriage basket until after security.
If your checked stroller doesn't come out with the suitcases at baggage claim, check the oversized luggage area. It may have been set aside there.
How We Chose our Best Travel Strollers
We asked thousands of real Babylist families about the products they love the most. We took the top products they shared with us and added our own research and insight to tell you about the best travel strollers.
Do you think this content is helpful? Let our editors know!
---
Did you find this content helpful? Let our editors know!
---
Choosing What's Right for You
Don't let overwhelm hold you back from choosing the right travel stroller for your family's adventures. Just consider if you'll be using it mostly for road trips (and how much trunk space you have) or need it to fit into the storage areas of airplanes, trains or buses. Maybe you need something that works for all of the above.
Good news! The travel strollers on this list are all lightweight and compact. So no matter which one you choose, you're getting a stroller that will be an easy travel companion.
This information is provided for educational and entertainment purposes only. We do not accept any responsibility for any liability, loss or risk, personal or otherwise, incurred as a consequence, directly or indirectly, from any information or advice contained here. Babylist may earn compensation from affiliate links in this content. Learn more about
how we write Babylist content
.
The freshest in parenting this week, delivered to your inbox