Best Playards of 2023, Tested by a Gear Expert and Loved by Parents
Best Playards of 2023, Tested by a Gear Expert and Loved by Parents
On-the-go or at home, these picks will give your little one a safe place to rest and play.
Babylist editors love baby gear and independently curate their favorite products to share with you. If you buy something through links on our site, Babylist may earn a commission.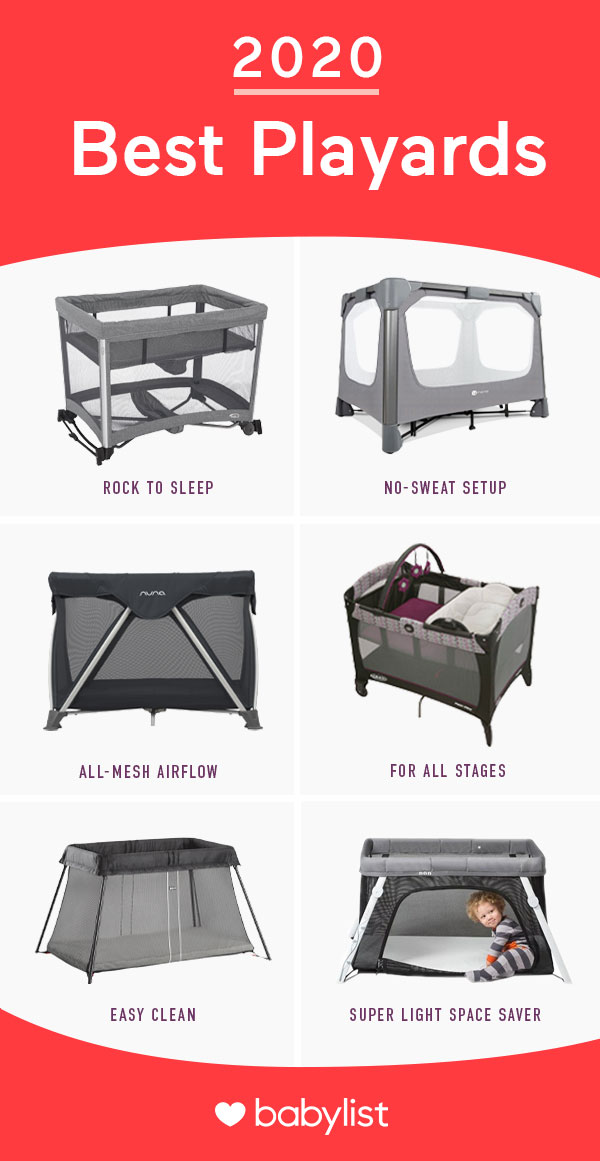 Quick quiz: you're home alone with your baby and you need to shower, get ready for work or—gasp—eat a warm meal in peace. What do you do with your little one?
Enter the playard, FKA the playpen. Playards sit either directly on the floor or slightly above it and have mesh sides for breathability and visibility. Many are designed for easy transport and have helpful add-ons like bassinets, changing stations and organizer pockets. They're a safe spot for your baby to hang out in when you're busy doing other things or simply need a quick break. Some are also specially designed for travel so you have a comfortable, familiar spot for your little one to sleep while you're away.
The playards that nabbed the top spots on our list were tested and reviewed by a baby gear expert and are popular favorites of thousands of Babylist families.
Babylist's Top Picks for the Best Playards
In This Article
Babylist's Picks for the Best Playards
Most Versatile Playard
The Scoop
Seven ways to use
Breathable mesh sides
Heavy
What Our Experts Say
It's no surprise that Graco, a long time leader in the playard space, knocks it out of the park with the ultra-versatile Day2Dream Pack 'n Play. This playard is a minimalist's dream; it's an infant sleep space, a fold-flat travel bassinet, a changing station and a spacious Pack 'n Play all rolled into one. We especially love the ultra-breathable mesh sides that promote airflow and make it really easy to see your little one. This playard comes with two carry bags (one for the bassinet and one for the playard) and an integrated storage organizer to keep essentials close.
What's Worth Considering
The Day2Dream is heavy, weighing in at almost 40 pounds. It's also on the pricier side, but since it takes the place of so many separate items of baby gear, we think it's actually a pretty great deal.
Additional Specs
| | |
| --- | --- |
| Child Guidelines | Portable bassinet off the playard: up to 20 lbs; Infant bassinet: up to 15 lbs; Playard: under 35" tall, unable to climb out |
| Product Weight | 39 lbs |
Best Playard for Travel
The Scoop
Folds into backpack
Ultra light
Zippered side door
What Our Experts Say
You have enough to lug around when you're traveling with your baby—a heavy playard shouldn't be on your packing list. This ultra-light playard folds up into a backpack, making it easy to tote around when you're on the go so you can also hold your little one, a diaper bag and everything else you need. And that's not the only standout feature. Parents love the zippered side door that allows you to lie down with your baby to nurse or cuddle, and toddlers love that it gives them a bit of independence. (Not too much, though, don't worry—you can clip the zipper closed so they can't escape!)
What's Worth Considering
The playard can be converted into a bassinet, but this requires an additional kit. Some parents also find the mattress to be quite thin.
Additional Specs
| | |
| --- | --- |
| Child Guidelines | Birth to 3 years old |
| Product Weight | 11 lbs (13 lbs with mattress + backpack) |
Best Lightweight Playard
The Scoop
Ultra-light- Easy set up and break down
Bundle includes crib + organic sheet
Also great for travel
What Our Experts Say
Babybjörn's travel crib is our all-time favorite lightweight playard. It weighs in at just about 13 pounds, a solid 10 pounds lighter than most competitors, and is compact and easy to carry when it's broken down. It's designed to be set up in one motion and break down just as easily. The sides are made entirely of mesh and both the mattress itself and the fabric frame can be tossed right into your washing machine. This bundle includes the travel crib and a fitted sheet made from 100% organic cotton.
What's Worth Considering
This travel crib is expensive. The included travel bag has handles but doesn't have backpack straps, so you'll need to carry it over your shoulder.
Additional Specs
| | |
| --- | --- |
| Child Guidelines | Newborn to 3 years |
| Product Weight | 13 lbs |
Best More Affordable Lightweight Playard
The Scoop
More affordable lightweight choice
Easy setup
Includes zippered carry bag
What Our Experts Say
If a lightweight playard is a priority but you don't want to spend upwards of $250 (or more), Chicco's Alfa Lite is an excellent choice. This playard offers many of the same features you'll find in much more expensive playards and travel cribs: an ultra light weight (13 pounds, to be exact); 360-degree mesh sides, an easy, compact fold and fast setup and zip-off, washable fabrics. There's even a zip-down side, just like in the Guava Lotus. The Alfa comes with a zippered carry bag and accommodates toddlers up to 30 pounds.
What's Worth Considering
Users rave about this well-priced travel crib, especially when comparing it to other pricier models. The one complaint seems to be the mattress, which is on the thinner side.
Additional Specs
| | |
| --- | --- |
| Child Guidelines | 0-36 mos |
| Product Weight | 13 lbs |
Best Budget Playard
The Scoop
Great value
More compact fold than most other Pack 'n Plays
Perfect for grandparents' house
What Our Experts Say
This no-frills playard is the perfect pick if you're looking for a budget-friendly Pack 'n Play, need an extra spot in your home where your little one can sleep or play safely or want something for the grandparents' house. It features folding feet and wheels, so it's 20% more compact when folded—a nice perk for on the go. The push-button fold makes it easy to break down and there's a carry bag included for when you need to take it away from home.
What's Worth Considering
You won't get too many fancy features with this playard, but we don't think you need them—this Pack 'n Play is a real workhorse for the price and more than gets the job done.
Additional Specs
| | |
| --- | --- |
| Child Guidelines | Birth to under 35" tall, unable to climb out |
| Product Weight | 18.5 lbs |
Easiest Playard to Set Up
The Scoop
One push to open, one pull to close
Includes bassinet and changing station
Sleek, modern design
What Our Experts Say
You haven't hit peak parenting frustration until you've wrestled with a playard setup at 9 p.m. as your baby wails beside you. Good news: you'll never have to if you own the Breeze Plus. As its name implies, setting up and breaking down this sleek, minimalist playard is really, well, a breeze. You'll need just one hand to push down on the center to open it up. When it's time to pack up, pull the same central hub up and the whole thing collapses into itself. The Plus also comes with a removable side-by-side bassinet and changing station.
What's Worth Considering
If you like the idea of an easy-open, easy-close playard but want to spend a little less, check out the Breeze Go. It doesn't feature the bassinet or the changing station, but will save you some money.
You can also buy the Breeze Plus as part of a bundle that includes the playard + sheets for the bassinet and mattress. The Organic Ultimate Bundle ($344.98) includes two organic sheets and the Waterproof Bundle ($334.98) includes two waterproof sheets.
Additional Specs
| | |
| --- | --- |
| Child Guidelines | Birth up to 30 lbs |
| Product Weight | 23.2 lbs |
Best Playard for Older Babies and Toddlers
The Scoop
Larger mattress than most playards
No weight limit
100% breathable mattress
What Our Experts Say
Playards are helpful during the baby days, but can be just as useful as your little one grows into toddlerhood—especially if you need a safe place to contain them once they're mobile. But many toddlers hit the height and weight maximums of some playards long before you feel comfortable letting them roam free. The Newton Baby Travel Crib and Playard solves this dilemma. The mattress is about two times larger than many playards, making it ideal for larger babies and toddlers who may be sized out of a smaller option. The mattress also rests directly on the ground, meaning there's no weight limit to worry about.
The other huge selling point of this playard is the mattress. It's not only ultra-comfy; it's also 100 percent breathable and washable, made with the same Wovenaire technology used in the brand's much-loved crib mattress. And it's GREENGUARD Gold Certified.
What's Worth Considering
This playard weighs in at about 17 pounds. If you're using it at home, it's not a huge deal, but if you're planning to travel with it frequently, it's something to keep in mind and you may want to consider a lighter option instead. It's also on the expensive side, especially if you add on the bassinet insert.
Additional Specs
| | |
| --- | --- |
| Child Guidelines | Bassinet up to approx. 5 mos, or when your little one begins to push up on their hands and knees; playard until child tries to climb out |
| Product Weight | 17 lbs |
Best All-in-One Playard
The Scoop
Quick, one-hand fold
Greenguard Gold Certified
Lots of accessories
What Our Experts Say
UPPAbaby, makers of some of our favorite strollers of all time, has branched out into the playard space with the release of the Remi—and it doesn't disappoint. All-in-one functionality meets beautiful design in this playard and travel crib combo that goes the distance. There are thoughtful features throughout like breathable sides, a zip-down side panel and a quick, one-handed fold. The Remi is Greenguard Gold Certified and comes with a removable bassinet insert and a travel bag. There are also tons of accessories like an organizer, organic mattress cover and waterproof mattress cover.
What's Worth Considering
The Remi is expensive. It's also heavy, weighing in at 20 pounds, so keep that in mind if you plan to use it for travel.
Additional Specs
| | |
| --- | --- |
| Child Guidelines | Birth to 35" tall |
| Product Weight | 20 lbs |
Best Playard for Outdoors
The Scoop
Sets up in seconds
Great for outdoor use, beach, camping etc.
Weighs just 7 lbs
What Our Experts Say
Getting outside with your little one is fun, but it's also a bit nerve-wracking if they're a little too free to roam. Taking along a playard can help. While you can certainly use this playard indoors (rainy day fort party, anyone?), it really shines for outdoor and on-the-go use. The setup is incredibly easy and incredibly fast: simply pull it up, pop it into place and you're set. It weighs under eight pounds so it's easy to carry and stow in the included travel bag. There are breathable mesh sides, waterproof fabrics and a top cover for sun protection that also features a peekaboo window, and the playard comes with stakes and sand bags if you need to secure it on a windy day. And there's a zip-down side panel for easy access to your little one.
What's Worth Considering
Unlike traditional playards with mattress-like bottoms, this one doesn't offer any padding, making it more of a play space rather than a sleep space.
Additional Specs
| | |
| --- | --- |
| Child Guidelines | 6+ mos |
| Product Weight | 7.7 lbs |
Best Playard for Small Spaces
The Scoop
Lightweight and compact to store
One second to unfold, three seconds to fold
Includes bassinet insert
What Our Experts Say
Leave it to luxe stroller brand Bugaboo to come up with a playard that's just as stylish as it is functional. The Stardust is sleek, simple and seamless. It opens and closes in seconds and is great for use both at home or for travel thanks to its light weight. Unlike most playards, it folds in on itself like an accordion rather than downward, which means you can store it upright just about anywhere and pop it open whenever you need a spot for your little one to play or chill.
What's Worth Considering
It's pricey, and there aren't a ton of add-ons other than the bassinet. There are no wheels on the base legs, but since this playard is pretty light we don't think that's too big of a deal.
Additional Specs
| | |
| --- | --- |
| Child Guidelines | Bassinet: up to 20 lbs; Playard: up to 33 lbs |
| Product Weight | 14.8 lbs |
Best Playard for Multiples
The Scoop
50% more space than traditional playards
Great for multiples
Large footprint
What Our Experts Say
RSVPing for two (or more)? The Room2 is the "big daddy" of playards with nearly 50 percent more space, totaling ten square feet of place space. It's a good choice for multiples or if you're simply looking for a playard with a little more room. There are edge-to-edge mesh windows for maximum visibility and a simple, modern design that parents love. A fitted cotton sheet is included.
What's Worth Considering
You won't get compact here. It's also on the heavier side, but considering its size, being just short of 30 pounds isn't so bad. Some parents also note it's a bit tricky to set up and take down so it may be a better choice if you're looking for more of a permanent play or sleep space.
Additional Specs
| | |
| --- | --- |
| Child Guidelines | Birth to 35" |
| Product Weight | 29.6 lbs |
Honorable Mention
How We Chose the Best Playards
We analyzed results from Babylist's Best Baby Products survey, which polled 6,000 Babylist users and asked them to share the baby products they love the most and why.
We utilized insight from the Babylist editorial team, including Gear Editor Jen LaBracio, an expert in the baby space for over six years and a mom of two who has written hundreds of baby gear guides and personally researched and tested hundreds of baby products, including many playards.
We reviewed customer reviews from hundreds of real Babylist parents.
Do You Need a Playard?
Playards aren't the only way to create a safe play zone for your baby or toddler. Playmats, jumpers, activity centers and baby gates are great for keeping little ones contained for a short time.
However, playards have a few distinct advantages, and many parents choose to add one to their registries. Playards provide babies with a safe space where they can move around. Many are easy to move from room to room and are useful for travel. They can also do double duty as:
Changing stations
Bassinets
Portable cribs
How Long Can You Use a Playard?
Most playards can be used from the newborn stage up until about three years old. Always check the height and weight requirements of your particular playard, as they vary by manufacturer. (Playards where the mattress is elevated off the ground usually have weight maximums of around 30-35 pounds, for example, while playards where the mattress rests on the ground often have no weight maxes.)
Note: If you get a hand-me-down or purchase a used playard, be sure it folds and unfolds properly and the mattress is snug. Check for holes or tears on the sides. And make sure it was manufactured in 2013 or after as that's when new federal safety standards were enacted.
What to Look for in a Playard
When you're shopping or registering for a playard, the most important thing to think through is how you'll primarily be using it (at home, for travel, etc.). But there are other features you should consider, too.
Use. Is travel the primary reason you're interested in a playard? You'll want to prioritize a travel-friendly option with features like a compact fold, a carry bag or backpack and a light weight. Are you planning to mostly use a playard in your home? Then those features may be less important, but details that should rise to the top of your list may be things like a built-in bassinet or changing station. Thinking through how you're going to use a playard can help you narrow down your options.
Size and weight. No playard would be considered light, but some models weigh much less than others. Think through how often you'll be moving your playard around and if you need it for travel. Also pay attention to the height and weight maximums, as that will help inform how long you'll be able to use your playard.
Ease of use and extra features. Research how easy the playard is to fold and unfold and whether or not it has wheels for easier portability. Also think through features like if there's a bassinet attachment or a changer, if a fitted sheet is included and how easy the playard and mattress are to clean.
This information is provided for educational and entertainment purposes only. We do not accept any responsibility for any liability, loss or risk, personal or otherwise, incurred as a consequence, directly or indirectly, from any information or advice contained here. Babylist may earn compensation from affiliate links in this content. Learn more about
how we write Babylist content
and
review products
, as well as the
Babylist Health Advisory Board
.
The freshest in parenting this week, delivered to your inbox