Best Playmats of 2017
Last Updated: January 1, 2017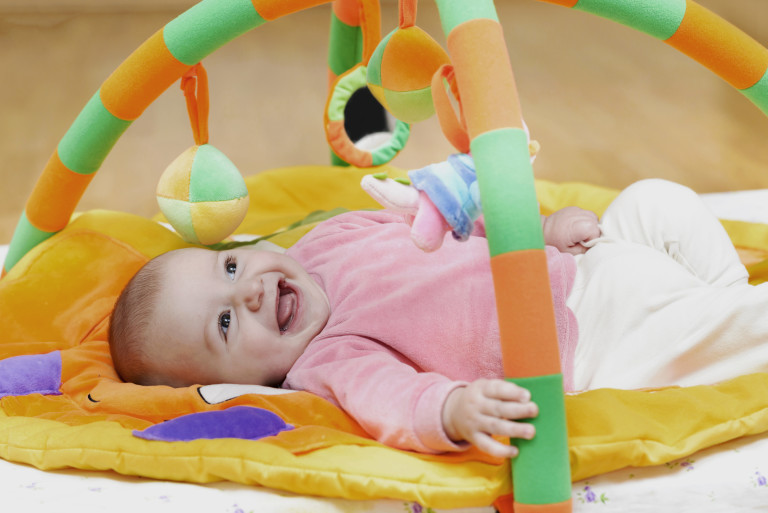 Whether you call it a playmat, play gym, or an activity gym, the idea is the same - a brightly colored and interactive mat for your baby's play time. They come in lots of different sizes, shapes and themes but they all have small toys like mirrors (don't worry, they're baby safe!), rattles, jingle and crinkle toys, music and lights to stimulate and delight your little one.
Do you need a playmat?
Need may be a strong word but an activity gym can come in handy. Let's face it: even if we wanted to, we can't hold our babies 24/7. Baby holders like activity mats, bouncers, and swings can sub for your arms when you need to answer the phone or the door, use the restroom (you have to at some point!) or make dinner. An playmat is a fun choice because it offers a variety of visuals, sounds and textures, whereas most swings and bouncers may only have one or two small plush toys. And they're perfect for tummy time, which helps babies strengthen their heads, necks, and shoulder muscles. Tummy time also promotes motor skills and helps to prevent the flattening of the back of the head.
When do you need a playmat?
You can use a play gym from day one, but babies between three to six months old get the most enjoyment out of it. This stage is when your baby is developing hand-eye coordination and grasping for the dangling toys is good practice. Once your baby starts to crawl, she'll move on to other toys (literally!).
Depending on your child's weight and height, you could use a crib until he is four or five years old. However, parents usually move their children into toddler or twin beds around two to three years old. But, if your kiddo is a climber, you'll likely make the change sooner because of safety concerns.
How we chose our best picks
We asked thousands of real BabyList families about the baby products they love the most, now that their little one has arrived. We took the top products they shared with us and added our own research and insight. Here are the top playmat picks we think you and your baby will love.
Choosing what's right for you
A playmat or an activity mat is a fun, useful way to keep your little one entertained. Your baby will most likely be intrigued and occupied by any of the choices you select. Think about the style and price range that's important to you. Soon your baby will be here and exploring their new magical mat!
About BabyList
Looking for the best items for your growing family? Add all your favorite baby products to ONE registry with BabyList. You deserve to get exactly what you want.