Best Bassinets of 2022
Babylist editors love baby gear and independently curate their favorite products to share with you. If you buy something through links on our site, Babylist may earn a commission.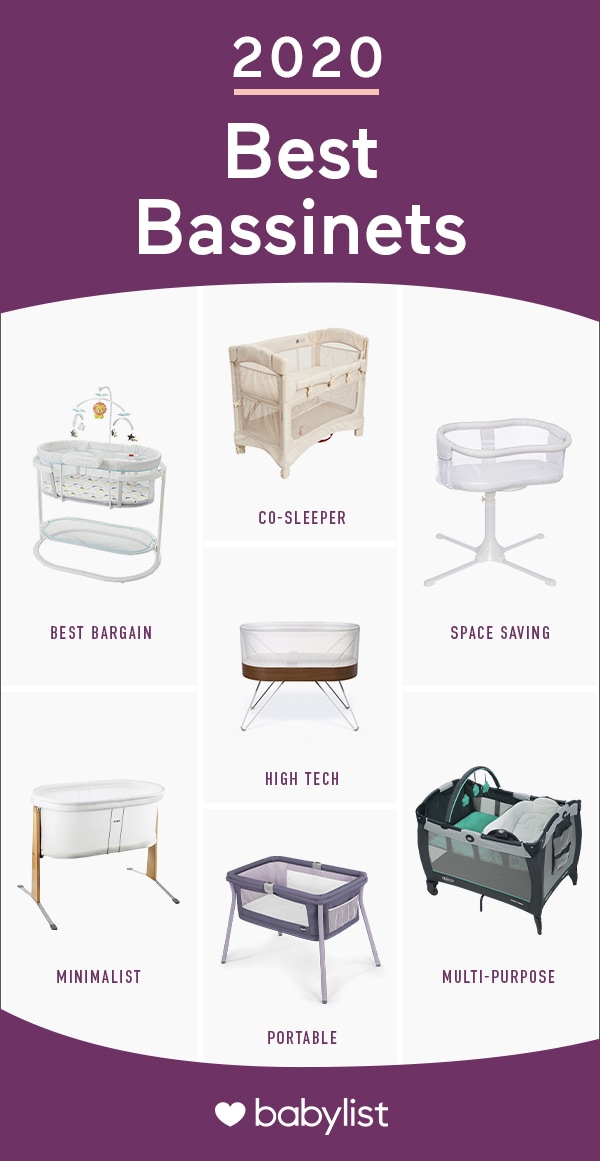 Keeping baby close, especially during sleep, is something that's often on the mind of many new parents. A bassinet is a great option—they're loved for their convenience and for their safety. The American Academy of Pediatrics safe sleep guidelines recommend keeping baby's sleep area in the same room where you sleep for at least the first six months.
A bassinet is a sleeping space that is smaller than a crib and designed for newborns and younger babies. Bassinets are typically placed next to your bed to give you easy access to your baby throughout the night, and many are mobile so your baby can nap near you during the day.
In this article:
Do You Need a Bassinet?
A bassinet has multiple benefits, but convenience and peace of mind likely top the list.
Because your little one will be within arm's reach, a bassinet makes those middle-of-the-night feeding sessions a little bit easier. (And at 2 a.m., we'll take all the easy we can get.) Whether you're nursing or using a bottle, you'll be able to reach over and pick up baby when it's time for a feeding without having to venture too far from the comforts of your bed. Especially if you're a new mom recovering from delivery and have limited mobility, this can be a big plus.
Bassinets also provide peace of mind during those first few months of parenthood when it seems like worrying is about the only thing that's coming naturally to you. Most bassinets are positioned at the same height as your bed, making it easy to get a glimpse of your newborn to reassure you (and them) that everything is fine. Keeping them in such close proximity will also make it easy for you to hear if they're starting to wake up or get fussy so you'll know it's almost time for a cuddle or a feeding. They're also a great option for parents who want baby as close as possible but do not want to bed-share, which the American Academy of Pediatrics does not recommend.
Not all parents will love having baby so close, though. If you're a light sleeper, or if hearing every grunt and squeak is actually making you more anxious, placing your baby to sleep in the nursery crib may work out better for everyone.
When Do You Need a Bassinet?
Bassinets are used during the newborn stage until your baby is able to move around, push up on their hands or roll over, usually between three months and five months old. Some bassinets have weight restrictions as well, which vary depending on the model you purchase.
How We Choose Our Best Bassinets Picks
We asked thousands of real Babylist families about the baby products they love the most, then took the top bassinets they shared with us and added our own research and insight. We think you and your little one will love at least one of these items too.
Do you think this content is helpful? Let our editors know!
Bassinets to Watch
Baby Delight's bassinets are the perfect combination of affordable + stylishly modern. And speaking of modern, check out the Maxi-Cosi Iora Bedside Bassinet and the Micuna Smart Fresh Bassinet for two more options that will seamlessly blend with your decor.
---
Did you find this content helpful? Let our editors know!
---
This information is provided for educational and entertainment purposes only. We do not accept any responsibility for any liability, loss or risk, personal or otherwise, incurred as a consequence, directly or indirectly, from any information or advice contained here. Babylist may earn compensation from affiliate links in this content. Learn more about
how we write Babylist content
and the
Babylist Health Advisory Board
.
The freshest in parenting this week, delivered to your inbox