Best Breast Pumps of 2023, According to Real Parents & a Baby Gear Expert
Best Breast Pumps of 2023, According to Real Parents & a Baby Gear Expert
Electric breast pumps, manual breast pumps, hands-free pumps and more. Overwhelmed? We can help.
Babylist editors love baby gear and independently curate their favorite products to share with you. If you buy something through links on our site, Babylist may earn a commission.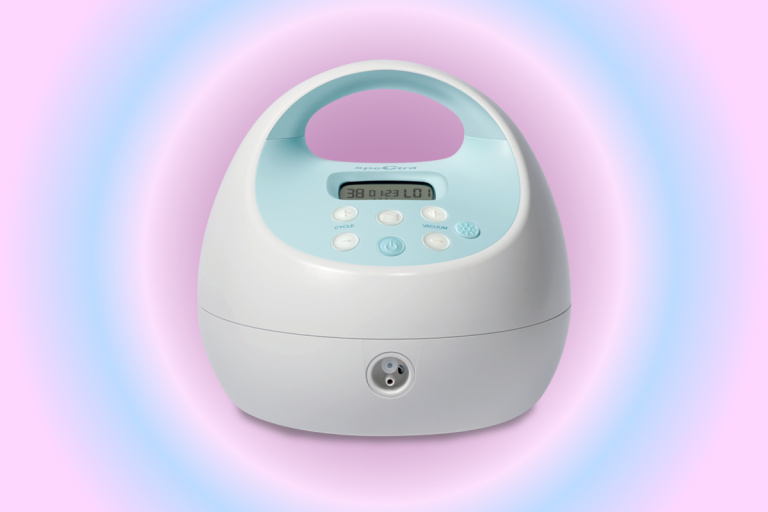 Breastfeeding provides a great source of nutrition for your little one and an opportunity to bond and connect with the newest member of your family. But there are certain circumstances—like if you'll be away from your little one, need to go back to work and pump there, are looking to share feedings with your partner, you're struggling with feeding or low breast milk supply or you'd simply prefer to pump—when a breast pump can be hugely helpful.
Choosing the best breast pump will depend on your lifestyle and personal preferences, but there are a few brands and models that consistently rank high on the list for many breastfeeding parents. Here's all the information you'll need to select the best breast pump for you and the top choices according to Babylist users and experts—there's one for every situation and every budget, too. Bonus: did you know you can get a free breast pump through insurance?
Babylist's Top Picks for the Best Breast Pumps
Best Breast Pumps at a Glance
| Pump | Type | Price | Weight | Power Source |
| --- | --- | --- | --- | --- |
| Spectra S1 | Electric | $216 | 3 lbs | Plug or battery |
| Medela Pump in Style | Electric | $239 | 1.1 lbs | Plug or battery |
| Elvie | Wearable | $549 | 13.6 oz | Battery |
| Willow Go | Wearable | $349 | 5.6 oz | Battery |
| Momcozy S12 | Wearable | $139 | 2.34 lbs | Battery |
| Motif Luna | Electric | $229 | 2 lbs | Plug or battery |
| Medela Harmony | Manual | $34 | 9.3 oz | Manual |
| Haakaa | Manual | $12 | 15.2 oz | Manual |
| Pumpables Genie Adv | Portable | $180 | 8.8 oz | Battery |
| Baby Buddha | Portable | $189 | 8 oz | Battery |
| Dr. Brown's Customflow | Electric | $99 | 2 lbs | Battery |
| Medela Symphony | Electric | $1,879 | 6.7 lbs | Plug |
Babylist's Picks for the Best Breast Pumps
How We Chose the Best Breast Pumps
We analyzed results from Babylist's Best Baby Products survey, which polled 6,000 Babylist users and asked them to share the baby products they love the most and why.
We utilized insight from the Babylist editorial team, including Gear Editor Jen LaBracio, an expert in the baby space for over six years and a mom of two who has written hundreds of baby gear guides and personally researched and tested hundreds of baby products, including many breast pumps.
We reviewed customer reviews from hundreds of real Babylist parents.
Types of Breast Pumps
There are five main categories of breast pumps:
Hospital-grade breast pumps: These heavy-duty pumps feature powerful motors and a greater amount of "sucks" per minute. They extract milk quickly and are generally fairly quiet, but they're bulky and lack easy portability. Hospital-grade pumps are usually rented, as they are upwards of $1,000 to purchase.
Electric breast pumps: Efficient, portable and adjustable for both suction and speed. While all require electricity to function, some models feature rechargeable batteries, giving you the freedom to pump without being tethered to an outlet. Electric pumps also typically come with a carrying case and cooler for milk transport, making them a popular choice for working parents. Single electric breast pumps are available, but a double pump is the more popular—and more efficient—choice.
Wearable electric breast pumps (sometimes also called hands-free pumps): Gaining in popularity over the last few years, wearable breast pumps are just what they sound like—hands-free, completely portable breast pumps that you can wear right in your bra. Everything you need to pump—the motor and battery, the flanges, the bag or container that collects the milk—is built right into a wearable pump. Because of this, there are no exterior tubing, wires or collection bottles needed. Wearable pumps let you pump more discreetly than traditional breast pumps, and some even let you pump in different positions.
Portable breast pumps: Portable breast pumps are a cross between a traditional pump and a wearable pump. Portable pumps take the body of a traditional pump and shrink it down to a smaller, more compact size. Whereas a traditional pump may weigh around two or three pounds, many portables are weighed in ounces—anywhere from a few ounces to about 10-12 ounces for the larger portables. If you're pumping with a portable, you'll still need to run tubing from the pump to your flanges. To collect the pumped milk, you can use either standard breastmilk collection bottles or collection cups (a wearable milk collection insert) for extra portability.
Manual breast pumps: These breast pumps use the pressing motion of your own hand to create suction and pump your milk. Some are easy to operate with one hand, while others require two hands. Because they lack a motor, these pumps are quiet and small (about the size of a bottle), making them a good choice for travel or for occasional pumping.
Breast Pump Terms
Overwhelmed with breast pump terminology? Understanding these key terms will help you better research the best breast pump for you.
Closed system breast pump. A closed system pump means there is a barrier between the breast pump and its parts and your milk, preventing any leaks or overflow into the pump itself. This barrier also prevents moisture from building up in your pump's tubing.
Open system breast pump. An open system breast pump does not have a barrier between the pump and your milk.
Flange. Also known as a breast shield, the flange is the part of the pump that goes around your nipple and cups your breast. Flanges come in varying sizes depending on the type and brand of breast pump you choose. Some models provide multiple sizes for you to try out, while others offer additional sizes for purchase. Most brands have specific flange sizing guides that show you how to measure and how to choose the correct size.
Valve. Sometimes called duck valves, these small, flexible parts stretch and release each time your breast pump suctions, helping to draw out milk. Valves should be replaced regularly to help keep your pump functioning properly. (Consult your pump manufacturer's guidelines as to how often.)
Backflow protector. Backflow protectors serve as a barrier between a breast pump and your milk in a closed system breast pump, preventing milk from entering your pump's motor or tubing. Like valves, certain parts of your backflow protector should be replaced regularly, depending on the manufacturer's recommendations and how often you pump.
Power source. All breast pumps require a power source. For electric, wearable and portable pumps, this is a motor. For manual pumps, the power source is a handle and your hand.
Breast milk bottles. Breast milk bottles are used to collect and store pumped breast milk. You can pump directly into these bottles and use the milk immediately or store it for later use.
Breast milk bags. Breast milk bags are another way to store pumped breast milk. Breast milk bags come in both disposable (plastic) options or reusable (silicone) materials and can store both fresh or frozen milk. Some breast pumps allow you to pump directly into breast milk bags to help minimize cleanup after every pumping session.
Closed System Versus Open System Breast Pumps
As noted above, there are two types of breast pumps: closed system pumps, where there's a barrier between the pump and your milk, and open system pumps, where there is not. Most experts and lactation consultants recommend closed system pumps due to a smaller chance of contamination. They also note that you should never purchase or use an open system breast pump secondhand for sanitary reasons. If you do choose an open system pump, be sure to closely follow the manufacturer's directions for sanitizing and cleaning your pump and all of its parts.
Do You Need a Breast Pump?
Since everyone's situation is unique, you'll need to think about your lifestyle, employment situation, feeding preferences and how long you plan on breastfeeding when making the decision on whether or not to purchase a pump. If you're planning on working outside the home after baby is born and continuing to breastfeed, for example, then a good pump is a must-have. But if you expect to be with baby most of the time, it may not be quite as crucial.
We recommend getting a pump if:
You're planning on being away from baby on a regular basis, such as for your job, or for an extended period of time, such as a trip.
You're looking to maintain your milk supply, either because your baby can't or won't nurse or you're dealing with an illness or a medication that isn't safe for breastfeeding.
You're dealing with low supply or engorgement.
You prefer feeding baby expressed milk.
What to Keep in Mind When Buying a Breast Pump
Like most things when it comes to baby gear (and parenting, for that matter), there's no one perfect pump for every parent. There are pros and cons to each, and which breast pump is best for you depends on when, where and how often you'll be pumping.
Type of Pump
Manual, electric, portable, wearable… How do you know which type of pump is best? Before choosing, you'll want to think through how often you plan to pump and what your pumping goals are. If you're an exclusive pumper, pumping regularly (like at work or every night before bed) or simply don't want to deal with the hassle of a manual pump, then a traditional electric breast pump or a powerful portable pump are the best choices for you. These types of pumps are fast and efficient at removing breast milk and fully emptying your breast.
Pumping very infrequently? Going out for the night or need to pump on an airplane and don't want to drag your electric breast pump along? Consider a wearable pump or even a manual.
Size and Portability
Hand in hand with the type of pump you choose comes size and portability. Think through things like where you'll most often be pumping (at home versus on the go) and how often. Also consider if you want to be tethered to a power source at all times or if you prefer a pump with a rechargeable battery.
Suction
It's tough to know the suction and vibration settings you'll prefer (and the ones your body will respond to the best) prior to pumping, so look for a pump with a wide range of suction settings to give yourself the most options and set yourself up for success.
Ease of Use
Consider things like how easy it is to assemble and disassemble the pump, cleaning options, customer service (are replacement parts accessible and easy to order?) and general pump maintenance.
How to Get a Breast Pump Through Insurance
Thanks to the Affordable Care Act (ACA), passed in 2010, health insurers must cover the cost of a breast pump. The type of pump you qualify for will depend on your particular health insurance plan, as each plan has its own set of specific guidelines.
Reach out to your insurance provider well before your due date for plan-specific information about which pumps are covered and how to order one. You can also check Babylist Health, an easy and efficient way to cut through the red tape around ordering a pump. All you'll need to do is input your state of residence and your insurance provider and Babylist Health will do the rest, including providing you a list of covered pumps (including upgrade options if you want to pay more), verifying your insurance coverage, requesting the prescription from your doctor and shipping the pump right to your door.
Frequently Asked Questions
What is the best time to start pumping breast milk?
According to the La Leche League, you can begin pumping once breastfeeding is well established—usually around four weeks after baby is born. However, if your baby is in the NICU, is having trouble breastfeeding or you wish to pump exclusively, you don't need to wait.
They recommend introducing a pumping session after one feeding each day when your breasts are still feeling full. (For lots of people, this is often the first morning feed.) Around this time, you can also start introducing your little one to a bottle.
How long you breastfeed and pump depends on your personal situation. The American Academy of Pediatrics recommends trying to breastfeed exclusively for the first six months and then continue nursing, while also feeding solids, through the rest of the first year. Ultimately, though, you need to do what's best for you, your family and your childcare situation.
How do I know which breast pump will work for me?
Finding the right breast pump is part research and part a process of trial and error. It depends on various factors such as your individual needs, preferences and the specific features of the breast pump, as well as factors like whether you will be exclusively pumping or using it occasionally, suction strength and speed settings and the level of comfort it provides. Reading reviews, seeking recommendations from other parents and consulting with lactation consultants or healthcare professionals can also help in making an informed decision, but ultimately, it may require some experimentation to find the breast pump that suits your needs and helps you effectively express milk.
How often should I clean my breast pump?
You'll need to clean your breast pump parts after each use. This ensures that the pump is hygienic and free from any bacteria or milk residue that could potentially contaminate your breast milk. Always follow the manufacturer's instructions for cleaning and sterilizing the specific model of breast pump you are using.
Will a breast pump change my breasts?
No, using a breast pump will not change the size or shape of your breasts. It does not have any long-term effects on the structure or appearance of the breasts. However, it is important to note that breastfeeding itself can cause temporary changes in the breasts, such as engorgement or changes in nipple size, but these changes are typically temporary and will return to their pre-pregnancy state once breastfeeding has ended.
This information is provided for educational and entertainment purposes only. We do not accept any responsibility for any liability, loss or risk, personal or otherwise, incurred as a consequence, directly or indirectly, from any information or advice contained here. Babylist may earn compensation from affiliate links in this content. Learn more about
how we write Babylist content
and
review products
, as well as the
Babylist Health Advisory Board
.
The freshest in parenting this week, delivered to your inbox