Best Breast Pumps of 2021
Best Breast Pumps of 2021
Babylist editors love baby gear and independently curate their favorite products to share with you. If you buy something through links on our site, Babylist may earn a commission.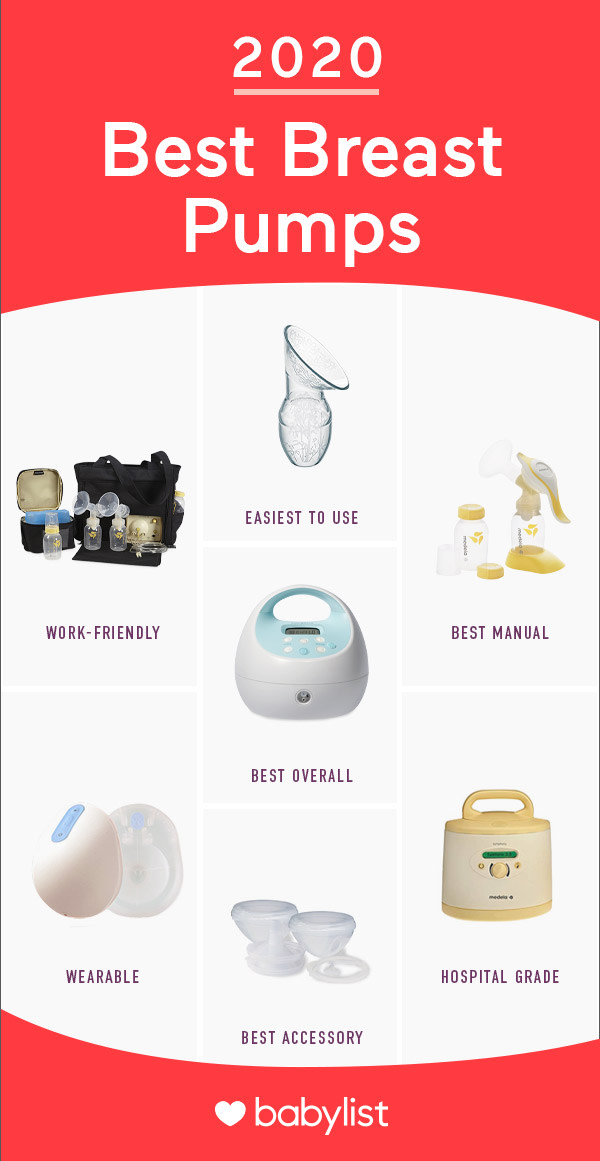 Breastfeeding provides a great source of nutrition for your little one and an opportunity to bond and connect with the newest member of your family. But there are certain circumstances—like if you'll be away from your little one, are looking to share feedings with your partner or you're struggling with feeding or low supply—when a breast pump can be hugely helpful.
Although choosing a breast pump can depend on a lot of lifestyle and personal preferences, there are a few brands and models that consistently rank high on the list for many breastfeeding parents. Here's all the information you'll need on selecting the best pump for you and the top choices as voted on by Babylist users.
In this article:
Do You Need a Breast Pump?
Since everyone's situation is unique, you'll need to think about your lifestyle, employment situation, feeding preferences and how long you plan on breastfeeding when making the decision on whether or not to purchase a pump. If you're planning on working outside the home after baby is born and continuing to breastfeed, for example, then a good pump is a must-have. But if you expect to be with baby most of the time, it may not be quite as crucial.
We recommend getting a pump if:
You're planning on being away from baby on a regular basis, such as for your job, or for an extended period of time, such as a trip.
You're looking to maintain your milk supply, either because your baby can't or won't nurse or you're dealing with an illness or a medication that isn't safe for breastfeeding.
You're dealing with low supply or engorgement.
You prefer feeding baby expressed milk.
Keep in mind that many health insurance plans now cover the cost of a breast pump for nursing parents. Be sure to call your health insurance company to ask about your specific benefits and what you'll need to do to get your free pump.
What Types of Breast Pumps are There?
There are four main categories of breast pumps:
Hospital-grade breast pumps: These heavy-duty pumps feature powerful motors and a greater amount of "sucks" per minute. They extract milk quickly and are generally fairly quiet, but they're bulky and lack easy portability. Hospital-grade pumps are usually rented, as they are upwards of $1,000 to purchase.
Electric breast pumps: Efficient, portable and adjustable for both suction and speed. While all require electricity to function, some models feature rechargeable batteries, giving you the freedom to pump without being tethered to an outlet. Electric pumps also typically come with a carrying case and cooler for milk transport, making them a popular choice for working moms. Single electric breast pumps are available, but a double pump is the more popular—and more efficient—choice.
Wearable electric breast pumps: Gaining in popularity over the last few years, wearable breast pumps are just what they sound like—a hands-free, completely portable breast pump that you can wear right in your bra. The pump is made up of pump "cups" that fit over each breast, flanges and milk bags. Wearable pumps let you pump discreetly and in many different positions, anywhere.
Manual breast pumps: These breast pumps use the pressing motion of your own hand to create suction and pump your milk. Some are easy to operate with one hand, while others require two hands. Because they lack a motor, these pumps are quiet and small (about the size of a bottle), making them a good choice for travel or for occasional pumping.
All breast pumps are made up of a few essential components:
A breast shield (also known as a flange) that cups your breast. Breast shields come in varying sizes depending on the type and brand of breast pump you choose. Some models provide multiple sizes for you to try out, while others offer additional sizes for purchase.
A bottle or bag for milk collection
A power source (a motor for electric pumps, and a handle for manual ones)
When Can You Use a Breast Pump?
According to the La Leche League, you can begin pumping once breastfeeding is well established—usually around four weeks after baby is born. However, if your baby is in the NICU, is having trouble breastfeeding or you wish to pump exclusively, you don't need to wait.
They recommend introducing a pumping session after one feeding each day when your breasts are still feeling full. (For lots of people, this is often the first morning feed.) Around this time, you can also start introducing your little one to a bottle.
How long you breastfeed and pump depends on your personal situation. The American Academy of Pediatrics recommends trying to breastfeed exclusively for the first six months and then continue nursing, while also feeding solids, through the rest of the first year. Ultimately, though, you need to do what's best for you, your family and your childcare situation.
How We Chose Our Best Breast Pumps
We asked thousands of real Babylist families about the baby products they love the most now that their little one has arrived, then took the top products they shared with us and added our own research and insight. Here are the breast pumps we think are the best of the best.
Do you think this content is helpful? Let our editors know!
---
Did you find this content helpful? Let our editors know!
---
This information is provided for educational and entertainment purposes only. We do not accept any responsibility for any liability, loss or risk, personal or otherwise, incurred as a consequence, directly or indirectly, from any information or advice contained here. Babylist may earn compensation from affiliate links in this content. Learn more about
how we write Babylist content
and the
Babylist Health Advisory Board
.
The freshest in parenting this week, delivered to your inbox