Best Infant Car Seats of 2020
Best Infant Car Seats of 2020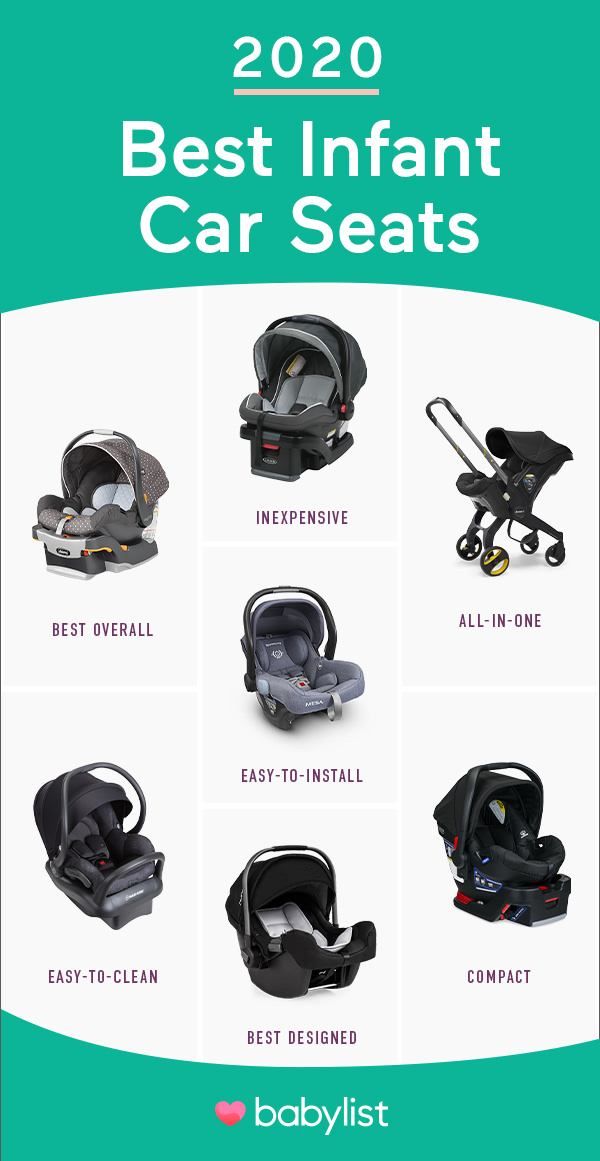 An infant car seat is one of the most important items of baby gear that you're going to need as a new parent. If you plan on ever taking your little one along in your car, it's a must-have—and most hospitals won't discharge you without one. But with so many different models, and so much pressure to pick the safest ride for your little one, figuring out which one to choose can be a big decision.
We've consulted real parents, our own team of baby gear experts and a Child Passenger Safety technician (CPST) on infant car seats across a range of budgets and styles to help you make the best—and most informed—decision.
In this article:
Do you think this content is helpful? Let our editors know!
What's an Infant Car Seat?
An infant car seat is a seat made specifically for infants and younger babies. These seats always face the rear of the car and are used from day one until your baby reaches the seat's maximum height or weight limit (anywhere between 22-35 pounds, depending on the specifics of your seat).
Infant car seats are designed to attach to a base. The base stays installed in your car and the seat clicks in and out, making it easy to get your baby into and out of your car. Most babies outgrow their infant seat around one year of age or so.
Other types of car seats:
Convertible car seats: These grow-with-your-child seats transform from rear-facing seats for babies and toddlers to forward-facing seats for older children up to about 65 pounds. Some convertible seats can be used from birth, but they're not designed to be easily popped out of your car and are much too heavy to be carried around so you'll lose some of that convenience factor if you decide to use a convertible seat from day one. (More on that below.)
Booster car seats: Booster car seats: For kids at least four years old and at least 40 pounds, boosters do just what the name implies—boost your child up higher in your car's seat. This ensures that your car's regular lap and shoulder belts cross over your child's body at the correct points to securely hold them.
What Should You Look for in an Infant Car Seat?
First things first: spending less money on a car seat doesn't mean it's any less safe.
Every car seat sold in the US must meet the same federal safety standards set forth by the National Highway Transportation Safety Administration. While each individual state may have their own guidelines around car seats (many states, for example, now require that children under the age of two ride in a rear-facing seat), any seat sold in the US must meet the same benchmarks around safety and installation.
So what will a more expensive infant car seat get you? More expensive seats often means more extras like luxury materials, larger canopies, easier installation and potentially some additional safety features not currently required by law.
Here are some factors to take into consideration when choosing a seat:
Fits in your car: Car seats range in size and shape. Some are a better fit for larger or smaller cars.
Ease of installation: Many car seats can be installed using the regular seat belt or the LATCH system, which is an easier way to secure the car seat using built-in anchors and tethers (available in cars made after 2002).
Safety indicators: Some car seats come with built-in leveling systems and indicators to signal they've been correctly installed. (Most safety issues with car seats stem from them not be installing correctly. Here's info on how to get a safe install.)
Fabric: Besides looking for a style of fabric that suits your taste, consider its durability and how easy it'll be to wash if (when) any messes happen.
Safety extras: Some car seats include additional shock absorption, padding and higher quality materials.
Stroller compatibility: You can snap infant car seats into many strollers or stroller frames. A stroller and car seat that come as a set is called a travel system. But if there's a car seat you absolutely love that differs from your stroller, check if a separate adapter is available to fit the items together.
New vs used: Used car seats might be damaged and may not be up to snuff when it comes to current safety regulations. While we recommend new car seats, if you do end up selecting a used car seat, get it from someone you trust. Be sure to look up the seat's expiration date and research if that particular model has ever been recalled. If the seat is dirty, be sure to follow the manufacturer's strict rules around how to clean it. Each car seat has a specific set or rules around how to clean it while maintaining its safety and integrity.
For more details about car seats, read our How to Choose a Car Seat guide.
Why Purchase an Infant Car Seat Instead of a Convertible?
While it seems that purchasing a convertible car seat would be the most efficient, there are a few distinct advantages to using an infant car seat instead.
Babies can stay asleep during the transfer from car to stroller if you purchased a travel system. It's also much easier to click your infant seat (baby in tow) in and out of your car since it attaches to a base that's permanently installed.
If your baby will be riding in multiple vehicles, transferring an infant car seat is also much easier than uninstalling and reinstalling a convertible seat. Just be sure to purchase an additional car seat base so you can quickly click the infant car seat into the backseat base and go.
Babylist's Best Infant Car Seat Picks
These are Babylist's picks for the best infant car seats.
Choosing the Right Infant Car Seat For You
Once you get the car seat, be sure to test it out in your car(s) right away before removing the tags or throwing away the box. You'll want to make sure it's a good fit and that it lives up to your expectations.
Remember, any new seat you choose will be safe. What matters most is that the seat makes commuting around town and going on road trips to see grandma and grandpa easy for you and your family.
This information is provided for educational and entertainmentpurposes only. We do not accept any responsibility for anyliability, loss or risk, personal or otherwise, incurred as aconsequence, directly or indirectly, from any information oradvice contained here. Babylist may earn compensation fromaffiliate links in this content. Learn more about
how we write Babylist content.
The freshest in parenting this week, delivered to your inbox