Best Booster Seats
Babylist editors love baby gear and independently curate their favorite products to share with you. If you buy something through links on our site, Babylist may earn a commission.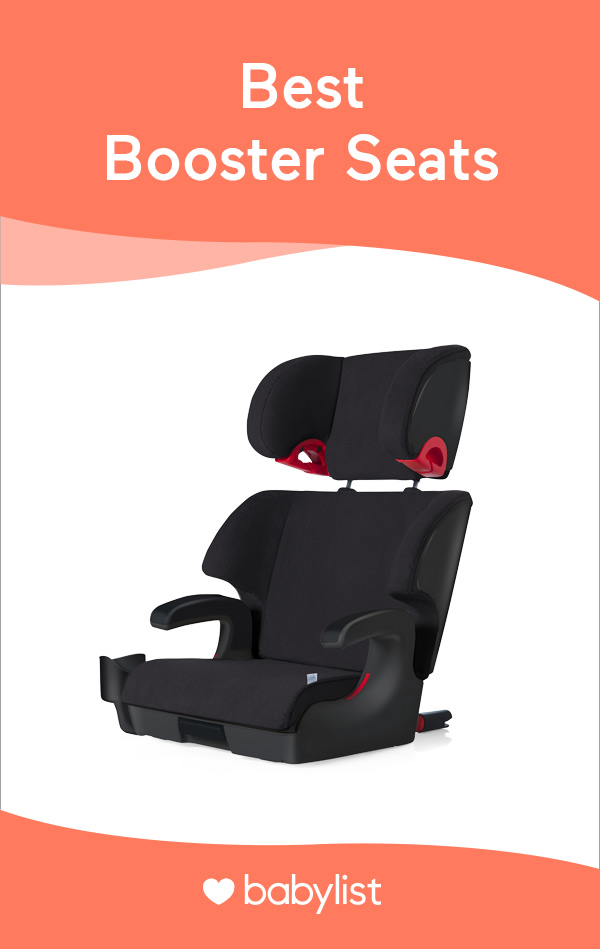 Infant bucket seats, convertible seats, boosters… When it comes to car seats, you're going to be in it for the long haul. This is especially true when it comes to booster seats, since your little one will be riding in one for years.
Buckle up, because we have everything you need to know about the safety guidelines around boosters, when to make the switch, and which seats are best to keep your tiny passenger as safe as possible.
In this article:
What is a Booster Seat?
After a child outgrows a front-facing car seat, they're still not big enough to be in the correct position for your vehicle's seat belts to do its job: saving your child from injury should you get into an accident. Straps that lay against the neck or across the belly can actually do harm instead of good in the event of a crash.
Booster seats were developed to elevate children in a car's seat, making adult seat belts fit better on little bodies. Boosters don't come with their own safety belts, but use your vehicle's seat belts instead. Many have clips that guide the shoulder and lap belts into the proper placement.
Do You Need a Booster Seat?
While laws vary on how big a child must be before they can ride without a special seat, most states require children to use a booster seat until 8 years old. It's also just plain safer to use one until your vehicle's seat belt straps can naturally fall over your child's shoulder and across the lap—the spots where adult belts should lay.
When Do You Need a Booster Car Seat?
You should transition your child to a booster seat when they have reached the maximum weight and/or height limit of your forward-facing car seat. For some seats that's around 40 pounds or five years old, while others have much higher limits.
Another thing to consider when transitioning your child from a car seat to a booster is the freedom of movement that a booster allows. A car seat has a 5-point harness, which means that when it's properly tightened, it doesn't allow your child the freedom to move around all that much. A booster, however, does not. And leaning over, twisting, reaching over to poke a sibling…none of these are safe positions for your child to be in while you're driving. Most kids aren't mature enough to sit properly in a booster until at least 5 years old.
A booster seat is used until children are usually around 8 to 12 years old and a vehicle seat belt fits properly without it.
What Type of Booster Seat is Best?
Any new booster seat you purchase has met the government's safety standards. (That's not true for second-hand seats, so it's best to buy boosters new.) However, some boosters performed better than others in evaluations conducted by the Insurance Institute of Highway Safety. Check out the safety ratings for a gamut of booster seat options, including ones to avoid.
When shopping for booster seats, you'll have two types to choose from: high-back and backless.
High-back boosters are similar to a car seat in that they are a mini-sized seat, with a bottom and back, placed on your passenger seat. High-back boosters offer a guide through which you can thread the shoulder belt to make sure the fit is exactly where it needs to be. On some, the backrest can be adjusted for height, and most high-backs have padded headrests.
Note that there are also combination high-back booster seats, which can function either as a car seat with a 5-point harness (for children up to at least 40 pounds), or a belt-positioning booster for kids over 40 pounds. In these types of seats, the back portion of the seat is not usually removable.
Backless boosters only have the seat component to provide the extra height needed to be safely strapped in, and are less expensive than high-backs. Backless boosters have seat belt guides that position the belt over the correct place on the child's body.
According to the Car Seat Lady, in order to use a backless booster, the vehicle seat must come up to your child's ears. That's because the top of the ears is the same height as the bottom of the skull, and the skull needs protection in the event of a crash. If your child's ears come up past the vehicle seat, they should use a high-back booster.
Typically boosters sit in the back passenger seat without being tethered down. Some provide connectors that attach to your vehicle's anchors to keep the booster secured to the vehicle seat. This doesn't affect your child's safety while riding in it, but eliminates the booster sliding around when your little one is getting in and out.
More importantly, tethering it to your vehicle's seat keeps an empty booster from becoming a projectile in the event of a collision. If the booster you choose doesn't have connectors to attach to your automobile's seat, be sure to stow it in your trunk or secure it down with a seatbelt when your child isn't in it.
Babylist's Best Booster Seat Picks
Choosing What's Right for You
All new booster seats on the market have met the same safety standards. When it comes to choosing what's right, after safety, it all comes down to personal preference and your family's specific needs. Do you need something that's lightweight and can be easily transferred between cars? Are headrests essential because your child tends to nod off in the car? Would extra safety features in a booster help you stress less on the road? These are the things to think about as you decide what booster is best for you and your little travel companion. Here's to many happy miles ahead!
This information is provided for educational and entertainment purposes only. We do not accept any responsibility for any liability, loss or risk, personal or otherwise, incurred as a consequence, directly or indirectly, from any information or advice contained here. Babylist may earn compensation from affiliate links in this content. Learn more about
how we write Babylist content
and the
Babylist Health Advisory Board
.
The freshest in parenting this week, delivered to your inbox