Best Swaddles of 2021
Babylist editors love baby gear and independently curate their favorite products to share with you. If you buy something through links on our site, Babylist may earn a commission.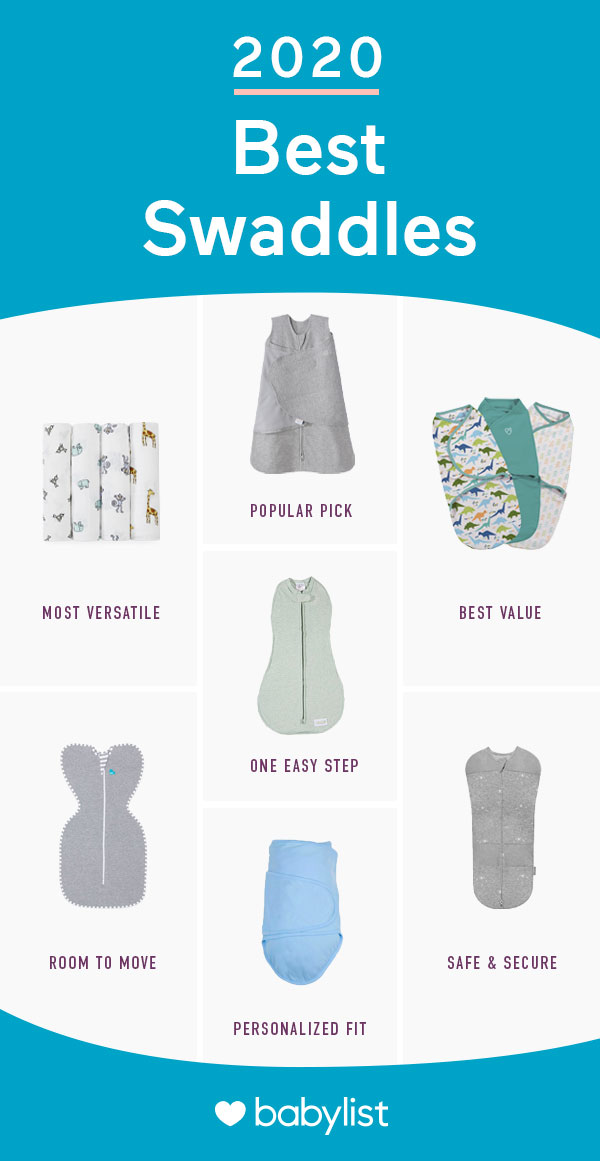 If you've never had a newborn, the thought of wrapping your baby up so tightly that they can't move their arms might sound like a crazy idea.
But many parents will tell you that many newborns are comforted by swaddles—they tend to cry less and sleep more when they're snuggly wrapped.
In this article:
What is Swaddling?
If you're new to the notion of swaddling, the concept is quite simple. It's a way of wrapping a blanket around your baby tight enough so they can't wriggle out.
Swaddling is great for a few reasons:
It prevents the newborn startle reflex from waking them by keeping baby's arms tight to their sides.
Newborns feel comforted and calm in the tight, womb-like wrap.
It keeps your baby warm while they sleep without any loose blankets, which can be a suffocation hazard.
Should All Babies Be Swaddled?
Generally, swaddling is safe for all newborns. But if your baby has hip dysplasia or other hip issues, swaddling may aggravate that. Be sure to check with your pediatrician if that's the case for you.
Also, because all babies are different, some just don't like being swaddled. Or, they may be fine with having their torso swaddled, but want their arms free.
What are the Types of Swaddles?
It's a good idea to register for a couple of different types of swaddles to see which one your baby prefers. Swaddles typically fall into two camps:
Traditional swaddling blankets: These are large, thin blankets that you wrap baby up in like a little burrito. They can be used for other things post swaddling, like blankets and burp cloths, but there's definitely a "how do you do this?" learning curve!
Swaddling sacks and pouches: Easier to navigate for new parents, these tend to come with things like Velcro, snaps and zippers to help you get that snug swaddle.
How Long Do You Swaddle?
Newborns are usually swaddled until about 3 or 4 months or as soon as they are able to roll over.
When your baby starts rolling over around, swaddling can be dangerous since babies shouldn't lie on their stomachs without being able to use their arms. But then many babies have difficulty falling or staying asleep without the cocoon-like feel of a swaddle.
A transition blanket is a good solution for that time in between swaddling and your child being old enough to use a loose blanket. It's a wearable blanket that's designed to let your baby's arms be free, but still provides the coziness of a swaddle.
Here are two transition blankets that Babylist parents love:
Halo SleepSack: The Halo SleepSack is like the Halo Swaddle, but with the wings that wrap around your baby removed. Your baby's arms will be free, but their legs will still be inside a zippered pouch, so it helps them feel secure as they transition.
Merlin's Magic Sleepsuit: The magic sleepsuit is a thick jumper. It has arms and legs like a normal one-piece outfit, but the thick material helps restrict baby's movements as they get used to sleeping without a swaddle.
How We Chose Our Best Swaddles
We asked thousands of real Babylist families about the baby products they love the most, now that their little one has arrived. We took the top products they shared with us and added our own research and insight. Here are the top swaddles we think you and your baby will love.
Do you think this content is helpful? Let our editors know!
---
Did you find this content helpful? Let our editors know!
---
Choosing the Right Swaddle for Your
Which swaddle will be best for you and your newborn? Every baby is different, so you might need to experiment a little to find the swaddle that's the best fit. And go ahead and choose a swaddle that also looks adorable on your cute little one!
This information is provided for educational and entertainment purposes only. We do not accept any responsibility for any liability, loss or risk, personal or otherwise, incurred as a consequence, directly or indirectly, from any information or advice contained here. Babylist may earn compensation from affiliate links in this content. Learn more about
how we write Babylist content
and the
Babylist Health Advisory Board
.
The freshest in parenting this week, delivered to your inbox