Best Baby Food
Babylist editors love baby gear and independently curate their favorite products to share with you. If you buy something through links on our site, Babylist may earn a commission.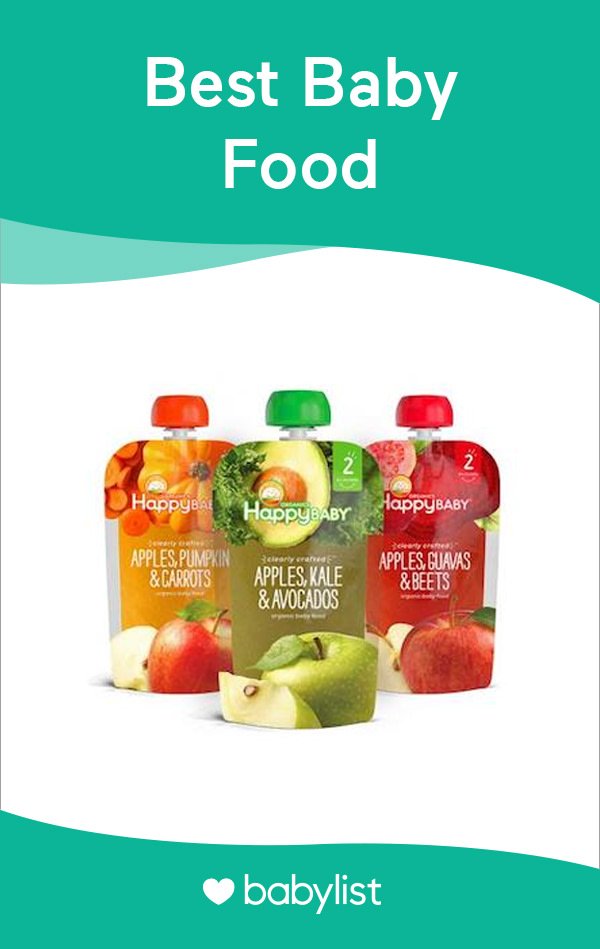 Purees or baby-led weaning. Organic versus non-organic. Pouches, jars and subscription services. When it comes to baby food, there are a lot more decisions for parents to make than there used to be.
While starting solids is a fun (and messy, so don't say we didn't warn you…) milestone in your baby's first year, it also brings with it lots of choices and, for most parents, a ton of questions. Just when you feel like you've got your breast- or bottle- feeding schedule down to a science, figuring out when your little one is ready for baby food, how to introduce solids and what baby food is best can throw a major wrench into things.
Time to bookmark this guide for answers to all of your burning baby food questions. Whether it's your first rodeo or you're looking to step up your baby food game for kiddo number two, we're talking to three baby food experts about all things baby food: a pediatrician, the founder of a popular website that teaches parents and caregivers how to introduce solids and prevent picky eating and a baby and toddler cookbook author. We're also sharing our best baby food picks to save you time at the store.
In this article:
When Should You Start Baby Food?
By around six months of age, babies need solid food in addition to breast milk or formula for growth and nutrition, says Dr. Tracey Agnese, pediatrician in New York City and founder of Taking Care of Mom and Baby, a resource for new parents. "Solids are usually started between four and six months of age when the infant is developmentally ready. Your baby is probably ready for solids when they are able to sit up with support, have good head and neck control, and show interest in your food while you're eating (watches you eat, opens mouth and leans forward when food is offered)," she says.
If your baby spits out the food or refuses to eat it, they're probably not ready yet, so wait and try again in a week, reassures Dr. Agnese.
How Do You Start Baby Food?
According to Dr. Agnese, it's best to start offering solid food when baby is awake and alert, and ideally when they're not too hungry or too full.
"Have your baby sitting up safely with support and offer food with a spoon. Try once per day at first, and stop feeding when they're showing signs they're done (leaning back, turning away, spitting it out)."
What Are the Best First Foods for Babies?
Although infant cereals were traditionally one of the first recommended solid foods for babies (because of the bland taste and added iron), pediatricians now say it's totally fine to start with cereal or jump right to vegetables, fruits, and meats as first foods.
"I usually recommend starting with any single ingredient vegetable or fruit puree—avocado, butternut squash, sweet potatoes, carrots or peas are all good choices. The AAP even recommends starting with pureed meat, as it is a good source of iron," says Dr. Agnese. You can add formula or breast milk to these first foods when you're starting out in order to reach a texture that's good for your baby.
Foods to avoid in infants younger than one year of age include:
Choking hazards (think round, hard objects like nuts, popcorn and grapes);
Honey (due to the risk of infant botulism);
Foods with added sugar or salt, such as juice (herbs and spices are great, though); and
Unmodified cow's milk (but full fat yogurts and cheeses are perfectly fine).
As for allergens, while pediatricians previously recommended avoiding highly allergenic foods early on, Dr. Agnese points to new research that shows early exposure actually helps decrease the risk of food allergies. Things like eggs, fish, peanuts and tree nuts may be introduced to infants at four to six months, she says, as long as the choking hazards are addressed and you've already made your way through some other solid foods first.
What is the Best Baby Food?
Figuring out which baby food is best for you and for your little one comes down to a lot of factors, including things like ingredients, availability, taste and cost. But there are a few other things to keep in mind when choosing a baby food, according to Dr. Agnese.
Read labels. Try to stick to baby food where the ingredients are just that—real food. (Water is okay too.) Herbs and spices are great, but you'll want to avoid things like corn syrup, sugars and salt.
Choose oats over rice. If you decide to give your little one infant cereal, go with an oat-based cereal instead of a rice-based one, and try to offer a variety of other grains, too, like wheat or barley. That's because rice can contain arsenic, and you'll want to limit your little one's exposure as much as possible.
Go BPA-free. Choose baby food in BPA-free packaging whenever possible.
Toxic Heavy Metals in Baby Food
You've likely heard about a 2021 congressional investigation revealing that leading baby food manufacturers knowingly sold baby food that contained high levels of toxic heavy metals. While there are aspects of these findings that are somewhat alarming, it's important to understand the full picture before you become overwhelmed with worry about what to feed your baby.
"Every few years a report comes out about toxins in baby foods," says Dr. Agnese. "While I certainly agree that it's important to monitor such levels for the safety of our children, the information presented often causes a lot of unnecessary fear for parents who are trying to do their best."
The reality is that heavy metals are present in many of the foods that both babies and adults eat based simply on how these foods are grown.
"If your child is eating any food at all, they will be exposed to heavy metals and toxins. That's because the soil, water and air of the earth, where the food grows, contains these substances. That's how it gets into food. And kids need to eat food," explains Dr. Agnese.
There's no difference between organic versus non-organic foods or store-bought baby food versus homemade.
"Organic foods may use less pesticides, but they are still grown with the same soil, water and environmental pollutants of the earth," she says. "And the report only looked at processed baby food; it didn't look at unprocessed baby food at all. Homemade baby food or a carrot could have similar levels of metals."
So what's a parent to do?
Avoid serving your little one too much rice cereal and rice-based snacks, says Dr. Agnese, and be sure to thoroughly rinse rice prior to cooking it. Keep an eye on certain types of fish that may have higher levels of mercury than others. And focus on variety.
"The bottom line is that kids need to eat food. And variety is key. If you're serving a variety of fruits, veggies, proteins, fats and grains you're doing great! By serving a variety of foods over time, you're decreasing the exposure to contaminants of any one food in particular," she explains.
Jenny Best, founder of the baby feeding resource Solid Starts website and Instagram, agrees.
"For most foods, the nutritional benefit will outweigh the risk," she says. "The biggest impact you can make in reducing your baby's exposure to heavy metals from food is to limit processed rice products like rice cereal and baby crackers. The majority of these products are also unnecessary; babies don't need rice cereal to start solids nor do they need things like meltable crackers or puffs. Baby food as a separate category of food was an invention. Babies can eat real food starting around six months of age."
While incorporating baby food into your child's diet is fine, she also reminds parents that lots of "adult" food is perfectly fine—and even sometimes a better choice—for feeding your baby.
"Babies don't need "baby" applesauce; regular applesauce is fine! So are cooked apples!," says Best, who also created the First Foods℠ database, the only food database in the world created just for babies . "Babies also can eat regular yogurt, cheese, oatmeal, grains, and meats just like we can. There is no evidence-based research demonstrating the need for baby food nor is there any evidence that babies developmentally need purées as their first food."
And don't forget that the goal of starting solids for the first six months is about the skill of learning to eat—not consumption.
"What matters is getting ample opportunity to practice the skills of eating. Babies don't need fancy superfood pouches; they need to practice holding a banana by themselves, to learn how to take a bite, to move that piece around in their mouth, chew, and to swallow. So cut open an avocado and peel a banana and call it dinner. The kids will be alright."
Tackling Babies & Picky Eating
And what about trying to avoid the dreaded picky eater?
"I wish there were a magic answer on how to guarantee raising a healthy kid who loves to eat a wide variety of foods," says Molly Birnbaum, America's Test Kitchen Kids Editor in Chief and author of The Complete Baby and Toddler Cookbook. Although it depends on so many factors, there are definitely a few things you can do to set the stage, whether you're making your own food at home or using store-bought baby food.
Cook and eat together. "Cooking and eating together allows you to model healthy eating—but more importantly it allows you to show your kid(s) that eating a variety of healthy foods is fun!" she says.
Eat a variety of foods. "Introducing kids at a young age to a variety of flavors, textures and colors will help set the stage for more adventurous eating down the line. If you're feeding a baby purees, it's a great idea to add different spices or herbs or other flavorings. For toddlers, I love to offer the element of choice in meals."
Eat foods that taste good. Simple, but an important reminder!
Babylist Best Baby Food Picks
Experts Referenced in this Article
Dr. Tracey Agnese, Pediatrician
Jenny Best, Founder of Solid Starts and the First Foods℠ database
Molly Birnbaum, Editor in Chief of America's Test Kitchen Kids and author of The Complete Baby and Toddler Cookbook
American Academy of Pediatrics
This information is provided for educational and entertainment purposes only. We do not accept any responsibility for any liability, loss or risk, personal or otherwise, incurred as a consequence, directly or indirectly, from any information or advice contained here. Babylist may earn compensation from affiliate links in this content. Learn more about
how we write Babylist content
and the
Babylist Health Advisory Board
.
The freshest in parenting this week, delivered to your inbox