Best Double Strollers of 2020
Best Double Strollers of 2020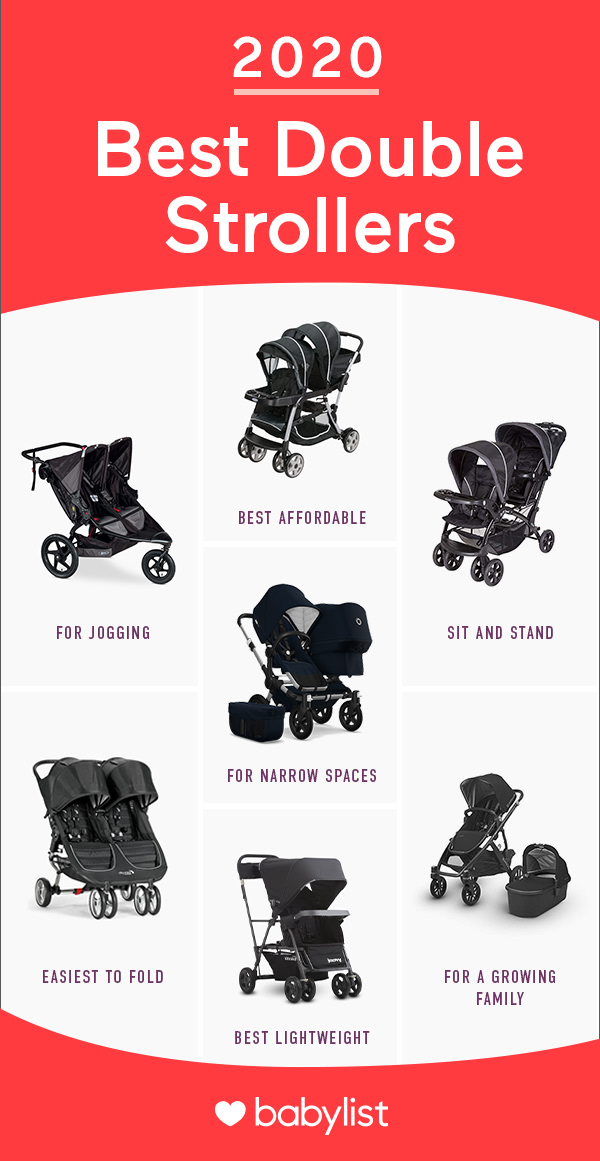 If you have more than one little one on the way, or you're having a second baby while you're still swaddling your first, you probably have a lot of questions. Like, how will you get around with two kiddos in tow? That's where a double stroller comes in.
In this article:
Do You Need a Double Stroller?
Double strollers can be a big investment, but they're also key to getting out and about when you have multiples or two children close in age. If you already have a single stroller and aren't sure you want to pony up for a double, there are a few options to explore.
Stroller boards: Some strollers offer a ride-along board for an older sibling that attaches to the back of the stroller base. But before you go this route, you'll need to check if your brand of stroller offers this add-on, and you'll also need to make sure your older child is up for—and capable of—the challenge.
Baby carrier: You can also explore using a baby carrier for your younger child and putting the older one in a single stroller. But this won't work for twins, and will only work for as long as your second child can fit in a carrier.
What are the Types of Double Strollers?
There are three basic types of double strollers:
Side-by-side strollers: As the name implies, this type of stroller has seats—usually with the same amount of space and amenities—that are next to each other. Side-by-side strollers are easier to turn and maneuver than in-line strollers, but are harder-to-near impossible to get through narrow doorways and aisles.
In-line strollers: This single-file style has one seat in front of the other. The two seats can be the same height, but often in-line strollers have what's termed as "stadium seating" with the back seat raised higher than the front for better viewing. Usually the seats do not have the same space and amenities. One seat may recline more than another or offer more legroom, a cup holder or the ability for an infant car seat to attach. Since this stroller style has a longer body, it's also hard to turn.
Convertible or modular strollers: Convertible strollers can be used as a single stroller or converted into a double stroller by adding on a second seat. Some can even handle a third, older child who can sit on a bench or stand on a platform. The workhouse of the bunch, this stroller style is a great upfront investment that can grow with your family.
The best double stroller for your family really depends on your personal situation. Consider how you'll use a double stroller most often. If you need it for two infants, do both seats accommodate infant car seats? If you need it for a toddler and a baby, does the stroller have a high weight limit to accommodate older children? These are the kind of questions to ask yourself before purchasing a stroller made for two.
How We Choose Our Best Double Strollers
We asked thousands of real Babylist families about the baby products they love the most, then took the top products they shared with us and added our own research and insight to tell you about the best double strollers.
Do you think this content is helpful? Let our editors know!
---
Did you find this content helpful? Let our editors know!
---
---
Choosing What's Right for You
Among Babylist parents, convertible and multi-tasking strollers, like the sit and stand models, are hugely popular. But we can't emphasize enough how important it is to think about your lifestyle and how you'll be using your stroller when you're trying to figure out what's right for you.
This information is provided for educational and entertainmentpurposes only. We do not accept any responsibility for anyliability, loss or risk, personal or otherwise, incurred as aconsequence, directly or indirectly, from any information oradvice contained here. Babylist may earn compensation fromaffiliate links in this content. Learn more about
how we write Babylist content.
The freshest in parenting this week, delivered to your inbox