Best Strollers of 2017
Last Updated: January 25, 2017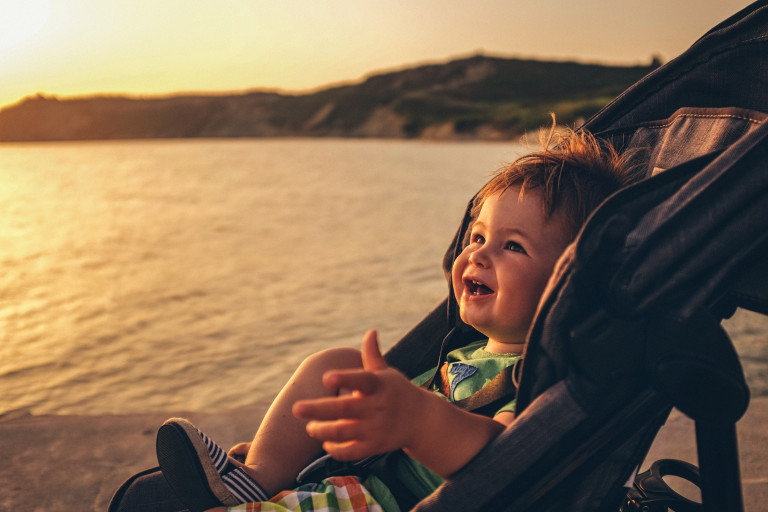 Strollers are essential for navigating life with your new baby. If you ever plan on leaving your home with your infant (and eventually, your toddler), you'll get your money's worth out of any stroller you pick.
Do you need a stroller?
Most parents use strollers all the time – to take power walks, go running, go shopping, or walk around street festivals, malls and downtowns. Not to mention a stroller ride can help a fussy baby fall asleep (they love fresh air and movement). You'll definitely want a stroller on your registry. There are several different types to choose from too, so you can get the one that makes the most sense for your family:
Stroller Frames
These frames provide the skeleton of a stroller (think: handle, storage basket and wheels) and are made complete when you attach a compatible car seat. They're super lightweight and folding them up is a cinch so they're an easy option for the first six to 12 months. But, once your baby outgrows the car seat - usually around 25 lbs - or fights being confined in a lateral position, you won't be able to use it anymore. Popular options include the universal Baby Trend Snap N Go (around $70) or frames that specifically match your chosen car seat, like the Chicco KeyFit Caddy Stroller Frame ($99).
Full-Size Strollers
These strollers come with their own attachable car seats, perfect for moving a sleeping baby from the car to stroller without disturbing her. And, buying a set like this - instead of separately purchasing a stroller, car seat, and an adapter to attach the car seat to the stroller - can often save you money.
Umbrella Strollers
These lightweight and inexpensive models fold up small. But umbrella strollers can't be used with infants (because of lack of support and cushioning) - typically, you have to wait until your baby can sit unassisted (usually around 6 months) to use this type of stroller. But because these strollers are so cheap, many moms purchase them as a second stroller for traveling or for other times when their featherweight is a huge asset. A great alternative to umbrella strollers is a travel stroller that folds small for airplanes.
When do you need a stroller?
Though it varies by model, most strollers (minus the stroller frame type) can hold kids up until they weigh about 50 pounds. That means you'll get a ton of use from your stroller, from Day One up to the preschool period.
HIGH-RISE HERO
For city slickers who traverse sidewalks, subways, and small stores
WHY WE LOVE IT
Don't let the name fool you – this stroller isn't meant for jogging, although it does have a three-wheel design that makes for a smooth ride around city obstacles like cracked sidewalks and crowds. Because it's lightweight, and easy to fold with one hand into a compact unit, this stroller is ideal for small trunks and public transportation.
"…a breeze to unfold and fold…"
KEEP IN MIND
The City Mini can easily tip backward if your baby is in the full recline position and you're not supporting the handlebar, or if you pile shopping bags on the unsupported handle. The handlebar height is also not adjustable for parents.
WHAT BABYLIST PARENTS SAY
"This stroller is lightweight and sturdy, a breeze to unfold and fold, and looks great. The seat lays all the way back - great for newborns - and is easily adjusted to sit upright. We go for many walks around town with it." - S.D.
"Only stroller we found with a long enough stride for a tall mom. I bumped my feet with the rest!" - Sarah S.
ADDITIONAL SPECS
Child Guidelines Up to 50 lbs.
Stroller Weight 17 lbs.