Best Convertible Car Seats of 2021
Best Convertible Car Seats of 2021
Babylist editors love baby gear and independently curate their favorite products to share with you. If you buy something through links on our site, Babylist may earn a commission.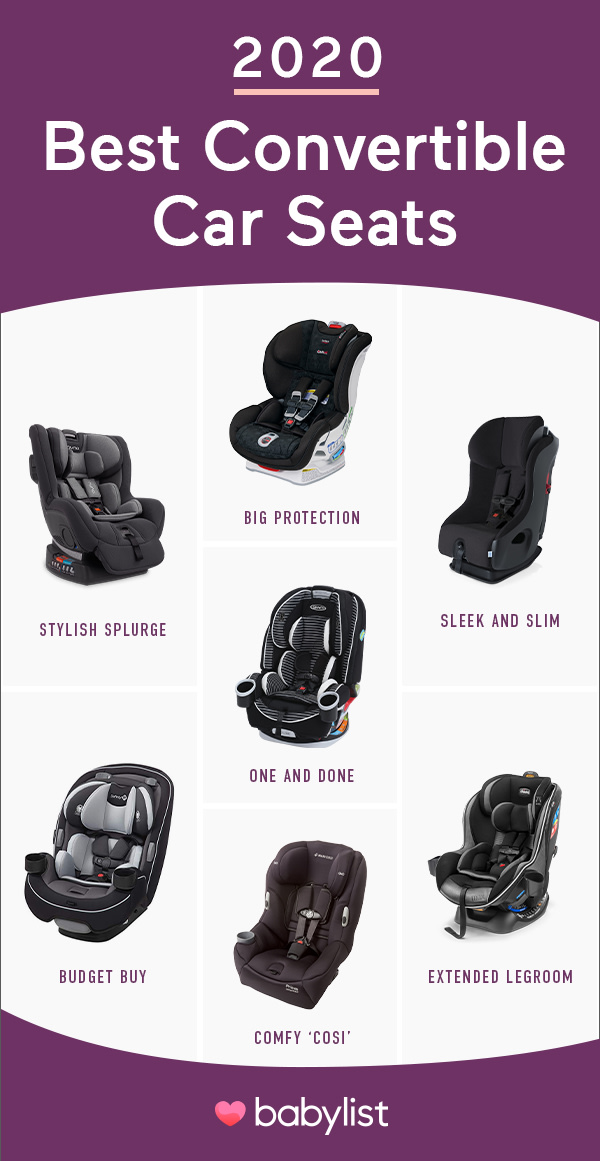 Choosing the right car seat for your baby or toddler is a big decision. This is especially true when you're shopping for a convertible car seat. Convertible seats last for years, which is great (yay for less baby gear!), but that's exactly what makes the decision all the more important—this seat's going to be around for a long time, and you want to make sure you make the right choice.
We asked thousands of Babylist parents about what convertible car seats they loved and why. We also consulted our own team of Babylist experts and a Child Passenger Safety technician (CPST) to make our best convertible car seat picks so you have everything you need to make an informed decision.
In this article:
What is a Convertible Car Seat?
A convertible car seat is a car seat that can be used with children of various sizes and can change from a rear-facing to a forward-facing seat. A convertible seat starts in a rear-facing position for babies and toddlers and is then turned forward-facing as your child gets older. (Some convertibles even turn into a booster seat for school-age kids.) A convertible car seat can take you from day one through the preschool years and beyond.
When Do You Need a Convertible Car Seat?
You'll need a convertible car seat at some point—it's just a matter of when.
Some parents use a convertible car seat from day one. Others choose to use an infant car seat initially and then transition over to a convertible car seat when their little one has reached the seat's height or weight maximum, usually around their first birthday. This is because convertible car seats aren't nearly as portable (or as light) as infant seats.
Unlike infant car seats that are installed directly into a base and are designed to click in and out of your car for easy portability, convertible seats are installed directly into your vehicle using either the car's LATCH system or seat belt. (Keep in mind that using LATCH to install a car seat is predicated on meeting certain weight limits. Once you exceed those limits, you'll need to switch over to using your car's seat belt for installation. You can read more about this here.) Most convertible seats are heavy and bulky and definitely can't be carried around like an infant seat.
If you do opt for a convertible car seat from day one and your little one will be frequently riding in more than one vehicle, we recommend purchasing a convertible seat for each car as these seats frequently take a bit of time to install.
What Should You Look for in a Convertible Car Seat?
The good news is all car seats must meet the same government safety standards, but some car seats come with extra goodies or can be used for longer. Here are some factors to consider when choosing a convertible car seat:
Safety indicators: Some car seats come with built-in leveling systems and indicators to signal they've been correctly installed.
Ease of installation: Many car seats can be installed using the regular seat belt or the LATCH system, which is an easier way to secure the car seat using built-in anchors and tethers (available in cars made after 2002). Just be sure you're still within the weight limits of your car seat's LATCH restrictions and remember to switch over to a seat belt install once you exceed them.
How it fits in your car: Car seats range in size and shape. Some are wider or narrower than others.
Higher rear-facing weight limits: There's a growing body of research that proves riding rear-facing is safer for babies and children than riding in a forward-facing car seat. If possible, always choose a convertible seat that has a high rear-facing weight limit so you can extend the opportunity to rear-face for as long as possible.
Fabric: Besides looking for a style of fabric that suits your taste, consider its durability and how easy it'll be to wash when messes happen.
Safety extras: Some car seats include additional shock absorption, padding and materials that are higher quality.
New vs used car seats: Used car seats might be damaged and may not be up to snuff when it comes to current safety regulations. While we recommend new car seats, if you do end up selecting a used car seat, get it from someone you trust. Be sure to look up the seat's expiration date and research if that particular model has ever been recalled. If the seat is dirty, be sure to follow the manufacturer's strict rules around how to clean it. Each car seat has a specific set or rules around how to clean it while maintaining its safety and integrity.
For more tips about car seats, check our How to Choose a Car Seat guide.
Babylist's Best Convertible Car Seat Picks
These are Babylist's picks for the best convertible car seats.
Do you think this content is helpful? Let our editors know!
Choosing the Right Convertible Car Seat for You
Once you select a convertible car seat, be sure to test out how well it fits in the backseat of your vehicle as soon as you get it. That way, if it ends up not working out you can exchange it and get a new one installed before your baby arrives.
Some questions to consider once you place the seat in your car include:
Is there legroom left in the front?
Are you able to easily adjust the harness straps from the rear-facing position?
Do you feel confident that you've properly installed it? If not, you can get it checked.
Any issues that arise can be addressed by choosing a different car seat model. Give yourself enough time and patience, and you can make sure all your travelers—big and small—have a comfy ride.
This information is provided for educational and entertainment purposes only. We do not accept any responsibility for any liability, loss or risk, personal or otherwise, incurred as a consequence, directly or indirectly, from any information or advice contained here. Babylist may earn compensation from affiliate links in this content. Learn more about
how we write Babylist content
and the
Babylist Health Advisory Board
.
The freshest in parenting this week, delivered to your inbox