How to Choose a Car Seat
Choosing a car seat is a big decision. You've got questions? We've got the answers.
Babylist editors love baby gear and independently curate their favorite products to share with you. If you buy something through links on our site, Babylist may earn a commission.
A car seat is a registry must-have if you're looking to take anything from a road trip to a ride to the grocery store with your little one in tow. But what type of car seat do you need? Are some seats safer than others? What factors should go into picking out the right seat for your family?
Choosing a car seat is a big decision. You've got questions—and this guide has all of the answers.
Types of Car Seats
There are three types of car seats: 1. Infant car seats 2. Convertible car seats 3. Booster seats
Infant Car Seats
An infant car seat is a seat made specifically for infants and younger babies. An infant seat always rear-faces in the car and can be used from birth until your baby reaches the seat's maximum height or weight limits, which usually happens around one year of age.
Infant car seats attach to a base. The base stays installed in your car and the seat clicks in and out, making it easier to get your baby in and out of the car.
Also read: Best Infant Car Seats
Convertible Car Seats
A convertible car seat can be used with children of various sizes and can flip from a rear-facing to a forward-facing seat. A convertible seat starts in the rear-facing position for babies and toddlers and switches to forward-facing once your little one has outgrown the seat's maximum rear-facing height or weight limits. A convertible car seat can take you from day one through the preschool years and beyond.
Convertible car seats are heavier and bulkier than infant car seats. Instead of attaching to a base, convertible seats use your car's seat belt or LATCH system for installation directly into your car. (LATCH stands for Lower Anchors and Tethers for Children. It's a system of built-in straps and hooks on a car seat and anchor hardware in your vehicle designed to make car seat installation safer and simpler.)
Because of their size and weight, convertible car seats don't attach to a stroller and aren't designed to be moved regularly between vehicles.
Also read: Best Convertible Car Seats
Also read: Best All-in-One Car Seats
Booster Seats
A booster seat does what its name implies: boosts your child up higher in your car's seat. This ensures that your car's regular lap and shoulder belts cross over your child's body at the correct points to securely hold them. Booster seats are designed to be used for children who are at least four years old and at least 40 pounds.
There are two types of booster seats: high-back and backless. High-back boosters are similar to car seats in that they are a smaller-sized seat with a bottom and a back. They have a guide where you can thread your vehicle's shoulder belt so it correctly fits your child. Backless boosters only have a seat component. They're designed to provide the extra height needed so your little one can be safely strapped in.
Also read: Best Booster Seats
Car Seats by Age
Your child's age, weight and height all factor in when determining which car seat you should choose. This chart provides a quick overview of car seats by age.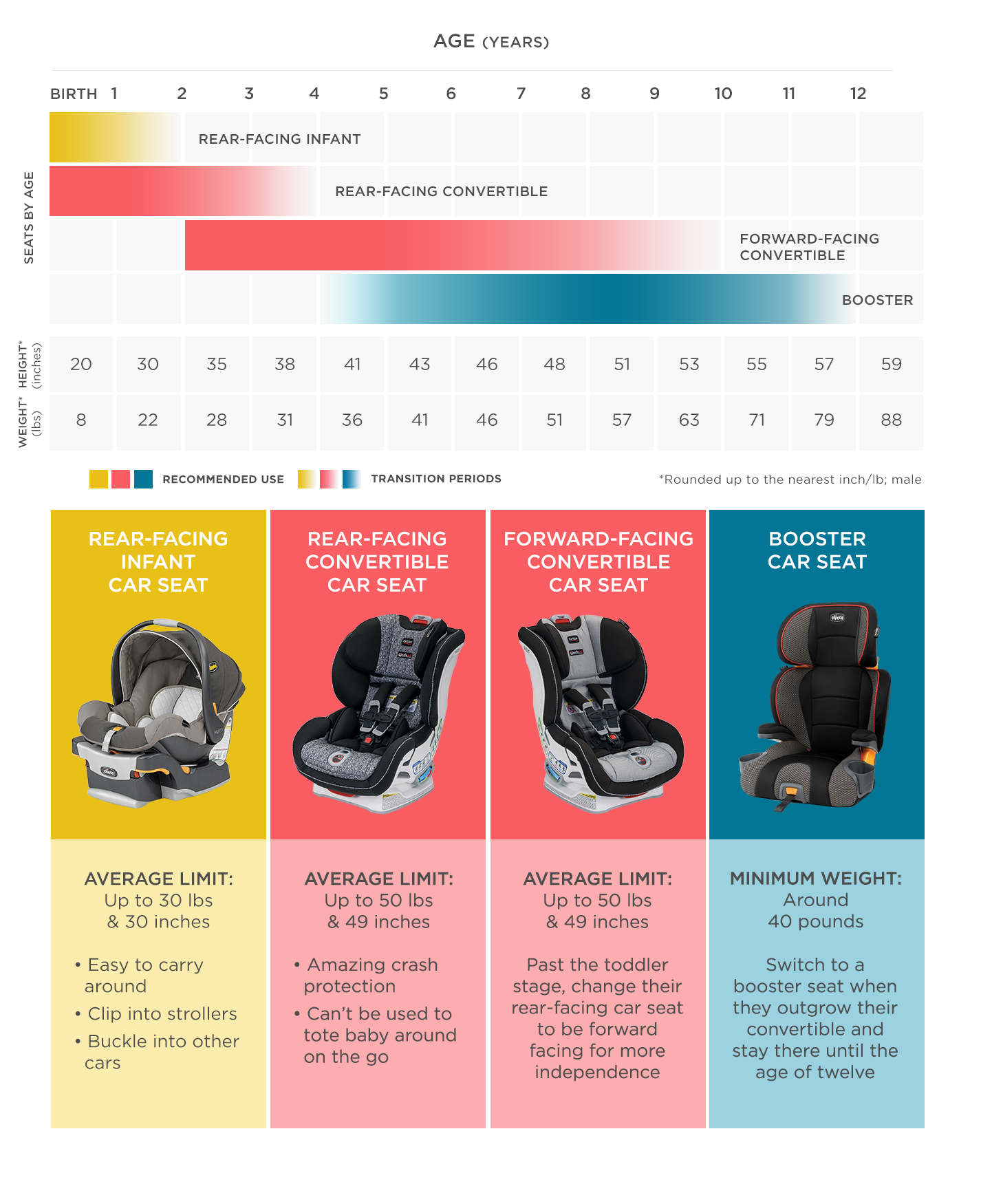 A growing body of research proves riding rear-facing is safer for babies and children than riding in a forward-facing car seat. If possible, always choose a convertible seat that has a high rear-facing weight limit so you can extend the opportunity to rear-face for as long as possible.
Should You Get an Infant Car Seat or a Convertible?
While many convertible car seats will work for your little one from birth, most parents decide to start with an infant car seat first. (Eighty percent of Babylist parents register for an infant seat.) But why?
There are many pros for starting with an infant seat in lieu of a convertible.
Babies under six months can't sit up on their own, and not all strollers have the ability to fully recline the seat. If you want to stroll with a newborn, you often have to clip in an infant car seat.
Although infant car seats do click into bases, you can also install them using just a seat belt, making them easier to use in friends' cars, cabs and rideshares.
The ability to pop your infant seat out of your car and either carry it or clip it directly into your stroller means you'll never have to wake your sleeping baby.
You can store your infant seat indoors during really hot or cold weather so it's always at a comfortable temperature and never exposed to the elements in your car.
Some parents choose to skip an infant car seat and use a convertible from day one. Here's why you may decide to make that choice.
You're planning to wear your baby in a carrier rather than carry a car seat or stroll them.
You want to save money by skipping the infant seat.
You're looking to limit the number of products you buy, either because of minimalism or to save money.
Also read: Your Most Common Car Seat Questions, Answered
Car Seat Safety
Safety is a big consideration when you're choosing a car seat. You'll want to research the safety features of the seat itself—things like side impact protection and harness fit—along with how the seat fits in your particular vehicle.
Which car seat is the safest?
This is probably one of the most common—and most important—questions Babylist parents ask us when trying to decide on a car seat.
All car seats in the United States pass the same minimum standard testing. While some more expensive car seats may include features that go above and beyond what's required, when it comes to car seats + safety, it all comes down to fit and installation. The safest car seat is the one that: - Fits your child correctly (is the right size for your child's age, weight and height) - Fits your vehicle - Can be installed correctly by you every time
Car seat safety features
Here are the safety features to pay attention to when you're shopping for a car seat.
A five-point harness: This type of harness consists of two shoulder straps, two waist straps and a between-the-legs strap that all meet in a middle buckle. Five-point harnesses are safer than three-point harnesses because they spread the force from a crash over more areas of the body. They also hold your baby in place, preventing them from wiggling into an unsafe position.
Easy harness adjustment: A harness can't do its job unless it's properly fitted, and you'll have a much better chance of getting it right if it's easy to adjust. Look for a no-rethread harness if possible; that means you'll be able to move the seat's shoulder straps up and down without having to manually reroute them.
Higher rear-facing weight limit: As we mentioned above, riding rear-facing is safer for your little one than forward-facing. Choose a seat with a high rear-facing weight limit for extended use.
Side-impact protection: In about a quarter of crashes, your car is hit from the side rather than the front. Currently, side impact protection is unregulated, so the National Highway Safety Administration (NHSA) is researching how to test side-impact protection and what laws should be passed. You definitely want something that advertises side-impact protection, but be skeptical of claims that one brand has "more" than another because there's no objective testing standard yet.
Tempted to save money and buy a used car seat? We don't recommend it. Used car seats may be damaged and may not meet current safety regulations. If you do decide to buy used, buy from someone you trust so you know the seat's history. Look up the seat's expiration date and research if that particular model has ever been recalled. And be sure to follow the manufacturer's rules around how to safely clean it.
Safest placement in your car
Not all car seats fit in all cars. We recommend using a retailer that accepts returns or permits you to test-install the car seat you're interested in before you commit.
If you have a small car, don't pick a seat with a large base. When in doubt, measure your car's back seat and compare it to the measurements of the car seat's base.
Besides making sure the seat physically fits in your back seat, the angle of your seat and the placement of your seat belts can also affect whether a car seat will be a good fit for your car. In most cars, the middle of the back seat is the safest spot; however, if you're dealing with two car seats at the same time, there might not be room in the middle. Some cars also only have LATCH on the outside seats, so you'll have to choose between a LATCH install or a middle seat.
Consult your vehicle's owner's manual for any special instructions. And don't hesitate to reach out to a Child Passenger Safety Technician (AKA a trained car seat expert) to check your work.
Car seat safety tips
Keep these safety tips in mind when installing and using your car seat.
Make sure your car seat is installed tightly. The seat should be unable to move more than one inch side-to-side or front-to-back.
Use the correct harness slots. Harness straps should be positioned at or below your baby's shoulders for a rear-facing seat and at or above your child's shoulders for a forward-facing seat. They should also pass the pinch test: if the harness is snug enough, your fingers will slide off, but if it's too loose, you'll be able to pinch the webbing between your fingers.
Find the correct recline. The car seat should be reclined to a safe angle so your baby's head doesn't fall forward. (Car seats have guidelines and adjustments to make sure you get the right incline depending on weight, height and age.)
Car seats + winter coats don't mix. Never strap your baby or toddler into their car seat while they're wearing a winter coat or other heavy layers. (You won't be able to get the harness straps tight enough and your little one won't be safe in the event of a crash.) Instead, dress your little one in a few light layers or use a blanket over the car seat straps.
Easiest-to-Use Car Seats
There isn't one magic feature that makes one car seat easier to use than another; however, there are certain features that you'll want to look for when choosing a car seat that can make certain aspects of both installation and use of your seat a little bit easier.
Ease of installation
Infant car seats can be installed with our without a base and can use either your vehicle's seat belts or LATCH system, so the answer to the question, "What's the easiest way to install a car seat?" depends on what method you'll be using to install it on a regular basis.
If you're going to be installing your car seat using the LATCH system, many infant car seats have great easy-install scores from NHTSA. Some features to look for in any brand include an easy-to-reach LATCH tightener and bubble level indicators so you can check if your seat is level. (If the seat doesn't have a bubble level indicator, it will have a line on the side of the base and you'll need to use that to see if it's level with the ground. As you can imagine, the bubble level indicator is much more convenient and precise.)
If you're mainly going to be using your seat in cabs, rideshares and friends' cars, look for a taxi-safe belt path and a built-in lockoff device that clamps the seat belt in place so it can't loosen.
Ease of adjustment and use
Part of car seat safety is making sure the harness fits your baby's body just right for every ride. This means changing the harness settings as your baby grows. Although all safety seat harnesses adjust, make sure the adjustments are easy to reach and simple to use. Lots of parents prefer no-rethread harnesses over manual options.
In terms of the harness button and buckles, you want something that's too stiff for a baby or toddler to undo by themselves but not so stiff that you're struggling every time you need to get your little one in and out of the seat. If the button is a little uncomfortable on your thumbs, but overall doable, it's probably about right.
Ease of cleaning
Seats made with smooth and/or water-resistant fabrics will wipe clean more easily than seats with textured or absorbent fabric. For big messes, it's nice to have a removable, machine washable cover, but keep in mind that getting a removable cover off can sometimes be tricky. Just be sure to follow your seat's specific cleaning guidelines so you don't damage the integrity of the car seat's safety.
Car Seat Costs
You can spend as little as around $50 on a car seat to upwards of a thousand—but spending more doesn't always mean your baby will be any safer than if you purchase a lower-priced seat.
More expensive car seats often have extra features like higher-end or eco-friendly fabrics, more plush padding, a no-rethread harness, additional recline angles, and safety extras like additional shock absorption or a stability leg for extra support in the event of a crash. But there are still plenty of mid- to lower-priced car seat models that work just as well or better than some pricier picks; it's just a matter of figuring out what your budget allows and matching that with what works best in your particular vehicle.
Also read: Best Infant Car Seats for Under $250
Also read: Best Convertible Car Seats for Under $225
Car Seat and Stroller Compatibility
You've probably heard the term "travel system" as you've begun to research car seats. A travel system is an infant car seat and stroller that fit together. It solves for two common problems: strolling with your newborn in a stroller that's made for babies six months and up (just clip the car seat right in) and getting your sleeping baby from the car seat to the stroller without waking them (just pop your infant seat out of its base in your car and directly into your stroller and you're on your way).
Most brands advertise travel systems as a package deal, selling the car seat and the stroller together. But what if you've fallen in love with a car seat and a stroller from different brands?
If you have your heart set on a stroller and car seat that aren't available as a set, you can make your own travel system—usually. You'll first have to make sure that the car seat and stroller you choose are compatible, then you'll need to buy separate adapters to get the job done. Check out Babylist's comprehensive Infant Car Seat and Stroller Compatibility Guide for a list of all the strollers in our store and the infant car seats that fit with them.
Also read: Best Travel Systems
Also read: How to Choose a Travel System
Car Seat Accessories
Car seat accessories aren't a must-have, but many parents feel like they make things a little easier when they're in the car with baby or using their car seat on the go. These car seat accessories are some of the most popular.
Second car seat base
If you have a second car, skip buying a second infant car seat and instead purchase an extra car seat base so you can move your infant seat back and forth between cars.
Car seat canopy
All infant car seats come with a canopy, but some are better than others.
A few things to consider: How much shade coverage and sun protection does this canopy provide? Does it have a peekaboo window? (That's a bit more of an optional extra, but it can be nice for checking on baby while strolling.) Is the canopy stable enough to resist the tugging of small hands and feet?
Car seat cover
Car seat covers can be great for giving baby a quiet, cocooned environment to sleep in or help them to stay warm in the winter. New multi-use car seat covers double as nursing covers or triple as grocery cart covers.
Infant insert
Most infant car seats come with an infant insert to make the seat safe and cozy for small babies. (Babies start off really small!) Some brands sell additional inserts that are super luxe.
Only use inserts that are made by your car seat manufacturer (for example, a Chicco insert for a Chicco car seat); otherwise, there's no guarantee of their safety because they haven't been crash tested.
Back seat mirror
Back seat mirrors help you keep an eye on your baby without having to take your eyes off the road.
Car Seat Brands
Now that you know the basics, it's time to browse seats. Here's a quick rundown of the most popular car seat brands and what to expect.
Graco car seats. Graco makes a wide range of safe, well-priced infant and convertible car seats. The SnugRide line is a popular and reasonably priced infant seat that's also on the lighter side. Parents also love Graco's convertible car seats, especially the Extend2Fit and the 4Ever.
Britax car seats. The B-Safe Infant Car Seat is worth a look thanks to its great side-impact protection. (Just note it can be tough to get your baby in and out of it thanks to the high sides.) The One4Life is a popular all-in-one convertible car seat choice that will take you from day one through the elementary school years.
NUNA car seats. NUNA, a Dutch baby gear company, makes modern, safe seats that are some of the lightest (and most beautiful) on the market. Check out the NUNA Pipa and the NUNA Pipa Lite as well as the brand's popular convertible car seat, the Rava.
Chicco car seats. The Chicco KeyFit is a popular line from this long standing brand that has excellent safety features and an easy LATCH install. Because of their popularity, Chicco seats have lots of available stroller adapters.
UPPAbaby car seats. UppaBaby is best known for their strollers, the Vista and the Cruz, but their infant car seat, the Mesa, is a great, easy-install option. One of the biggest pros is that it works with the UppaBaby strollers without an adapter.
This information is provided for educational and entertainment purposes only. We do not accept any responsibility for any liability, loss or risk, personal or otherwise, incurred as a consequence, directly or indirectly, from any information or advice contained here. Babylist may earn compensation from affiliate links in this content. Learn more about
how we write Babylist content
and
review products
, as well as the
Babylist Health Advisory Board
.
The freshest in parenting this week, delivered to your inbox