Best High Chairs of 2017
Last Updated: January 1, 2017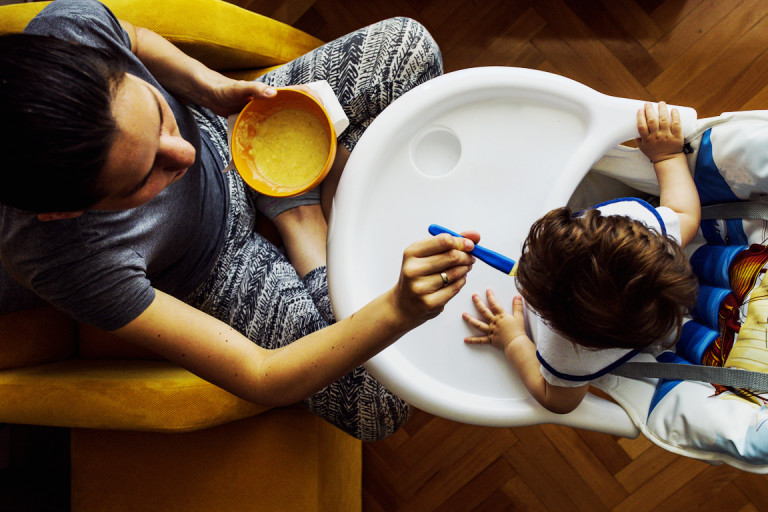 You know what those adorable pics of babies with chubby cheeks and mashed fruit and veggies plastered all over their face have in common? There's a high chair in every one of them. When it comes to starting solid foods, having a spot for your little one to nosh that is safe and easy to clean is crucial.
Do you need a high chair?
If you opt not to get a high chair, you can use your lap, stroller, or other piece of baby gear with a seat. But (and this is a biggie) prepare for a gigantic mess to be made all over it. We recommend that you add a high chair to your registry because it's not only more convenient, but will also be easier to keep clean and will offer the best upright positioning for your child depending on age.
What kind of high chair you choose depends on where you eat most of your meals, how much cleaning you're willing to do on a daily basis, and how much space you have in your kitchen or dining area. There are larger, standalone high chairs that you can sit around your table, or anywhere really, that come with their own tray. You can get a basic, plastic model that's super easy to clean or go for one with more bells and whistles like wipeable cushions, wheels, footrests, a reclining seat (think: bottle feedings), and a chair that adjusts to various heights.
If space is an issue, you might want to consider a full-size high chair that can be folded and stored when not in use, or a portable high chair that attaches to one of your kitchen or dining room chairs or the edge of the table–great for those who often eat out, too. There are even high chairs that grow with your child by converting to a booster seat for toddlers and later, a kid-sized chair.
When do you need a high chair?
Because you'll be nursing or bottle feeding with your baby nestled in your arms or in a bouncy seat or swing, you won't need a high chair until your baby starts eating solid food - usually around six months. But, you'll get good use of it until your child is two or three years old.
How we chose our best picks
We asked thousands of real BabyList families about the baby products they love the most. We took the top high chairs they shared with us and added our own research and insight. We think you and your little one will love at least one of these items, too.
---
Choosing What's Right for You
When it comes down to it, choosing a high chair has as much to do with the space in your dining area as it does with your lifestyle. But there are two key things to look for to make life as a parent easier. First, you can quickly rinse or even dishwash detachable trays, and being able to remove the tray makes it easier to lift your baby out of the chair. A second important feature is a chair that suits the height of your table to bring your baby tableside. Because sooner than you think, the newest family member will be sitting next to you at the dinner table. Can you say, "Awww…?"
About BabyList
Looking for the best items for your growing family? Add all your favorite baby products to ONE registry with BabyList. You deserve to get exactly what you want.