Best Sippy Cups of 2022
Babylist editors love baby gear and independently curate their favorite products to share with you. If you buy something through links on our site, Babylist may earn a commission.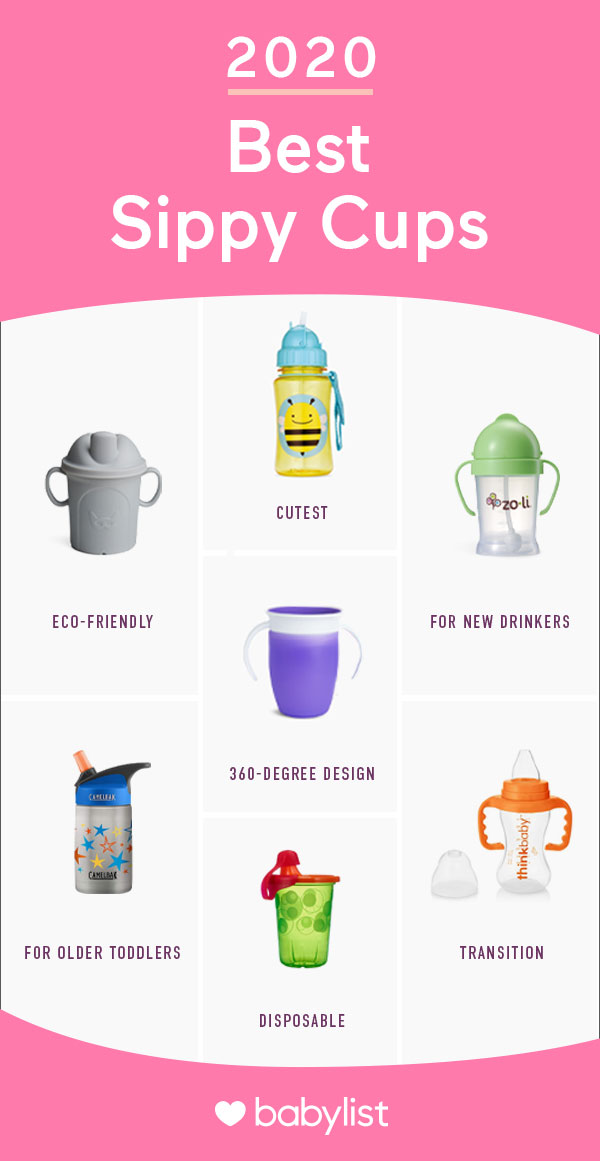 When it's time for your little one to make the transition from breast or bottle to drinking from a cup, the sippy cup is going to become your new BFF. Used as the go-between after the nipple but before the open cup, the sippy cup helps babies learn to drink with way less mess—which is something we're always there for.
Do You Need Sippy Cups?
The American Academy of Pediatrics (AAP) recommends switching your little one over to a cup somewhere between one and two years of age. But just like with solid food, there's a learning curve that comes along with using a cup, and an open-top option can be a messy way to start.
If you're looking to minimize messes, a sippy cup may be the way to go. Sippy cups, also known as transition cups, feature a lid to minimize spills and can withstand being tossed from a high chair or stroller. (Some even stay leak-free when turned upside-down) Sippy cups are convenient to take on the go; just keep in mind that many won't fit in cup holders because of their wide bases, which are designed to minimize toppling over when they're set down.
You'll know your little one is sippy-cup ready when they are able to sit up in a high chair, as early as six months old.
It's also completely fine to skip the sippy cup altogether and go right to an open cup. You'll need some patience and a whole lot of paper towels, but it's completely doable and some parents even prefer to go this route. We love the ezpz Tiny Cup as baby's first open cup. It's just the right size and features a weighted base and sleek design that's ideal for new sippers.
What Type of Sippy Cup is Best?
Sippy cups come in four different styles:
Soft spout
Hard spout
Straw
Flat lid (also called 360s because the liquid comes out all around the sides of the lid when lips press on it)
Although there's no official stance from the AAP on the issue, it is important to note that many experts—especially speech therapists and dentists—caution against too much reliance on sippy cups, and especially on cups that feature spouts instead of straws. That's because of two main reasons:
The convenience of a sippy cup may mean your little one may want to carry it around all day. This can cause tooth decay (especially if there's milk in the cup) and can also affect your child's hunger level for real foods.
Extensive use of spouted cups may cause oral motor delays. If your little one is exclusively drinking from a spouted cup, they may not learn to develop what experts call a "mature swallow pattern."
Neither of these things means you'll need to ditch the sippy cup completely, of course. But they are important to keep in mind when you're thinking about what type of cup to purchase and how you use it throughout the day with your baby or toddler.
Another thing to consider when choosing a sippy cup is material. Although plastic continues to dominate the market, sippy cups now come in multiple materials with different benefits:
Plastic is lightweight and typically less costly than cups of other materials. But, even if it's BPA-free (which you should verify it is), there's still concerns about leaching to consider.
Stainless steel eliminates the issues surrounding plastics and is easy to clean and super durable. Some stainless steel sippy cups are even insulated to keep milk or other liquids cold.
Glass also bypasses plastic issues, but is obviously a heavier material and breakable. Look for glass cups with silicone sleeves to make them less slippery and more shatterproof.
Silicone is used in most transition cups that have soft spouts, straws, sleeves or valves. It's a soft, pliable material that won't injure your baby's gums when gnawed on. The downside? You'll have to replace the parts of the cup, or the entire cup, once they become too chewed-up.
One more thing to consider is a universal sippy cup lid. Made of soft silicone and available in either a spout or lid/straw combo, these lids offer a nice alternative to buying all new cups. The one downside is they're not as leakproof as other sippy cups on the market, so they may be a better option for older kiddos.
How Do You Clean a Sippy Cup?
We can't lie to you—sippy cups rank right up there next to humidifiers as one of parents' most-complained-about items of baby gear to keep clean. Packed with nooks and crannies that just love to hang onto milk and other liquid residue, sippy cups can be a breeding ground for mold and other types of bacteria if not cleaned properly, so it's important to be pretty diligent about the cleaning process.
Be sure to follow the cleaning directions of your specific cup. Some can go in the top rack of the dishwasher, while others are hand wash only. You'll also want to have a good bottle brush on hand and a cleaning set to get deep into those hard-to-reach spots. Have a microwave bottle sterilizer? Don't put it away just yet—you may be able to use it with your sippy cup. And if the cleaning instructions indicate it's OK, you can also put sippy cups in a pot of boiling water for five minutes to sterilize them as needed.
This information is provided for educational and entertainment purposes only. We do not accept any responsibility for any liability, loss or risk, personal or otherwise, incurred as a consequence, directly or indirectly, from any information or advice contained here. Babylist may earn compensation from affiliate links in this content. Learn more about
how we write Babylist content
and the
Babylist Health Advisory Board
.
The freshest in parenting this week, delivered to your inbox