Best Sippy Cups
Last Updated: August 26, 2016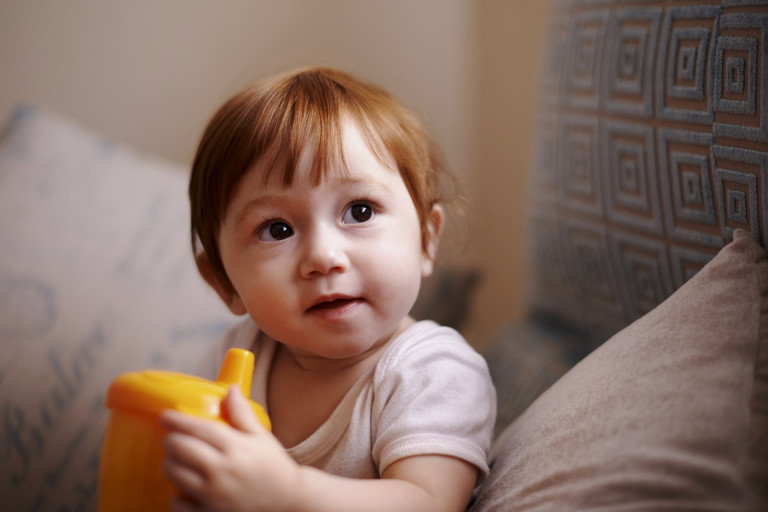 There comes a time in every baby's life when it's time to go from breast or bottle to a cup. That's when the sippy cup becomes your new BFF. Used as a transition tool between a nipple and an open-top cup, this lidded cup helps babies learn to sip with less mess.
Do you need sippy cups?
The American Academy of Pediatrics recommends switching your little one over to a cup somewhere between one and two years of age. But just like with solid food, there's a learning curve to drinking out of a cup. Sure, you could just move directly to a regular cup, but you'll need the patience of Mother Teresa to put up with all the spills.
Sippy cups, also known as transition cups, come with a lid to minimize "uh-oh" incidents and usually have a spout. Most are designed to withstand being tossed from a high chair or stroller or turned upside down. Plus, because of their lids, sippy cups are convenient to take on the go–although many won't fit in cup holders because of their wide bases (created to make it less likely they'll topple over when clumsily set down).
Your child can start using a sippy cup when she's able sit up in a high chair to eat solids, as early as six-months old.
What type of sippy cup is best?
Sippy cups come in four different styles: soft spout, hard spout, straw, and flat lid (called 360s because the liquid comes out all around the sides of the lid when lips press on it). Most parents start their children on cups that have a soft spout because it's the closest thing to a nipple and babies quickly learn how to use it.
Of course, you'll also want a cup that's spill-proof, or close to it, because every baby likes to play the drop-it-see-you-pick-it-up game. And speaking of picking it up, look for handles or grippy material that makes grasping the cup a cinch for clumsy baby hands.
Although plastic continues to dominate the market, sippy cups now coming in multiple materials with different benefits:
Plastic is lightweight and typically less costly than cups of other materials. But, even if it's BPA-free (which you should verify it is), there's still concern about similar chemicals leaching from plastics into the liquid your baby is drinking.
Stainless steel eliminates the issues surrounding plastics, and is easy to clean and super durable. Some stainless steel sippy cups are even insulated like a thermos to keep milk or other liquids chilled.
Glass also bypasses plastic issues, but is obviously a heavier material and breakable. Glass sippy cups have silicone sleeves to make them less slippery and offer a bit of padding should they be lightly dropped.
Silicone is used in most transition cups that have soft spouts, straws, sleeves, or valves. It's a soft, pliable material that won't injure your baby's gums when she chews on the spout or straw (it's inevitable). The downside? You'll have to replace the parts of the cup, or the entire cup, once they become a chewed-up mess.
How do you clean a sippy cup?
Sippy cups have nooks and crannies that can trap juice and milk residue. Gross as that is, what's worse is when that leads to mold. Be sure to follow the cleaning directions of your specific cup. Some can go in the top rack of the dishwasher while others are strictly hand wash only. But even if you follow the directions to a tee over time your cups can still get icky.
There's a couple of tricks parents use to get rid of build up. Remember that microwave bottle sterilizer? Don't put it away just yet. You can use it with sippy cups too. If the cleaning instructions on your sippy cup indicate it's okay, you can also sterilize it on the stovetop by boiling it in water for five minutes (just like bottles).
To get gunk out of unreachable spots, buy a small brush designed to clean sippy cup components or use a toothbrush or a Q-tip. If you're using a straw sippy cup, you'll definitely need a brush designed to clean out straws.
Here are some sippy cups to consider. You may find that one of these popular picks becomes your child's favorite.
---
Closest to the Real Thing
Tough as Steel
Fits in a Cup Holder
No Brainer to Put Together
Keeping it Cold
Best for Teeth
---
Choosing What's Right for You
Whatever type of cup you choose to start with, it's preferable to stick with one style initially so your baby doesn't get confused about how to use each cup. This is especially true when you change from a straw cup to a spouted cup. A straw cup requires you keep the cup level to get to the liquid (unless it's a weighted straw) while the spouted sippy cup needs to be tilted back. Also, don't fret if your baby just plays with the sippy cup or doesn't seem to like it right away. It's all a part of the learning process, and eventually she'll catch on.