Best Toddler Straw Cups
Babylist editors love baby gear and independently curate their favorite products to share with you. If you buy something through links on our site, Babylist may earn a commission.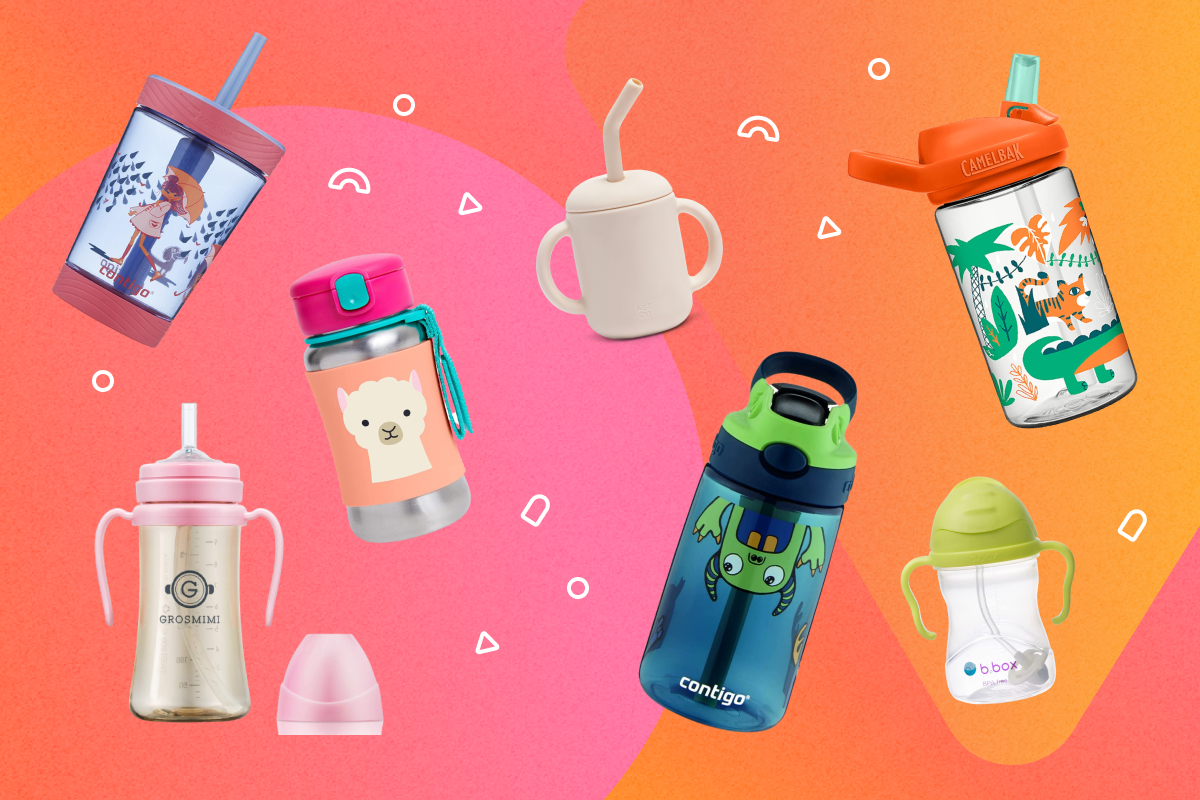 Does it feel like you've spent more time than you care to admit trying to figure out the best—and least messy—way to quench your toddler's thirst? You're not alone. A five-second search unearths no shortage of approximately one zillion toddler straw cups to choose from, and lots of questions to consider. Plastic or stainless steel? Soft spout or hard? Eight ounces of liquid or 12? And the biggest wildcard of them all: DOES IT LEAK?
Let the Babylist's gear experts do the work for you. Whether you've got water, milk or even a smoothie on the menu, these are the best toddler straw cups that will keep both you and your little one happy—and mess-free.
When to Use a Straw Cup
The American Academy of Pediatrics (AAP) recommends beginning to transition your child from a bottle to a cup around six months of age and completing the transition somewhere between 12 and 18 months.
What comes next is up to you. Some parents choose to jump right to an open cup, while others prefer a training cup, such as a sippy cup, to minimize the mess. (Just don't linger too long with a training cup, per the AAP, and choose cups with straws rather than a spout or 360 lids to encourage your little one's oral motor development skills and speech development, according to feeding therapists and swallowing specialists.)
Once they've mastered the straw, most toddlers are ready for a larger cup. Toddler straw cups are a great option for home or daycare, or for when you're on the go. Many resemble the same type of water bottle you may use—just sized down for toddlers.
How to Choose a Toddler Straw Cup
There are a few things to consider when choosing the best type of straw bottle for your toddler.
Material
Toddler straw cups come in a variety of materials, but the most common are plastic and stainless steel. Toddler straw bottles made from plastic are lightweight and generally more affordable than stainless options. (If you're choosing a plastic straw cup, verify that it's BPA-free plastic.) Stainless steel cups, especially if they're insulated, keep milk or other liquids cold and are more durable than plastic cups, but cost a bit more and are heavier than plastic. Many also feature a silicone sleeve to make the cup easier to hold.
You'll also want to pay attention to the material of the cup's straw. Opt for a straw or spout made from a soft material, such as silicone, instead of hard plastic. That's because unlike a soft silicone straw, a hard spout can injure your toddler if they ever fall while drinking.
Capacity
Most straw cups for toddlers hold at least six ounces of liquid, but some hold up to 12 or even 16. How large of a cup you need depends on how you'll be using the cup most of the time. For example, if you're traveling or on the go frequently, you may want a larger cup requiring fewer refills. If you're mostly using the cup at home, or if you're concerned about its weight, opt for one that holds a bit less.
Leakproof
Ask any toddler parent what their number one complaint is about straw cups and you'll likely get the same answer: leaks. Choosing a leakproof toddler straw cup will keep your home, car and toddler a lot cleaner—and you a lot saner. Trust us on this one.
A few of the toddler straw cups on our best-of list are spillproof but not leakproof, which means that the liquid will usually stay in place if your toddler tips the cup over but may leak if they turn the cup upside down or shake it vigorously. We recommend these types of straw cups for older toddlers who may have less of an "adventurous spirit," to put it kindly.
How to Clean Straw Cups
If you suspect cleaning your toddler's straw cup won't be high on your list of things you enjoy as a parent, you're correct. Toddler straw cups rank right up there with humidifiers as one of the most-complained-about items of baby gear to keep clean. But it's important to stay on top of the cleaning process; straw cups are a breeding ground for bacteria and mold if they're not cleaned properly and frequently.
Always follow the cleaning directions for your specific cup. Many toddler straw cups are dishwasher safe, while others need to be washed by hand. You'll also want a good bottle brush and cleaning brush set on hand to get deep into those tough-to-reach spots.
How We Chose the Best Straw Cups for Toddlers
We analyzed results from Babylist's Best Baby Products survey, which polled almost 3,000 Babylist users and asked them to share the baby products they love the most and why.
We utilized insight from the Babylist editorial team, including Gear Editor Jen LaBracio, an expert in the baby space for over six years and a mom of two who has written hundreds of baby gear guides and personally researched and tested hundreds of baby products, including over a dozen straw cups for toddlers.
We reviewed customer reviews from hundreds of real Babylist parents.
This information is provided for educational and entertainment purposes only. We do not accept any responsibility for any liability, loss or risk, personal or otherwise, incurred as a consequence, directly or indirectly, from any information or advice contained here. Babylist may earn compensation from affiliate links in this content. Learn more about
how we write Babylist content
and the
Babylist Health Advisory Board
.
The freshest in parenting this week, delivered to your inbox