Best Toddler Snacks
Babylist editors love baby gear and independently curate their favorite products to share with you. If you buy something through links on our site, Babylist may earn a commission.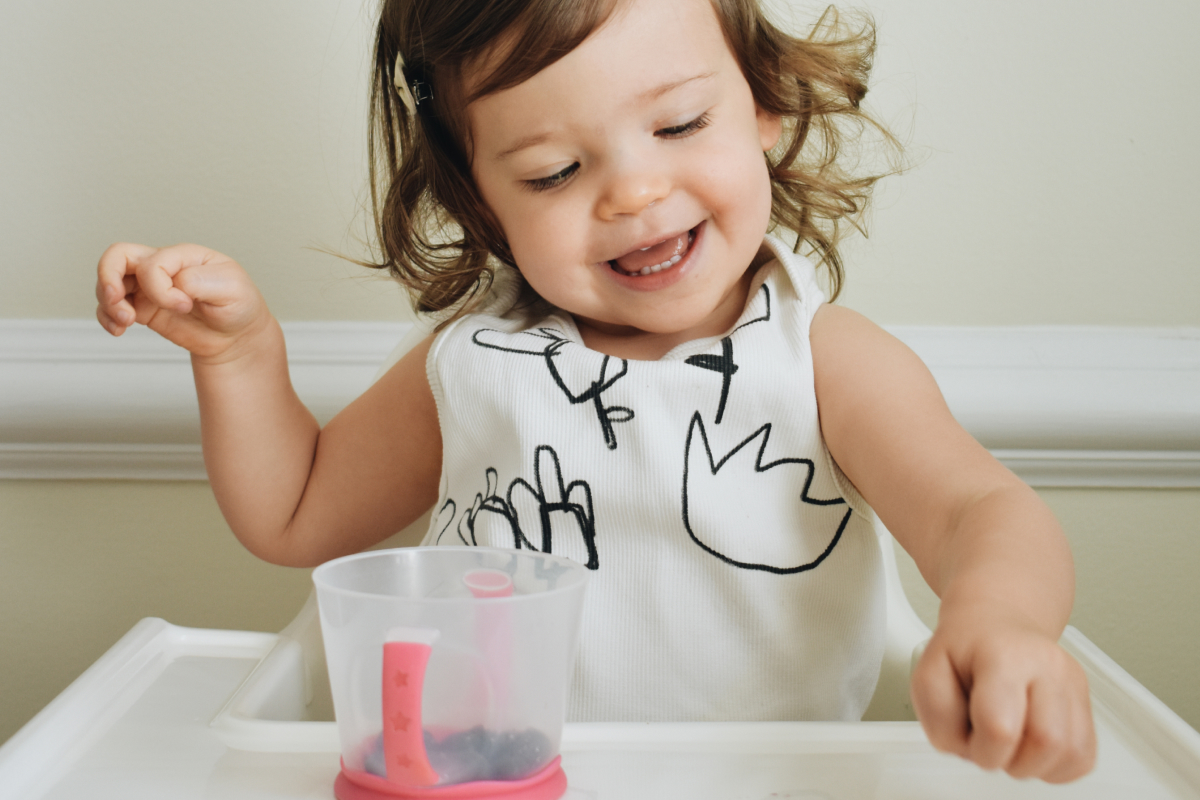 Toddlerhood is an adventurous time for your little one. All the walking, running, climbing and playing they're learning to do keeps their little bodies busy, and to make sure they're properly fueled, pediatricians recommend toddlers eat three meals and two to three snacks per day, on average.
Just like the full-sized meals you give your toddler, their snacks should be nutrient-dense. Think of each snack time as a mini meal—plenty of vitamins and minerals, not just empty calories. And whether you go for store bought snacks or homemade, there are a ton of healthy options so your little one can experience a wide variety.
When looking for healthy snack ideas for your toddler, there are a three important things to keep in mind:
Choking hazards. Until your toddler's molars have come in and they've mastered the jaw movements needed for chewing (sometimes not until they're three or four years old), avoid foods that are:

Hard: raw fruits and vegetables (for carrots, apples, etc, make sure they're cooked until soft), granola, hard candy, pretzels and nuts
Chewy: tough or chewy meats (including hot dogs and sausages), gummy candy, chewing gum, dried fruits, marshmallows and nut butters (more on how to give your toddler peanut butter below)
Larger than bite size, especially whole grapes, cherries and cherry tomatoes (be sure to cut these into lengthwise quarters)
Crumbly, or small enough to be missed when chewing, especially seeds (including in whole grain breads).

Common food allergies. If you haven't tested your toddler for a certain food allergy yet, give them only small amounts at a time, and not with any other foods. Watch closely for any reactions, and report any reactions to their pediatrician.
Added sugar. If you're giving your toddler store bought snacks, keep an eye on the nutrition label. Added sugar isn't recommended for children under two years old, and children older than two shouldn't have more than 25 grams of added sugar per day. But keep in mind that that doesn't include natural sugars like those found in fresh fruit and many other healthy foods.
How to give your toddler peanut butter
Nut butters, including peanut butter, are a tricky food for toddlers for several reasons. It's one of the most common (and dangerous) food allergies, and it's considered a choking hazard because it can get stuck inside the airways.
If you've already tested your toddler for nut allergies and determined that they won't cause any reaction, the best way to feed your toddler peanut butter or any other nut butter is to spread it very thinly on bite-sized pieces of bread or soft fruits. Never give your toddler globs or spoonfuls of peanut butter, and remember that peanut butter is still a choking hazard even for adults.
Best Toddler Snacks
Even if your toddler is really active, remember that their tummy is still tiny compared to an adult's—they only need about 1,000 to 1,400 calories a day. So don't overload their plates at meals, and keep their snack size to about what would fit inside a snack cup.
Keep everything bite-sized (toddler bites, not grown-up bites). Whether you're serving fruits, vegetables, grains or pre-packaged snacks, make sure they're no bigger than one to two centimeter slices or half-inch chunks.
Here's a big list of easy, healthy snacks for toddlers:
Fruits
Apples, peeled and cored
Applesauce
Banana slices
Blueberries
Blackberries, large ones cut in half
Raspberries, large ones cut in half
Strawberries, remove tops and cut into quarters
Cherries and grapes, cut into lengthwise/vertical quarters (sort of almond-shaped)
Mandarins and clementines, peeled with as much of the pith removed as possible, then separate the slices
Peaches, fresh or canned
Pears and mango, fresh or canned
Kiwi fruit, peeled
Melons, all seeds removed
Avocado, peeled and pit removed
Veggies and Legumes
Carrots, cooked until soft or, if your toddler has their molars, left raw in very thin matchstick slices
Broccoli and cauliflower, cooked until soft and large stalks separated
Peas
Beans, cooked until soft enough to mash
Potatoes, peeled and cooked until soft enough to mash
Sweet potatoes, peeled cooked until soft
Cherry tomatoes, cut into lengthwise/vertical quarters (sort of almond-shaped)
Edamame, removed from pods
Cucumber, peeled
Zucchini and squash, peeled and cooked until soft
Pumpkin, all seeds removed and cooked until soft
Dairy
Yogurt, whole fat, regular or Greek
Mild cheese (cheddar, provolone, mozzarella), cut into small matchsticks (cubes can be too chewy for young toddlers, and string cheese could present a choking hazard)
Cottage cheese, whole fat
Milk, whole fat
Grains
Toast slices, especially with a thin spread of nut butter or mashed avocado
Waffles and pancakes, whole wheat
Muffins, especially with fruit (but no nuts, since they're hidden and could be a choking hazard)
Protein
Chicken and turkey, boneless, skinless and cooked thoroughly, cut into small pieces without stringy parts or cartilage
Low-mercury fish (like tilapia, salmon, trout and crab), skinless and cooked thoroughly, ensuring all bones are removed
Ground beef, thoroughly cooked and diced into small pieces
Deli meats
Eggs, thoroughly cooked as hard boiled, scrambled, omelettes or egg muffins (add cheese and veggies, but be aware of any large chunks that may be tough to chew)
Nut butters, only after having tested your toddler for nut allergies
Hummus
Pre-Packaged
Be sure to give your toddler a variety of food groups at each snack time. That doesn't mean a huge portion, though; just a few bites of each different food. Pro tip: serve fruits and veggies with dips like greek yogurt, hummus and guacamole or spread a very thin layer of nut butter to get more food groups in (and make it fun for your little one to dip and dunk).
---
Amylia Ryan is the Associate Editor at Babylist, where she writes and edits content on health, wellness, baby products and more. Before dedicating herself to helping new parents learn all about life with a baby, she worked in book publishing as an editor. She still sometimes edits books on the side, but the majority of her free time is dedicated to her two children.
This information is provided for educational and entertainment purposes only. We do not accept any responsibility for any liability, loss or risk, personal or otherwise, incurred as a consequence, directly or indirectly, from any information or advice contained here. Babylist may earn compensation from affiliate links in this content. Learn more about
how we write Babylist content
and the
Babylist Health Advisory Board
.
The freshest in parenting this week, delivered to your inbox