Best Toddler Climbing Toys of 2023
Best Toddler Climbing Toys of 2023
Elevate playtime with toddler climbing toys that build strength, fine and gross motor skills and independence.
Babylist editors love baby gear and independently curate their favorite products to share with you. If you buy something through links on our site, Babylist may earn a commission.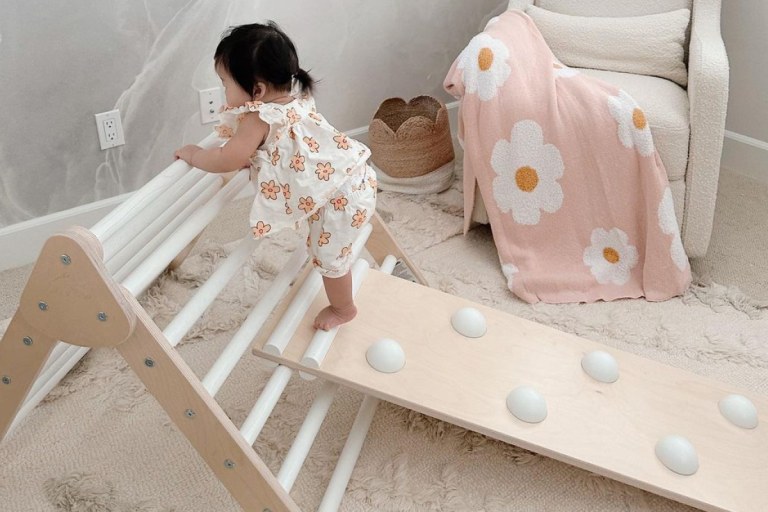 We'll come right out and say it: Cuddles, snuggles and being wrapped up in the arms of your kiddo are among some of the best parts of parenting. But there's also something to be said for that much-needed reprieve that comes from finding a toy or activity that maybe, just maybe, piques their interest a bit more than you do. Enter toddler climbing toys.
These captivating playthings, designed with the boundless energy and curiosity of little ones in mind, offer benefits that extend far beyond the realm of mere entertainment. As your toddler hits new developmental milestones every day, you can use (or lean on, more literally) climbing toys as stepping stones for improving their spatial awareness, sharpening their fine and gross motor and problem-solving skills, nurturing their cognitive abilities and promoting their confidence and independence. And if they just so happen to give you a break from being crawled over and climbed on 24/7, then we'll consider that a win-win!
Keep reading for our favorite climbing toys for toddlers, as well as some helpful hints from experts on how to incorporate them into playtime.
Babylist's Top Picks for the Best Toddler Climbing Toys
In This Article
Best Climbing Toys for Toddlers
Most Versatile Climbing Toy
When we started curating this list of toddler climbing toys, this primary-colored Crawl and Climb Foam Play Set came to mind right away. These five foam blocks are instantly recognizable, and several of our editors say they were fast favorites with their own toddlers. Not only are the blocks made with high-quality materials (the inner is made with eco-friendly pearl cotton and the outer is covered with soft polyurethane leather), their dense foam composition makes them safer for when toddlers use them to tumble. There are no sharp corners, another plus, and limited suffocation risks because the blocks keep their shape and don't give or collapse when they're jumped, crawled, climbed on or traversed. As for developmental perks, children can freely combine, configure and rearrange the differently-shaped blocks to create whatever they want, be it a fort, a castle, an obstacle course, a tightrope at the circus or a plank suspended above hot lava (yes, older sibs can join in on the fun). Their active play can foster hand-eye coordination and fine-tune their motor skills, while simultaneously stimulating their imagination and creativity. Moreover, since the blocks are lightweight, stackable and portable they can be moved to any play area—your toddler's bedroom, a playroom, a grandparent's house etc.—and are easily stowable after play sessions.
Best Climbing Toy for Younger Toddlers
Speaking of toys that grow with your child, how about a baby gym that'll keep your infant endlessly amused, and then give them a new challenge once they hit toddlerhood? That's precisely what we love about the Montessori-inspired Tiny Land 2-in-1 Baby Gym. During infancy, the modern and fashionable (another selling point) rainbow gym can be used for tummy time. It provides a safe and comfortable surface for babies to strengthen their neck muscles and develop motor skills. The interactive and thoughtfully chosen toys hanging from the gym (a cloud, bird, plane and spinning rings) stimulate visual and tactile exploration to support their sensory development, and then once they hit the one-year mark—or more—they can use the structure as a climbing toy. With sturdy, non-toxic construction, toddlers can stand up and hold onto the rainbow's sides and rungs for support, strengthening their balance and coordination in the process. And by the time they're confident enough to climb on and over the arch, their gross motor and active play skills will be skyrocketing.
Best Climbing Toy for Older Toddlers
If you have an older toddler on your hands (about three years or older), this Crawl & Climb Caterpillar is a great climbing toy to match their developmental metamorphosis. Measuring over five feet in length from its tongue to its tail, the curvy caterpillar provides little and big kids (up to age six) with multiple avenues of exploration and physical challenges to squirm their way through. Like gross-motor-skill-building crawl-through tunnels, this happy-faced creepy crawly encourages toddlers to use their arms and legs in a coordinated manner, strengthening their muscles and improving their overall physical fitness. The best part, though? How this caterpillar, sporting peekaboo-style portholes, a roomy entrance and exit, provides toddlers with opportunities for pretend play and socialization with peers. Children can take turns inching through and on top of the caterpillar, chit-chatting as they go. This one is definitely pricey; however, if you have a big family or you host a lot of parties or get-togethers in your backyard, it could be a worthwhile investment.
Best Climbing Set and Playset
Have your trips to the park become tricky now that you have a walker in tow? We know the struggle that can unfold when passing up a playground unleashes a full-blown meltdown (who can indulge a toddler's playtime crawl, climb, swing and slide craving all the time?!), and that's why we're all for a playground dupe a la ModernLuxe's 4-in-1 Kids Playground Freestanding Climber and Slide Playset. The certified HDPE plastic is extremely durable and non-toxic, so not only does it stand up to the climbing romps of your rambunctious toddler, it does so without posing risks to their health. Better yet, the whimsical 3D grips and recessed-shaped steps on the climbing ramp give toddlers something to cling to (literally) while preventing them from slipping all the same—suction cups on the bottom of the playset help with stability, too. As for skill-building, as children navigate the climbing ramp and slide down the slide, they're developing gross motor skills, balance and coordination. Aiming and shooting at the basketball hoop promotes their hand-eye coordination and sharpens their fine motor skills. And when they can play alongside friends, older siblings or family members, they'll be exercising creativity and social skills.
Another thing we love about this "playground?" It can be pushed into the corner of your toddler's room (basketball hoop easily folded down so it can be moved closer to the wall) and out of the way when it's not in play.
Best Pikler Triangle Climbing Toy
The Pikler Triangle was created by Dr. Emmi Pikler, a Hungarian pediatrician, who believed the wooden structure could be used to promote physical and cognitive development in toddlers and preschoolers. Its three components its durable wooden frame, stable and secure triangular sides and ladder-like rungs or steps placed at varying heights. Lily & River's Little Climber offers a trifecta of features—sturdy construction and a safety-conscious design, countless open-ended and imaginative play configurations and multi-stage usability—that make it a versatile investment. Crafted with a strong emphasis on safety, the playset (made out of your choice of birch or bamboo) lets children hone crucial physical development skills, including balance and coordination in the comfort of a well-made design. There is no right way to play; rather, little ones can choose their own adventure, climbing, sliding and scaling the rockwall to their hearts' content. If you want to encourage their independence and self-assurance, this is the toy to do it with. Plus, it caters to a wide age range, from one to six years old, meaning it can stick around for a while and provide whole-family fun for years and then be passed down (heirloom-quality here).
P.S. Check out the brand's site to customize the color or even add personalization!
Gathre Block Playset
Soft foam blocks epitomize the "tell us you have a toddler without telling us you have a toddler" meme. That said, not every parent loves primary-colored playthings all over their house (raising my hand on that!), playroom or nursery. Enter Gathre's Block Playset, which comes in seven contemporary colorways that effortlessly blend with your home decor. Whether you prefer muted tones or vibrant pops of color, you can choose a palette that suits your style and gives some aesthetic edge to your living space. Beyond the gross-motor-skill-building-but-make-it-fashion benefits, the four-piece set (which stacks and interlocks like puzzle pieces) features rounded edges and a stable build that reduces risks of accidents and gives parents that always-appreciated peace of mind. The premium, 100 percent vegan leather covers and cushy, solid foam interior are non-toxic and built to withstand the rigors of active play, ensuring durability and longevity.
Best Outdoor Play Climber
If your toddler loves a good theme, then we say go with it! This shark-inspired climbing toy is designed with a variety of interactive features, including metal rungs, climbing bars and screens printed with fish and bubbles. The lower part is open and can be filled with sand or balls (hence why it's better used outdoors), which not only floats that beach/ocean motif but also allows children to dig and play. It's built to last, too, using a combination of plastic, metal rungs and a wooden frame (all with soft, rounded corners to reduce risks of injury) to support kids up to three years old. As they're climbing to the top, children can navigate the rungs and improve their gross motor skills all while building self-confidence. And since kiddos can climb on top of the playset or beneath it, it's an excellent option for children of various ages and skill levels. Have a two-year-old who's just starting to dip their toes in the water when it comes to imaginative/pretend play? They'll probably eat this up!
How We Chose Our Best Toddler Climbing Toys
We consulted expert Ashley Scully, MS, OTR/L, a licensed pediatric occupational therapist, Director of Northern New Jersey Therapy Services for Tiny Transformations and mom of two.
We utilized insight from the Babylist editorial team, including Danielle Halibey, a mom of three and trusted resource for new and expecting parents looking for pregnancy and postpartum must-haves, baby and toddler gear and thoughtful gifts for everyone in their "village" (as in, "it takes a").
We vetted hundreds of testimonials from real parents on Babylist and Amazon.
What Is a Toddler Climbing Toy?
A toddler climbing toy is a therapeutic and developmentally stimulating plaything designed specifically for young children, typically aged one to three years old, to engage in safe and age-appropriate climbing and physical activity. These toys are designed to encourage gross motor skill development, balance, coordination and strength while providing a fun and interactive experience. Toddler climbing toys come in various forms and silhouettes, but they often include features like ramps, ladders, slides, tunnels, steps or climbing walls—all crafted with child-friendly materials, rounded edges and safety-first features that reduce the risks of accidents and let littles explore the world around them. When toddlers successfully climb or navigate these toys, it boosts their confidence and fosters a sense of autonomy as they conquer new challenges and opportunities on their own.
When Should Toddler Climbing Toys Be Introduced?
While there's not a "best age of entry" for toddler climbing toys, Ashley Scully, MS, OTR/L pediatric occupational therapist tells us she likes to start introducing these toys somewhere between an infant's first six to 10 months of life, when "babies become more and more on the move. As babies learn how to navigate over, under and around different obstacles or climbing toys, they're working on so many skills, from motor planning and body awareness to bilateral coordination (when they're able to synchronize both sides of their body in a purposeful and controlled way) and visual-perceptual skills (think depth perception and hand-eye coordination!)," she says. Crawling might be the first developmental milestone to precipitate the need for or suitability of toddler climbing toys. Even if your baby isn't completely "ready to crawl over or up a climbing toy, the obstacles that they create can help a baby learn how to navigate around their environment," shares Scully.
Benefits of Climbing Toys for Toddlers
Have you ever gone rock climbing before, and felt like you were getting stronger and more powerful each time you reached the top? Your toddler likely experiences that same sense of accomplishment when they're working out with their own climbing blocks, domes, frames, ramps, gyms or playsets. Climbing toys for toddlers offer a wide range of benefits for their physical, cognitive and social development—well beyond simply encouraging independent play. With every step and grip, their muscles are developing, and they're learning to gauge distances, judge heights and navigate the world around them—almost like their own personal crash course in geometry. As for the cognitive flexes? With every climb, they're beginning to problem-solve and coordinate motor planning. Should I go left or right? Do I take this challenging route or go with the easier one? It's this bout of early decision-making that enables toddlers to build confidence, resilience, determination and an adventurous spirit they'll take with them everywhere they go.
Physical
Climbing toys facilitate physical activity and help toddlers burn energy (which is never a bad thing), but even more than that they condition the body holistically: promoting strength and muscle growth in the arms, legs and core, enhancing balance and coordination and honing gross motor skills as toddlers learn to maneuver their bodies effectively.
Cognitive
These toys challenge toddlers to problem-solve as they're strategizing their ascent and descent, improve their spatial awareness as they learn to judge distances and plan their movements and develop early risk assessment skills that impact their decision-making. All of this helps with resilience, too, as toddlers learn how to persist even when they're tired or starting to get frustrated.
Social and Emotional
Climbing fosters a sense of accomplishment as toddlers take on obstacles. Many of them are also designed for group play, encouraging young children to interact with their peers via sharing, taking turns and cooperating. Moreover, as their language skills mature, toddlers can practice communication and negotiation with their siblings and friends, which lays the groundwork for healthy social relationships in their preschool, kindergarten and school-aged years.
Types of Toddler Climbing Toys
Climbing toys offer various opportunities for toddlers to enhance their physical skills, engage in imaginative play and have fun all while staying active—here are some of the most popular types.
Foam Climbing Blocks
These climbing blocks are soft, lightweight and made of foam and come in various shapes, sizes and colors. They're excellent options for promoting balance, coordination and imaginative play. Speaking of which, toddlers can play with them any which way they want, from stacking and climbing on them to creating their own adventure courses.
Climbing Playsets
These are larger structures that combine climbing elements like ladders, rock walls and ramps with other skill-building features like slides and tunnels. These versatile sets can be installed indoors or outdoors, and offer a much more comprehensive play experience that works out their whole bodies.
Climbing Ramps
Climbing ramps may come as one-off, standalone equipment or as part of larger play structures; they're essentially just inclined surfaces designed for toddlers to climb up and down safely. While they provide a simpler and, often, easier climbing experience compared to more complex structures (domes and bigger agility courses, for big kids), they still work to improve a young toddler's gross motor skills, strength and balance.
Indoor Play Gyms
Similar to climbing playsets (that can be installed indoors and out), indoor play gyms spotlight combinations of climbing elements such as ladders, ropes and ramps, along with other interactive features like swings and sensory activities—like toggles, buttons, textured panels, spinning gears or levers. Greater visual and tactile interest makes these types of climbing toys suitable for both physical and cognitive development.
Scully notes that "they each provide a unique challenge to the child and not one is better than the other," but she was also quick to call out "how versatile foam blocks can be while in the home, with so many configurations available." Their soft nature is a major plus for parents who like extra protection, too!
How to Use a Toddler Climbing Toy Safely
As for how to incorporate toddler climbing toys into playtime in a safe and enriching way, here's what Scully tells her clients and what she practices with her own kids (who are almost three and almost five years old):
Safety Considerations
Position climbing toys away from walls or furniture that could pose a hazard. Consider placing a large, soft play mat underneath the climbing toys for additional cushioning and shock absorption.
Encourage your child to go down a climbing block (or step) feet first. Do this by turning your baby or toddler around while at the top of a climbing block so that they can descend feet first and then give the verbal cue "feet first!" With time and consistency, your little one will learn to do this on their own with just the verbal cue alone.
Bolstering Physical and Cognitive Development
Especially during the early stages of crawling and walking, toddlers should be motivated and incentivized to get moving. Scully encourages parents to use climbing toys as obstacles in the path on the way to their toddler's favorite toy. Have your child work to figure out how their body is going to go around, over or under that climbing toy. Start with this simple "obstacle course," by placing preferred toys just out of reach along the path to start, and then work up to placing their toy farther away as they get more comfortable with it.
This information is provided for educational and entertainment purposes only. We do not accept any responsibility for any liability, loss or risk, personal or otherwise, incurred as a consequence, directly or indirectly, from any information or advice contained here. Babylist may earn compensation from affiliate links in this content. Learn more about
how we write Babylist content
and
review products
, as well as the
Babylist Health Advisory Board
.
The freshest in parenting this week, delivered to your inbox