Best Toddler Ride-On Toys
Best Toddler Ride-On Toys
Ride-on toys let your toddler explore their world on wheels—but they come with lots of other benefits, too.
Babylist editors love baby gear and independently curate their favorite products to share with you. If you buy something through links on our site, Babylist may earn a commission.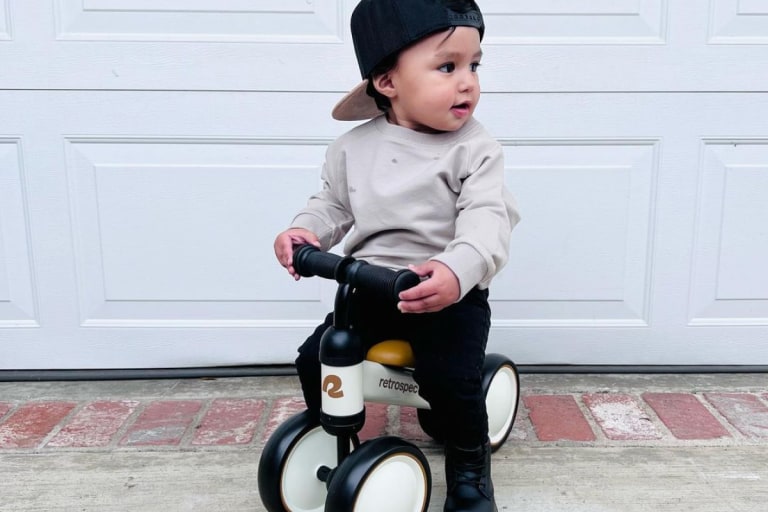 Whether they're pushing, pedaling or scooting, ride-on toys are a fun way for your ever-moving (and ever-curious) toddler to explore the world around them. But ride-ons are more than just hours of entertainment—they're a great way for your little one to improve their coordination and motor skills, build confidence and independence and encourage physical activity.
These expert-curated ride-on toys are particularly suited for the toddler set, ideal for kids from about one to three years old. From colorful cars to adorable animal-shaped ride-ons, this guide will help you find the right ride-on for years of fun.
Babylist's Top Picks for the Best Ride-On Toys for Toddlers
Best for One-Year-Olds
Best for Two-Year-Olds
Best for Three-Year-Olds and Up
In This Article
Babylist's Picks for the Best Toddler Ride-On Toys
Best Ride-On Toys for One-Year-Olds
Best Walker Ride-On Toy
This two-in-one toy is a walker and a ride-on toy all rolled into one, making it ideal for older babies and younger toddlers as they learn to walk. Once they've started toddling, they can use the Busy Buggy as a traditional ride-on. There are also 17 sensory activities, under-seat storage to hide those toddler treasures and a honking horn on the steering wheel.
Another Walker + Ride-On Hybrid
This pony-themed ride-on toy is another versatile pick that will take you from the baby to the early toddler years. It works as a push walker, a bouncer and a ride-on toy and also features lights, sounds, songs and more to keep your little one entertained. Parents rave about all the fun add-ons that keep even the busiest of toddlers occupied.
Most Versatile Ride-On Toy
With an innovative design, this modern ride-on toy is one of the most versatile on our list. Pre-walkers can hold onto the stationary, easy-grip handle and use the YBikwe as a push toy, but it will last much longer than that. Once your toddler is ready, it works both indoors and outdoors as a push-powered ride-on toy up to about three years old.
Best Push Ride-On Toy
Don't underestimate the longevity of this ride-on car. Yes, you'll need to push your toddler around in it, making the Cruiser perfect for younger toddlers who don't quite yet grasp how to push off with their feet, but even older toddlers who have reached this milestone will still love to hitch a ride. It's a fun alternative to a stroller for short walks and spins around the driveway and features a horn, moveable steering wheel and under-the-seat storage.
Best Classic Ride-On Toy
The Cozy Coupe is the OG ride-on toy and is as loved today as it was when it first came out in 1979. Kids love pushing, steering and cruising around in this iconic car. There's a removable floorboard to protect your little one's feet before they master pushing off independently. Once they do, take it off and watch them fly.
Best Wooden Ride-On Toy
Made from natural wood, this toddler ride-on toy is a nice alternative to the usual plastic options. It features a sturdy handle, a comfortable, cushioned seat and rotating wheels for smooth maneuverability. There are other animals available, too, like this fun zebra.
Best First Balance Bike for Toddlers
A balance bike is like a two-wheeler minus one main thing: pedals. (They're also missing a chain and brakes.) They're designed to help little ones develop balance through an intuitive process of first walking while seated then scooting, running and gliding with lifted feat—no parental assistance required. The Retrospec is an early toddler take on the balance bike, with four wheels instead of two for added stability for the youngest riders. It's both indoor- and outdoor-friendly and has a limited steering range to prevent your toddler from tipping over.
Best Ride-On Toys for Two-Year-Olds
Best Retro Ride-On Toy
The sleekest ride-on on our list, Baghera's Twister is just as cool as it is fun. The retro look makes it stand out from the crowd and the compact design, padded seat and easy steering make it a good choice for a toddler who's ready to cruise.
Best Scooter for Toddlers
While some kids may master scooting earlier, most are ready for a scooter somewhere around two years old. The Micro Kickboard Mini is our favorite toddler scooter pick. The frame is lightweight but strong, the learn-to-steer turning is intuitive and effortless and the handlebar adjusts to grow with your little one. Your toddler will love the smooth ride and all the fun color options.
Best Balance Bike for Toddlers
This ride-on from Strider is our pick for the best toddler balance bike because of its size and design. Notable features include an adjustable seat and handlebar, a lightweight frame and never-flat tires. There's also a built-in footrest.
Best Ride-On Toys for Three-Year-Olds and Up
Best Ride-On Toy for Construction Lovers
Construction-loving toddlers, we see you—and this ride-on will make all of your dreams come true. It moves forward and backward, yes, but the best part is the excavator arm with a digging shovel that scoops and dumps dirt just like the real thing. The digger rotates 360 degrees and deserves a parking spot in any construction-obsessed toddler's yard or sandbox.
Best Indoor Ride-On Toy
The unique PlasmaCar isn't only an indoor ride-on toy, but we love how much fun it is for cruising on hardwood floors and other smooth indoor surfaces. There's no pushing required here—just sit with both feet on the footrests and turn the steering wheel back and forth. The car glides smoothly on almost any flat surface and is a fun way to build coordination and balance. And with a weight limit of 220 pounds, it's a ride-on toy that will be around for the long haul.
Best Electric Ride-On Toy
Want to level up your toddler's ride-on experience? This battery-powered rechargeable Jeep Wrangler looks just like the real thing and cruises up to five miles per hour. It works on hard surfaces (think sidewalks or driveways) and grass and boasts fun features like a voice-amplifying microphone and sound effects. It's an investment, but perfect for a group or grandparent gift.
Most Unique Ride-On Toy
The Ponycycle is the most unique ride-on on our list. Powered by your toddler's own up-and-down motion, it mimics riding a real horse with no batteries or electronics required. (The horse's legs even move forward and backward in a galloping motion.) It's great for older toddlers and even better for budding equestrians.
Types of Ride-On Toys
If you're shopping for a ride-on toy for your toddler, you have a few options.
Push ride-on toys. Toddlers use their feet to push themselves along on this type of ride-on toy. Push toys can have three or four wheels (better for younger toddlers) or a two-wheel setup like a balance bike or scooter (better for older toddlers).
Pedal ride-on toys. These ride-ons have pedals that toddlers can use to propel themselves forward.
Electric ride-on toys. These toys are battery-powered and usually have a small motor that allows toddlers to ride around without using their feet. Electric ride-on toys are better suited for older toddlers.
What to Look for in a Toddler Ride-On Toy
You don't need to do hours of research when choosing a ride-on toy for your toddler, but you should keep a few features in mind.
Safety Features
Does the ride-on toy have a seat belt or other type of harness? Is it sturdy and well-built? These safety features are especially important if you're using a ride-on toy with a younger toddler.
Adjustable Seats
An adjustable seat isn't a must-have feature, but it's a nice-to-have that will extend the lifespan of your ride-on toy as your toddler grows.
Seat Storage Options
Fun fact: Toddlers love putting things in other things. A ride-on toy with under-the-seat storage gives your toddler a fun place to stash all of their tiny treasures.
Wide Variety of Fun Features & Accessories
Choosing a ride-on in your toddler's favorite color is always a good idea. You can also look for ride-ons with fun features and accessories like bells, lights or decorations or a themed ride-on like a truck or animal.
Benefits of Ride-On Toys for Toddlers
Ride-on toys can be fun for kids of all ages, but toddlers especially enjoy asserting their independence and exploring the world on wheels. Ride-on toys are more than just fun, though—they come with a host of other benefits.
Help improve gross motor skills—the big movements using large muscle groups like walking, running and pedaling—and coordination as toddlers learn to push, steer and navigate. Ride-ons also offer a safe way for toddlers to practice balance and develop skills like spatial awareness.
Encourages physical activity and exercise, keeping toddlers active and healthy.
Boost imagination and creativity as toddlers engage in pretend play scenarios, such as driving a car or being a firefighter.
Build confidence and independence as toddlers gain a sense of control and achievement while riding their own toy.
This information is provided for educational and entertainment purposes only. We do not accept any responsibility for any liability, loss or risk, personal or otherwise, incurred as a consequence, directly or indirectly, from any information or advice contained here. Babylist may earn compensation from affiliate links in this content. Learn more about
how we write Babylist content
and
review products
, as well as the
Babylist Health Advisory Board
.
The freshest in parenting this week, delivered to your inbox