Best Balance Bikes
Babylist editors love baby gear and independently curate their favorite products to share with you. If you buy something through links on our site, Babylist may earn a commission.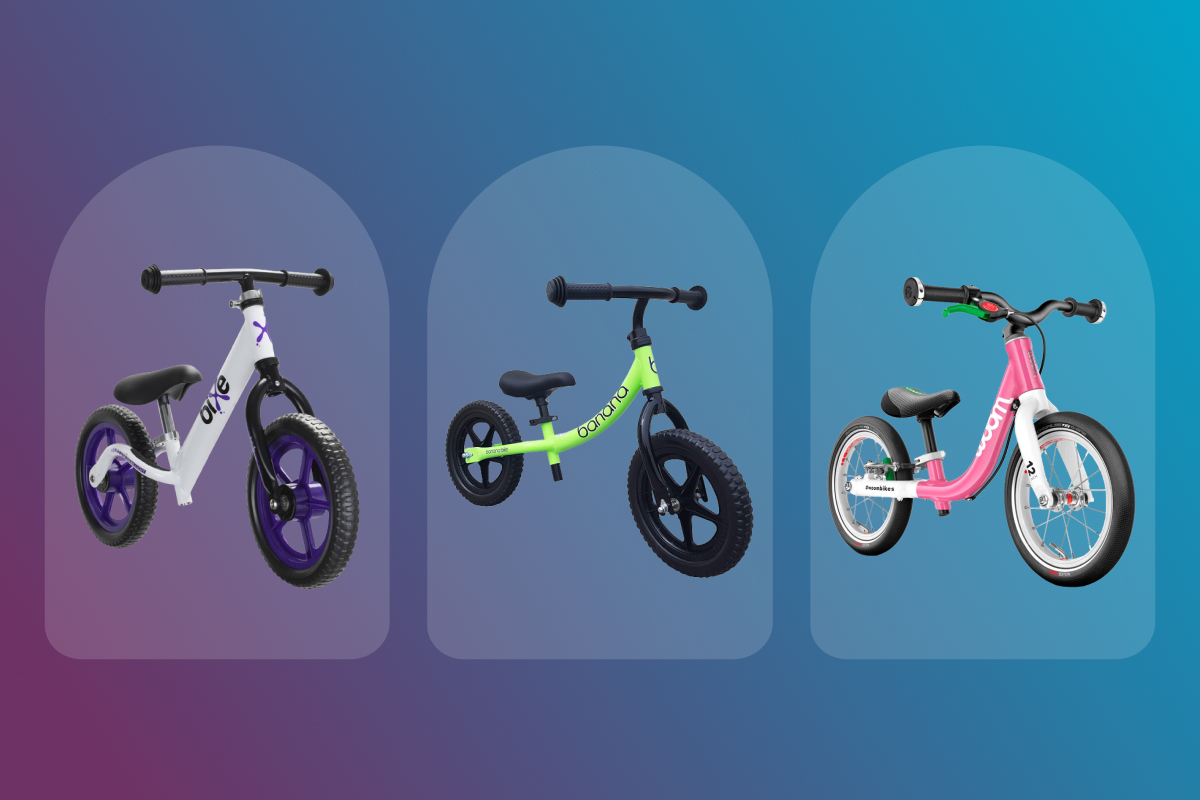 Do you remember learning to ride a bike with training wheels, then feeling terrified when it was time to say goodbye? Thanks to the balance bike, your toddler is getting a leg up (quite literally) when it comes to mastering two-wheel bike riding.
A quick search of the best balance bike yields hundreds of results. We're walking you through the ins and outs of choosing a balance bike for your toddler, including how a balance bike works, what age is best for a balance bike, how to measure your child correctly, are balance bikes worth it and more.
What Is a Balance Bike?
A balance bike is similar to a standard two-wheel bike minus one main feature: pedals. Unlike traditional bikes, balance bikes also lack a chain and brakes. Balance bikes are also lighter and easier to navigate than traditional pedal bikes.
How Does a Balance Bike Work?
Balance bikes are powered by the rider's feet. Instead of pushing the pedals to move the wheels like on a traditional bike, a rider uses their own two feet to push off the ground in a running motion to get (and keep) a balance bike in motion.
Balance bikes are designed to help little ones develop balance through an intuitive process of first walking while sitting over the saddle and then scooting, running, and gliding with lifted feet—no parental assistance required!
Are Balance Bikes Worth It?
Like lots of parenting decisions, there's no right or wrong way to introduce your little one to biking. Lots of kids have successfully learned to ride a bike using both traditional bikes and balance bikes. Many biking experts do tend to favor balance bikes, for a few reasons.
According to USA Cycling, some benefits of choosing a balance bike include:
Accessibility. Balance bikes are lower to the ground than pedal bikes and therefore more accessible to younger children.
Maneuverability. Balance bikes weigh much less than pedal bikes, making them easier to ride, steer and maneuver. Balance bikes also teach kids to lean into turns and are easier to maneuver on rough terrains like dirt and gravel.
Balance. The process of learning to ride a balance bike works with kids' general intuition around balance and movement. Balance bikes help your child learn to progress from sitting and scooting with their feet on the ground to eventually balancing and gliding with lifted feet, a process that's tough to imitate on a traditional pedal bike.
What Age Is Best for a Balance Bike?
Balance bikes come in a wide range of sizes, from bikes for young toddlers to kids up to about five years old. According to Two Wheeling Tots, a parent-run bike review website for kids and families, it's important to properly fit your little one for a balance bike to ensure success.
A balance bike's wheel size isn't a great indication of the bike's size. Instead, measure your child's inseam so you'll know the correct seat height when you're shopping for a balance bike. The seat should be 0.5"-1" less than your child's inseam.
What Are the Best Balance Bikes?
Features like price, weight, tires, and frame material are a few of the features to consider when shopping for a balance bike for your toddler or older child. Here's what to look for:
Weight. A lighter bike is easier to maneuver than a heavier bike, especially for a younger child who's likely not all that strong. A good rule of thumb: a bike should not weigh more than 30% of your child's weight.
Cost. More expensive balance bikes often have higher-end features like lighter frames and better maneuverability.
Tires. Foam tires are the most common type of balance bike tires and are lightweight and will never go flat. If your child plans to ride on rougher terrain, consider air tires; they'll absorb more bumps and provide better traction.
Fit. Look for a balance bike with plenty of room between the seat and the handlebars, so your child's legs aren't scrunched up when they're on the move. Their feet should be able to easily reach and push off the ground, and the seat should be low and close to the rear tire for easier balancing. (A poorly designed high seat can throw off your child's center of gravity.) A balance bike with an adjustable seat will grow with your child and last longer than a non-adjustable option.
Handlebars and brakes. Look for a balance bike with grippy handlebars and bumpers to protect your child's hands in case of a fall. Handbrakes are optional on a balance bike, but recommended by most experts; just be sure they're small and easy enough for your child to grip and engage.
Frame. Most balance bikes are made of metal like steel or aluminum, but some are also available in wood. Steel is more affordable than aluminum, but also much heavier, while wood is eco-friendly but often less adjustable.
Babylist's Best Balance Bikes
This information is provided for educational and entertainment purposes only. We do not accept any responsibility for any liability, loss or risk, personal or otherwise, incurred as a consequence, directly or indirectly, from any information or advice contained here. Babylist may earn compensation from affiliate links in this content. Learn more about
how we write Babylist content
and the
Babylist Health Advisory Board
.
The freshest in parenting this week, delivered to your inbox